Top Chefs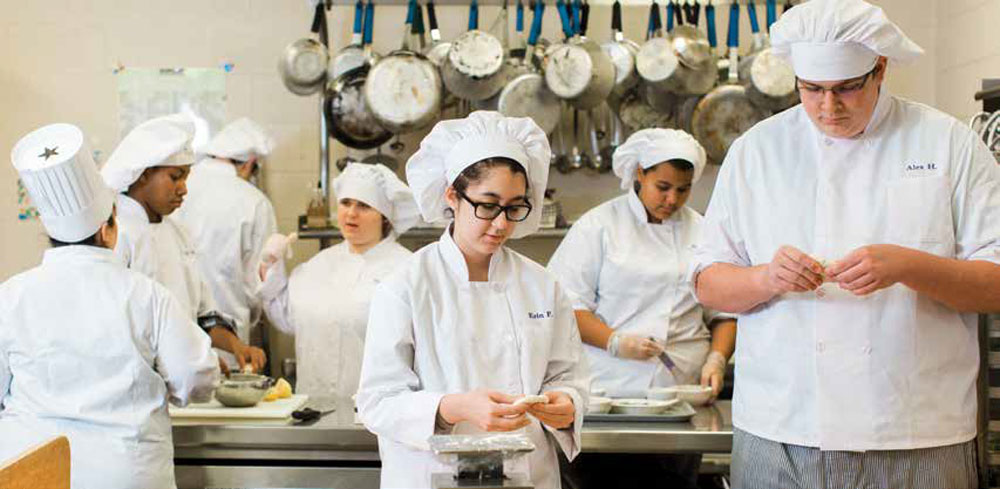 Students make their way around a kitchen with ease at Dakota High School.
By Tracey Moro / Photography by Maria Lisa Militello
Reading, writing and arithmetic are essentials for any student's future. But knowing how to cook is part of survival. And, learning how to run a kitchen and manage a restaurant could lead to a career in the food industry. This is what approximately 100 students from Chippewa Valley Schools were considering when they signed up for classes in Culinary Arts and Hospitality at Dakota High School.
"Next year I plan on going to the culinary school at Schoolcraft College and I wanted to make sure I liked it first," said Erin Perna, senior at Dakota. She has enjoyed every second so far. Perna is in her first year in the three year program and as a senior will only get to learn the beginning concepts.
Dakota's program has been in existence for many years. Antoinette Genovese, the program's Culinary Educator also participated in the class when she attended Dakota back in the late 90s. "I am a product of the program," said Genovese. "I was a sous chef when I left the field to pursue a teaching career. I took the same class that I now teach." She is joined by Suzanne Murray, who was teaching in another district and recently moved to Dakota but had worked in the food industry previous to teaching.
"She has experience in the front of the house operations, being a dining room manager," said Genovese. Assisting both of them is Doree Hodges who makes sure the kitchen is always ready to go with the proper equipment and food on hand. She also keeps the students on task.
The classes, offered to both Chippewa Valley and Dakota students, run in two-hour blocks giving the teachers and students plenty of time toprepare and actually cook
The first hour block involves preparation work, like baking fresh bread, rolls, and desserts. These are the items that will then be used in the meals served at lunch in the dining area. They also get the salad bar in order, make any fresh soup that is on the menu and prepare the restaurant area for dining. The second hour block runs the restaurant, welcoming people to the dining area, taking their orders, preparing their lunch and serving their food. The restaurant, Meeting Grounds, is open to the public Wednesdays, Thursdays and Fridays from 10:30 a.m. to noon for lunch, and for reservation only from noon to 1 p.m.
Clifford Patton, a senior at Chippewa Valley, travels to Dakota for the program, every day. After two years in the program, he's been inspired to continue on in the food industry. For college, he will be attending the Culinary Institute of America in New York. "I've already been accepted," said Patton. "I want to be a personal chef and open up a restaurant in northern Michigan."
Dakota's culinary program stands out as part of the Career Technical Education courses offered throughout Macomb County schools. "These type of classes are a great opportunity for students and having them in our school systems is very important," said Genovese. She explained how Governor Snyder's visit to Dakota during last year really rejuvenated the importance of all the skilled trades programs, including the culinary program. "These kids can graduate and go right into a job in the food industry, from a high end restaurant to any size banquet hall."
Not all schools offer the culinary programs but there are many that do and a few districts are partnering to offer students in both districts the opportunities.