Young Ambassador Drives the Mission for MDA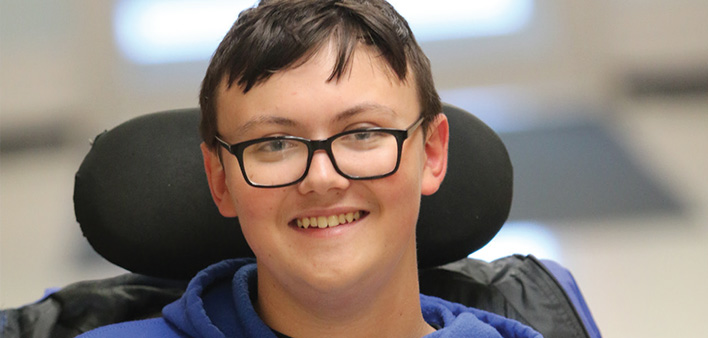 By Rebecca Calappi/Photography by Anne Nicolazzo
It's tough to keep Richard Greiner's buttons from popping with pride when he talks about his son, Matthew. At nearly 16-years old, Matthew is wrapping up his reign as Goodwill Ambassador for Michigan for the Muscular Dystrophy Association.
Matthew was diagnosed with Duchenne Muscular Dystrophy when he was 4-years-old.
"He was complaining that his legs were sore and always wanted me to carry him," recalled Richard. "There was a party at his mom's house and all the kids were running around like a chickens with their heads cut off. He came and sat next to me because his legs hurt."
Muscular dystrophy is a group of diseases characterized by the breakdown of muscles.
Matthew explains, "It affects every muscle in your body. Some kids have brain issues, but mine is better. The muscles deteriorate, it's kind of like fatigue. It's not repairing muscles, you're just breaking them."
As muscles move in the body, they are constantly breaking and repairing. With muscular dystrophy, patients have a break in the connection that tells the body to send dystrophin to repair muscles. The result is muscles getting used but never fixed.
Now, nearly 12 years after his diagnosis, Matthew uses a motorized wheelchair to get around to his MDA events and through the halls of Lakeview High School in St. Clair Shores where he is in his sophomore year.
He was awarded the MDA Ambassadorship in 2018 and holds it until the end of 2019. When he found out he was nominated, Matthew was hesitant. Shy by nature, was this a good fit for him?
"For me it was difficult at first, I didn't want that empathy, but I kind of realized this happened for a reason. If I didn't have it [muscular dystrophy], I wouldn't be the same," said Matthew.
Ultimately it was his older brother, Owen, who helped tip the scales when he said, "Dude, you get to miss school."
At his first event, Matthew spoke passionately and off-the-cuff about treatments and cures for muscular dystrophy—to an audience of more than 4,000. Seeing how his enthusiasm could help drive the mission for MDA, he was hooked.
"With being the ambassador, they call me about an event, and say you can go if you want," Matthew explained. "We try to get to all the events as much as possible. But I kinda wish I could do more because it was fun. We're so close to getting cures and treatments, that's the only reason we're getting treatments is because people are generous with their money."
As he winds down his ambassadorship, Matthew stays focused on giving back to the community. At school, he's an A/B student and involved with Huskies with Heart, which is a club that does canned food drives and other charitable work.
"He blows me away," said Richard. "He takes a situation to the highest level. At times I look back and think if I pushed too hard, but no. He doesn't let it get to his head."
Are plans of greatness in the sophomore's future? Probably. But he stays humble. "When I first started doing this, I saw how many people were being generous. It means a lot to me to know there are people helping others. I think it means a lot more to me now that I'm doing it. It's helped me so much, too. I was pretty shy, it made it easier in school," Matthew said.