Yesterday's Party Inspires Fashions
By Tracey Moro/Photography by Mike Ferdinande
​Back on December 21, 1969, Mrs. Eleanor Ford threw a grand house party, a holiday reception honoring her granddaughters, Lynn and Sheila, in an advance celebration of their debutante seasons. As it was so eloquently put in the Detroit Free Press: "Mrs. Ford's lake shore manor house glowed with hospitality for the 600 guests." (Detroit Free Press, Monday, December 22, 1969).
At that party there were decorations created by Mrs. Ford with fruits and flowers, as well as chandeliers with illuminating yellow, pink and orange balloons. She knew how to throw a party – and what to wear! The fashions from that party inspired the ladies of Fashion and the Automobile (FATA – Victoria Mobley, Lynn Anderson, and Elaine Vermeersch) to put together a selection of vintage and modern day dresses for our Fashion photo shoot at the Ford House. These dresses are what you may have seen at the party back in 1969 – and if it were thrown again today, 50 years later, like it will be during the Holiday Belles Tours at The Ford House. Mrs. Eleanor Ford – seen in the original photo with both her granddaughters – wore a stylish and classic pink brocade dress with ¾ length sleeves, from Walton-Pierce in Grosse Pointe. Our Mrs. Ford of today, Shirley Koebbe, wears a similar vintage 60s pink brocade suit from the same era from the private collection of Fashion and the Automobile. Mrs. Ford's granddaughters' dresses also came from Walton-Pierce. The Free Press describes Lynn in an azure blue dress laced with gold and silver threads in a swirling pattern. Our counterpart of today, Pat Lenderman, is wearing a vintage 60s cream lace empire waist dress from Max & Ollie's Vintage Boutique in Mount Clemens. Mrs. Ford's other granddaughter Sheila wore a striped metallic dress of gray, silver and pink. Our counterpart of today, Doreen Raynak, is wearing a very similar vintage 60s burnout silver metallic striped dress also from the private collection of Fashion and the Automobile. "In our vintage fashion shows, we always remind our guests to pay attention to the U-turns that each decade takes, as what's old becomes new again. This is particularly true of the styles we saw in 1969 being popular again today," said Lynn Anderson, fashion curator and presenter, Fashion and the Automobile. Our young models of today are wearing similar fashions to their vintage counterparts, in dresses that are all available now at local boutiques. Patricia Leoncio is wearing a beautiful cream lace dress with a beaded neckline, as a modern equivalent to Pat Lenderman's vintage style. Her dress is from Laura's Fashion Boutique in Clinton Township.
Holiday Belles Tour – through Jan. 5 Tours offered Wednesdays-Saturdays, noon-7:30 p.m.; and Sundays, noon-4 p.m. Tours also offered 10 a.m.-3 p.m. Christmas Eve and New Year's Eve. Tickets can be purchased online at https://edseleleanorfordhouse. thundertix.com/ Advance sales close midnight the day before the tour. Any remaining tickets will be sold at the Visitor Center in person the day of, first come, first served. Space is limited on the tours, and times may sell out. Please arrive 20 minutes before your scheduled tour time. $12 adults, $11 seniors, $8 children 6-12, and free for 5 and under. Ford House Members are also free. The grounds are open for walking until 5 p.m. The Playhouse will close by 7 p.m. Grounds-only admission is $5. Bird Island is closed due to construction until fall 2020.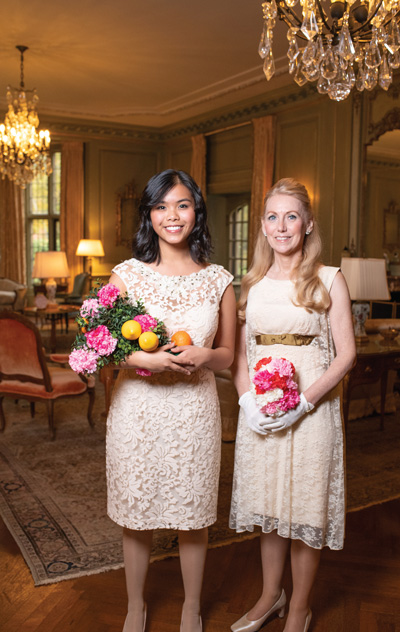 Maria Ferro is wearing an elegant pink Battenburg lace dress with detachable capelet, as a modern equivalent to Shirley Koebbe's vintage suit. Her dress is also from Laura's Fashion Boutique. Melaina Brostenianc is wearing a stylish white burnout floral lace high-low dress, as a modern equivalent to Doreen Raynak's vintage burnout dress. Her dress is from Girl Boss Fashions at Lakeside Mall, as well as the Mall at Partridge Creek. Look for these and other 60s inspired fashions at local boutiques and retail stores throughout the Macomb County area. They would be perfect for holiday seasonal parties, New Year's Eve and winter soirees. Be sure to visit the Edsel and Eleanor Ford House to see the home decorated in the same style as Mrs. Ford's fruit and floral holiday reception in 1969. For more information on Fashion and the Automobile, visit fashionandtheautomobile.com.