Women Breathe Life Into Mount Clemens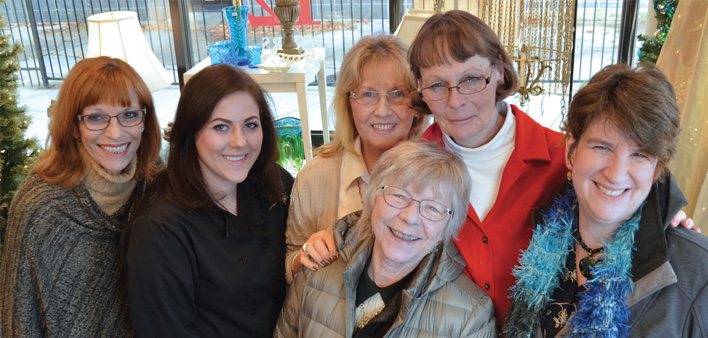 By Barb Pert Templeton
Establishing successful businesses in an ever-changing economy has been challenging over the last two decades but a solid group of women entrepreneurs has maintained stability and success in downtown Mount Clemens.
"The vast majority of businesses are owned by women and it's pretty impressive," said Michelle (Micki) Weiss, the marketing and events coordinator for the Downtown Development Authority (DDA) for the last 17 years.
Mayor Barb Dempsy, another woman leading Mount Clemens, said the city actually began cultivating womenowned businesses in the 1970s. She said the small storefront spaces were a draw because they made the expense of starting out doable, plus there was the camaraderie between women working to build something of their own. The mayor isn't the only lady in the city office in a high position either, City Manager Lisa Borgacz and Water Treatment Director Jeanette Best are leaders the local business owners look up to.
"I still encourage these women today," Weiss said. "I tell them it takes more guts then it does money. If you have a good idea the passion will carry you through and the money will come."
Weiss speaks from experience, having opened her own business in the city in 1978. Natures Accents was a floral and interior landscaping business she operated for a decade, even increasing the footprint from 1,000 to 2,500 square feet. Family commitments prompted Weiss to close the store after a decade in business.
"I can help them because I understand everything they are going through," Weiss said. "I'm not just saying it, so I tell women don't be afraid just jump in."
Lisabeth Taylor took the leap. After working for Borders Books for 17 years, Taylor signed the lease on her shop, Paperback Writer, on the same day that Borders in Utica closed its doors. She picked a Mount Clemens location because that's where she lives and she's a big fan of the historical buildings downtown.
Paperback Writer, a quality used book store along Macomb Place, opened six years ago and has since tripled in retail space. The shop is also the location for Weirdsville Records, owned and operated by Taylor's spouse.
Getting so much support from Weiss and Diane Kubik, who owns Max & Ollies Vintage Boutique, has meant the world to Taylor.
"Diane has been my mentor from the beginning and a great inspiration and Micki is just a ball of energy," Taylor said.
Weiss returns the compliment and describes Taylor's leap into shop ownership as the smartest thing she's ever done. "People come here and walk around downtown thinking about a business and I show someone a space and it really does happen just like that," Weiss said. "They want to see that dream come to life.
Visit the 19 businesses in downtown owned by women ~ Bodhi Seed Yoga Studio, Champagne Chocolates, Chaos Studio Salon, Dapper Gents Barber Shop, Fia's Galleria, Gumbo's Restaurant, Vick Funeral Home, Health Markets, Genie's Barber Shop, Max & Ollie's, Minha's Coffee Haus, Mount Clemens Arts Consortium, Olympia Spa & Salon, Studio 58, Sushi n' More, The Fashion Factory, The Salon & Spa at Macomb Place, Tis Country, and Paper Back Writer.