4 Ways to Enjoy Winter's Playground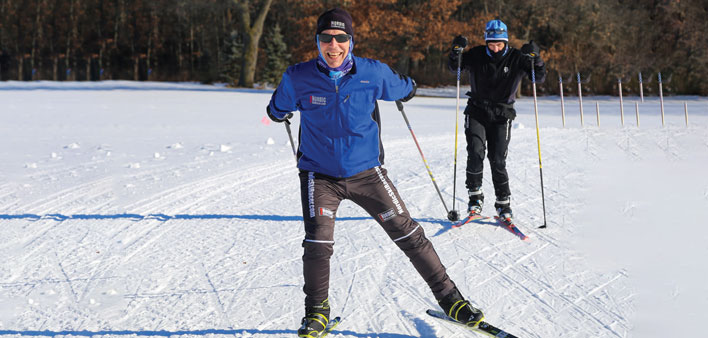 It's wintertime in Michigan, get outside in the fresh air and have some fun! Macomb County is filled with lots of outdoor fun, too many to list. So we picked out some popular spots to give you a head start on planning your wintertime outdoor fun.
By Peggy O'Dell
1 – Hit The Trails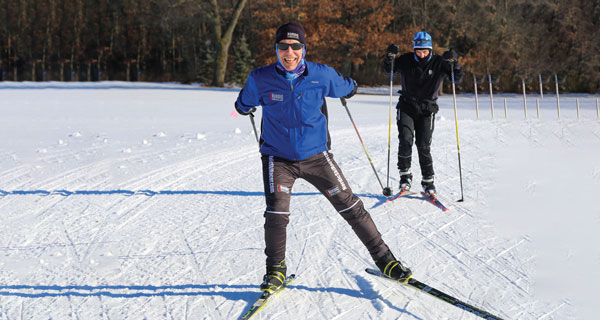 Get back to nature and enjoy the scenery on the 13 miles of cross country ski trails at the Stony Creek Metropark. "It's really not as hard as it looks," said Danielle Mauter, chief of marketing for the Huron-Clinton Metroparks. "If you're new to cross-country, we have a video on our website where you can learn how to do it. The hardest part is knowing how to get up if you fall." If you don't have skis, equipment can be rented on the weekends at the ski center, located at the golf course starter building. Check for closures and conditions before you go by clicking on the orange bar on the top of every page on the website. For more go to metroparks.com
2 – Fish On!
Hit your favorite fi shing hole and take advantage of Michigan's Free Fishing Weekend February 18-19, 2023. All fi shing license fees are waived for the weekend. Michiganders and out-of-state friends can fish both inland and Great Lakes' waters, even if they are ice covered, for all species of fi sh. A Recreation Passport will not be needed to get into state parks and boating access sites. All other fishing regulations do still apply. If Lake St. Clair isn't frozen you may want to try fi shing from the newly opened Blossom Heath Pier in St. Clair Shores at Blossom Heath Park near 10 Mile Road and Jefferson. For more information go to michigan.gov.
3 – Biking: Not Just for Summer Anymore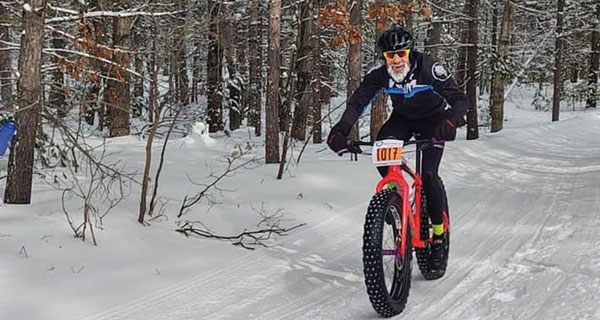 Calling all fat tire bike riders! Head out to River Bends Park in Shelby Township and ride the seven plus miles of groomed trails. Fat tire bikes use four inch wide tires so they can ride on snow or sand. Not a rider (yet) but interested in learning more about the sport? Check out the Clinton River Area Mountain Bike Association's (CRAMBA) annual event. The Ay CRAMBA It's Cold Out! Fat Bike/Snow Bike Festival will be held on Saturday, February 4, 2023, from noon to 5 p.m. "At last year's festival we had more than 200 people attend," said CRAMBA board member Michael Roman. "A lot of people come out to ride, but there's also people who just want to see what it's all about. If you live in Michigan and you're interested in biking, you really have to try a fat tire bike." For more information on the festival go to cramba.org
4 – It's All Downhill from Here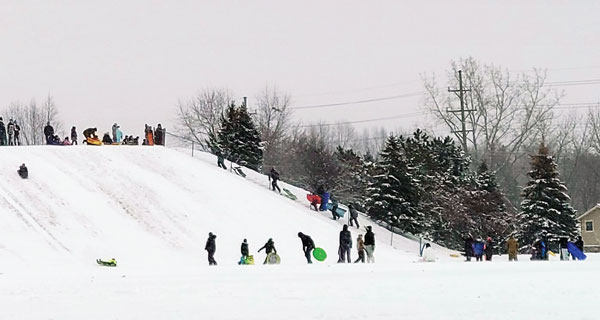 Bundle up the kids, grab the sled and head to the Clinton Township Civic Center sledding hill for the best family fun. "One side of the hill is nice and easy, great for younger kids," said Melissa Gray of Clinton Township, who enjoys the hill with her children, Xavier and Madison. "But the other side is the thrill side. It's steeper, faster and longer. You can get airborne on that side!" If you're brave enough to give it a try, the hill is open from sunrise to sunset. For more information go to clintontownship.com.