Winning Chili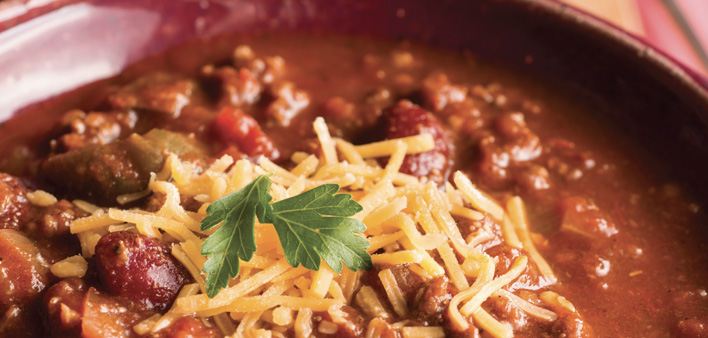 By Tracey Moro
Chili — it's a simple mix of beef, beans, tomatoes sauce and chili seasonings. So why are we all so deliciously in love with it?
Here in Macomb County folks love their chili – probably just as much as those in the state of Texas, where Chili is the state dish. We know we can find great chili at local restaurants like Brown Iron Brewhouse, Tina's Tavern, Time's Square, Abbibo Bar and Jimmy Dee's just to name a few. But did you know that there were more than 10 chili cook-offs last year in Macomb County? That's right, starting in October, when our days start getting cooler, folks on our side of town get anxious for a hearty meal and chili fits the bill.
So Macomb Now Magazine went to the Chili experts to get the 'ins and outs' of chili and we don't just mean beans in or out! The big expert in town hangs his apron in Clinton Township. Gerry Miller and his team have been competing in the Woods-N-Water News Outdoor Weekend Chili Cook-Off for 29 years. They've won about half the time. Every September they head to Imlay City Fairgrounds ready for the camaraderie and friendly competition.
"We have made lots of friends, saw each other's kids grow up, and just embrace the event like it is a holiday," said Miller who said his father inspired him to try new foods and embrace the joy of cooking. "On Saturday mornings he would grab my brother and I and head to the Eastern Market to get supplies for a day of cooking and fun at my uncle's house."
Since Gerry Miller began competing he has tweaked his recipe, but today he only uses beef and pork for a "legit" Texas-style chili recipe. His team of cooks also includes his trusted son-in-law, Patrick Connelly, who also loves being in the kitchen.
"In this cook-off all (food) has to be prepared on-site with all store-bought ingredients. The health department is there to make sure food handling processes and cleanliness are held to a high standard," said Miller. "We use a combination of cubed beef and ground beef. Tri-tip or choice sirloin steak is brined, grilled, then braised before it is potted. If you choose to cube beef like the professionals, it better be tender."
When it comes to beans, Miller uses three different kinds to mix with his beef. Then he adds several different kinds of peppers, onions, spices, hot sauces and herbs.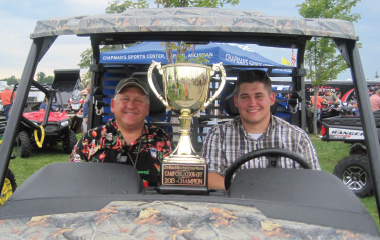 But according to Miller, you need more than a recipe, you need to know how to cook it properly. "In this competitive environment, and using a propane stove, it's imperative not to burn the chili. Any hint of a burn flavor and it's all over. We literally stir it for two to three hours straight.
Miller's recipe is quite complex but that doesn't mean a simpler chili, with fewer ingredients, can't be great. Another expert and cook-off competitor, Tom Schmitt, spends two days on his chili. "I enjoy the process of making the chili and cooking in general so my chili has a two-day process of making red wine braised short ribs and then making the chili and adding the short ribs."
Tom competed at the Blake's Chili Cook-Off the past two years, prompted by a good friend who also competed. "Our chili slowly simmers for hours! That provides a reduction of all ingredients and therefore enhances the taste. A dark film of sweet chili appears over the top of the pot of chili. That's when you know it is getting there."
Blake's Chili Cook-Off is held in February each winter. Attendees enjoy hard cider, beer and live entertainment. Competitors can enter in four different categories. Tom said the first year his chili wasn't as good as in 2023. "It was fun but we ran out of chili early!
This year I made sure we had enough chili, making nine gallons, which lasted until 3:15 p.m.," said Schmitt. "I especially enjoyed the people who came for the chili. Everyone was in a party mood, which helped bring the energy needed to serve three hours of shot glass (size) servings of chili."
Chef Gabriella Baldwin of Testa Barra in Macomb Township was a judge at Blake's competition.
She looks for chili to have deep flavors, good variant textures, and not be too loose. "I like when there is some body to my chili," said Baldwin. "Some people think that you can mask the type of meat by heavy seasonings but I can tell when a person uses a better cut of meat. Use meat you would eat on its own."
Gabriella Baldwin said she cooks chili at home all the time. "I love using a blend of meats and not sticking to just one, since each meat carries a different flavor, fat content and texture."
When it comes to heat, experts agree the heat is key.
Miller tries to appease the judges. "The level of heat is a personal preference, but I have found most judges do not like to burn their mouth and go searching for a quart of milk. Some level of spice is key but not when it hits your lips. We call it 'creeper heat.' Chipotle, smoked jalapeños is a great little flavor too." Schmitt suggests trying different chilis, creating slightly different recipes, until you get what you want. "Try more heat than you think but understand heat without tastes is no bueno. The goal is to get taste where the heat accents the taste," said Schmitt. Baldwin is more concerned with overcooking the chili, "Some may think that it is hard to do so since it is a wet mixture but it can turn gritty and chalky. Building flavor slowly from the beginning is key, so make sure to cook down your aromatics nicely."