Who's Cooking? Who's Learning?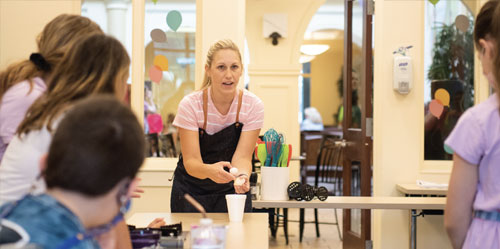 By Tracey Moro/Photography by Mike Ferdinande
Some of you, above a certain age, will remember going to home economics class at school and learning basic cooking skills in a real life kitchen. Maybe you made an omelet or baked bread? In today's world there aren't too many home economics classes out there and only certain high schools have much more in-depth culinary programs. But, at any age if you're looking to improve your kitchen skills, why not try a cooking class?
"Food trends are always changing so there's always something new to learn and teach," said Lauren Nordone, professional chef and owner of Breaking the Mold. Living her dream job, Lauren teaches cooking classes to the young and the old. After receiving her degree in communications from Oakland University she attended the French Culinary Institute now known as the Institute of Culinary Education. "I always knew the kitchen was where I belonged," said Nardone. She teaches group classes through Macomb Township Parks and Recreation and the Macomb Township Senior Center.
Why do people take cooking classes? According to Nardone, there are many reasons. Some are in a rut, or see themselves as a "bad cook" or they just want new ideas. "Some are newlyweds looking for the basics or coworkers doing a team building event. The list goes on and on." Nardone allowed Macomb Now to join her at one of her Kids' Cooking Classes at the Macomb Recreation Center. "Kids LOVE the classes. They love the independence they get in the kitchen when taking a class and they love showing off their new skills to their family." At this summer class the theme was Mexican and the kids made hot chocolate Mexican pudding, guacamole, and quesadillas. "The kids are so fun to work with. After each class I leave amazed by how much fun I had cooking with everyone."
Julie Archer, of Macomb, sent her two daughters, ages 9 and 10, to Nardone's class. "My youngest, Sofia, wants to be a chef when she grows up. I thought it looked like fun, something good to do," said Archer.
Another mom, Jessica Musante, sent her oldest of four to the class and he loves it. "Blake tries to cook at home and follows his Dad when he is cooking. The classes teach him more, like math and fractions, and he's learning while having fun."
Nardone's two-hour class included ages 8 to 14. They worked in teams of four with the proper tools and premeasured ingredients, following step-by-step recipes. They also learned patience as in the old saying, "A watched pot never boils."
Summer baking camps are what The Bakehouse in Shelby Township offers, but it also offers private baking and decorating classes all year long. "We have themed cupcake and basic cake decorating classes throughout the entire year. We also host birthday parties where the birthday kiddo can pick a cupcake theme and we do a class with them before they celebrate with friends," said Erika Helwig, owner of the Bakehouse and former teacher. Helwig bounced around teaching for a few years but was unable to find a permanent position once her son was born. She began a home baking business and after a few years she found a location and combined her two loves – baking and teaching. "I brought on a business partner, Diana Bushman, who did cake decorating part-time out of her home. We've been making desserts, custom cakes and teaching classes ever since. We have a lot of regular students and it's amazing to see the progress over the years," said Helwig who claims the kids learn basic baking science, how to properly measure and read recipes. "I take them step-by-step on how to make a cake completely from scratch. They take home their 6 inch completed cake and a folder with some basic recipes and baking tips."
Francine Salvatore, of Pamelas Catering, in Washington Township, has been conducting demonstration cooking classes for years. "When I'm not as busy, like in the winter, I will host classes. I used to do demonstrations all the time when I worked at ABC Warehouse," said Salvatore.
Fran grew up in a family of chefs and went to the Macomb College Culinary school when she was in her 50s. She hosts classes in her hall attached to her business on Van Dyke with about 25 people. She demonstrates how to prepare and cook each course and the class gets to enjoy the entire meal as she teaches. "We will be restarting our classes in January," said Salvatore. "Our classes have a theme, like French or Soups."
Salvatore has taught classes at many of the local libraries, including Center Line, Warren, Royal Oak, St. Clair Shores, Romeo and Clinton Township. While parks departments and libraries are great places to look for fun cooking type classes you can also find cooking demonstrations and classes at your favorite restaurants.
Restaurant chefs have busy jobs and adding cooking classes to their list seems kind of crazy but husband wife team Gabriella and Mike Baldwin of the Baldwin Group love the challenge. "Michael and I love to cook things out of the perimeters at our two restaurants. We also like experimenting with new ingredients and bantering back and forth, just being who we are for our guests," said Gabriella Rodriguez Baldwin.
The Baldwin Group, with two restaurants — J. Baldwins in Clinton Township and Testa Barra in Macomb Township — started classes years ago at J. Baldwins. But Chef Jeff Baldwin actually began his love of cooking classes when he was chef at MacRay's in Harrison Township. His son Michael followed in his cooking foot steps and while at culinary school in 2012 the not yet married duo held a class at J. Baldwins.
Today cooking classes are only held monthly at Testa Barra and include a four-course dinner demonstration, cocktail, beer and wine parings, giveaways and raffles. "We may call upon a guest but it's Mike and I who do the demonstrations," said Baldwin. Monthly classes have a theme and sell out quickly, with some more popular than others. "Typically we have about 75-100 attending a class, spread throughout our restaurant with overhead cameras. The attendees eat every course we cook."