What Gives!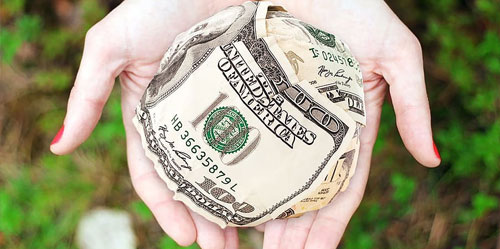 Tips to Make Smarter Decisions about your Charitable Giving
By Amy Persyn
There are many charities and organizations serving our communities. Now, more than ever, they need our support to carry out their missions of providing assistance, support and care. Making charitable donations is one way to help ensure our neighbors thrive, but it's important to be mindful when making your donations.
Don't Give to Strangers!
While we might be familiar with a need, an important part of charitable giving is to know the organization you are supporting with your financial gifts. There are resources that are dedicated to legitimizing the claims and reputation of charities. The two that are most highly recommended are Charity Navigator (charitynavigator.org) and GuideStar (guidestar.org). These sites provide operational information, financial condition, and other facts for many charities. As an organization, we use these resources to research nonprofits that request support from us. Vetting a charity can help ensure your money makes the most impact and is not wasted.
Meaningful Money
Identify causes that really resonate with you from the heart. Take time to research charities that are making a difference in a space that aligns with your values. Explore their mission and who or what they serve. This ensures your gifts can have an impact on the world in ways you would like to have an impact if you were doing the work yourself. Giving is extremely personal. You have earned or acquired money that you are willing to part with for a worthy cause. It's helpful when a charity shares stories, projects, and impact via their website, newsletters, or donor meetings to ensure that their mission and need for funds is evident. Most charities want to be sure their work coincides with the values of the people who donate in order to make their work possible.
Support Local
As I have said in the past: where your dollars circulate has an impact on our community. Shopping at local retailers creates a larger financial impact than national chains. The same goes for supporting local non-profits. They create local jobs, fund solutions, preserve and protect culture, and provide resources for our neighbors in need. Nonprofits have a positive economic impact on the community in more ways than one — while oftentimes operating with less resources and capacity to market to potential donors as large national charities. Donating to larger national or global causes is also important, particularly if causes that have that impact are meaningful to you personally. When reflecting on how you'd like to give, create a plan that can encompass the impact of both.
Giving and Taxes
While you give back, there can also be tax ramifications. Tax exempt does not always mean tax deductible. It's beneficial to consult your tax advisor with regards to charitable giving strategies and which donations might be tax deductible. Keep record of any charitable donation you make each year for review at tax time with your advisor.
More than Money
Your monetary gifts are much appreciated by the organizations that receive them – but giving does not always have to be a financial commitment. Giving time and talent are valuable contributions, as well. If you are looking for local charities to get involved in check out our "Guide to Giving and Receiving Help" which can be found at FSBCares.com. Regardless of who or how you support – giving of your time, talents, and treasures can have positive ripple effects in your community and beyond.

Amy Persyn is a lifelong Macomb County Resident. She is passionate about connecting families and entrepreneurs with information that can help them become empowered and financially literate.