We're Hiring!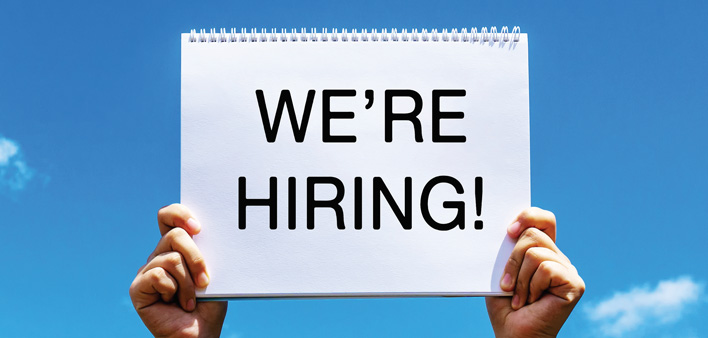 By Nick Lico
Prior to the worldwide pandemic, Michigan's economy was humming along. Unemployment was at approximately four percent, which, according to Evan Linskey, economic analyst for the Michigan Bureau of Labor Market Information and Strategic Initiatives, is about as good as it gets.
"Then COVID-19 hit and nearly every sector saw job disruptions, resulting in a 24 percent jobless rate. Areas such as accommodations, food services, arts, entertainment, recreation and retail trades were hit especially hard, with unemployment claims seeing a 1,100 percent increase from August 2019 to August 2020," Linskey said.
Things have improved, with the current Michigan unemployment rate around 8.5 percent at print time. One would think that rate would mean jobs would be difficult to find. In fact, just the opposite is true.
"Before (the pandemic), we had more workers than available jobs and now we have more jobs than available workers," explained Jessica Jones, manager and partner at LaborMax Staffing in Center Line.
"We can't fill the jobs fast enough," added Kristen Kummerl, branch manager at Qualified Staffing in Sterling Heights. "Every manufacturing company in the area is hurting for employees. We know there are a ton of people looking for work, but they are not applying for the positions."
It's a sentiment that Nick Gasiorowski, Manpower market manager, Detroit North echoes. "It's a true talent/candidate shortage, but with the demands being on highly skilled roles, or frontline workers. Employers are having to increase their compensation packages to attract and retain talent."
This bodes well for those looking to get back to work or to start a new career. "Individuals who once worked in the food and beverage industry are exploring new ventures to earn an income as the added safety protocols make the job even more challenging and unstable or unpredictable for incomes," Gasiorwski said.
These individuals may want to consider new careers in automotive, manufacturing, health care, education or shipping and logistics; all are in dire need of individuals.
"We do a lot of car staging and car production for Fiat Chrysler and it's a struggle to get people," Jones explained.
"While we're seeing the bulk of jobs in manufacturing, there is also demand for call center help and holiday retail," Kummerl added. "There are plenty of jobs available."
If you are interested in these positions, the staffing companies offer the following advice:
"Give us a call to set up an appointment to get an application. We offer temporary, temp-to-hire, temp- to-union-hire and full-time positions. Certain employers offer incentives such as bonuses and on-demand training and many of these positions offer room for advancement," Jones said.
"Manpower continues to offer candidates and employers free training resources to help provide more of the online educations and skills. We follow strict COVID-19 worksite guidelines in addition to new CDC guidelines to ensure our workers are safe and healthy," Gasiorowski said.
"Working with a staffing company gives you exposure to so many different jobs. You're really interviewing for hundreds of different jobs because if one isn't a fit, another one may be," Kummerl said. "Our goal is to get our clients hired in directly at 90 days. We offer benefits to our employees on day one and after 60 days, they're eligible for the same benefits I get."
Be sure to also check out county and state sites for available positions. Go to macombgov.org and click on the Career Opportunities page to see positions available through the county government. Visit macomb-stclairworks.org for available positions in Macomb and St. Clair counties and mitalent.org for positions throughout the state.
"I highly recommend that those looking for a position visit michiganworks.org. It's a free service available to both employers and employees and contains a lot of specialized resources, including individualized services for veterans," Linskey said. Due to current COVID-19 restrictions, he recommends calling the local Michigan Works offices because services are available by appointment only.
As you prepare for your new position, Gasiorowski offers the following advice:
"Review your resume and make it more explicit by replacing phrases such as 'met daily goals' with 'met production expectations of 100 units per hour.' I also recommend that job seekers dress appropriately for job interviews, even if they're via zoom. Ties and blazers are always appropriate for men and rehearse your interview with a friend or family member. You want to sound polished and prepared when the opportunity presents itself."