Water, Water Everywhere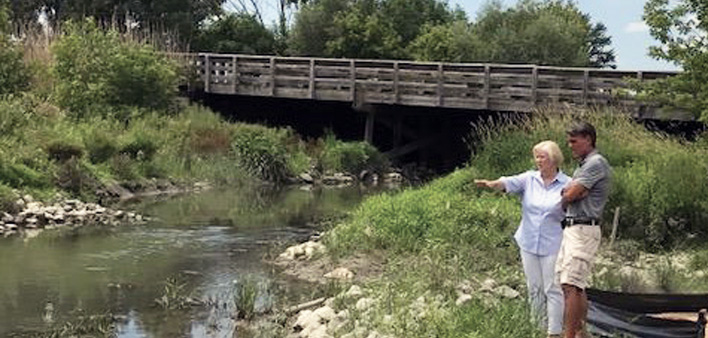 (from Spring, 2022 issue)
Macomb County's natural resource is a bonus to us all.
By Rebecca Calappi / Photography by Kristen Myers
Rivers, creeks, lakes and ponds, the natural water features in Macomb County are inspiring. With shores along the "unofficial sixth Great Lake," Lake St. Clair, and with one of the world's largest freshwater ecosystems a stone's throw away in any direction, Macomb County is the crown jewel of the Great Lakes State.
In Macomb County alone, there are 16 lakes and hundreds of miles of waterways ranging from trickling creeks to rivers big enough to host sporting events. Every drop of water that flows through these waterways has an important function to our way of life. From farming to boating, water is a most precious resource.
Origins
Waterways throughout the county are integral to our land and our lives. Chris Bunch is executive director of the Six Rivers Land Conservancy. "What happens to the land, happens to the water," Bunch said. "Land in its natural state is essential because of the ecosystem functions nature performs. This has a huge impact on water quality. An ounce of preservation is worth $300 million of remediation. It's critical to sustain the ecological functions of the landscape to maintain water quality."
Six Rivers Land Conservancy works with landowners to make sure the water gets as much of the ecological benefit from the land as possible. Think of land as a filter. Preserving natural habitats is critical to water being clean. If the land is polluted, it won't filter the garbage in the water.
Connecting the dots
Why do you care about a creek you've never heard of in northern Macomb County? All water flowing in our area, including creeks, rivers and streams, converge in the Clinton River watershed. A watershed is a huge land basin where bodies of water empty. It's nature's drainage ditch.
The watershed then drains into a bigger source of water, which is where we get the water for our homes. But the natural watershed isn't the only water that flows into our big lakes. Our county infrastructure has a huge impact on our waterways as well.
Macomb County Public Works maintains 474 drains. Of those, there at 401.7 miles of open-channel drains, which are streams and creeks, and 329.9 miles of enclosed drains.
Macomb County Public Works: 
Maintains local waterways by removing logjams, debris and sediment. Logjams and debris can impede the normal flow of water, which can lead to flooding, erosion and hurts water quality. 
Oversees two multi-community wastewater systems that collect sanitary sewage and deliver it through the giant "interceptor" pipes to the Great Lakes Water Authority wastewater treatment plant in Detroit.
Reviews engineering plans for new land developments to ensure proper stormwater drainage and that our drains are protected. 
Gets involved when there are chemical spills, such as petroleum, into our drains, to "capture" those substances with booms to reduce/prevent downstream contamination.