Visit Shelby Township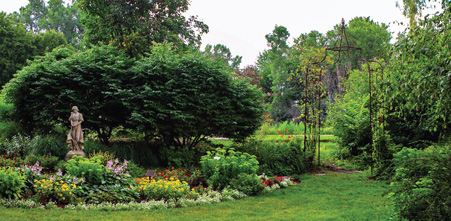 By Dan Heaton
On first blush, Shelby Township may seem like just any other suburb in a major metropolitan area. It shows up frequently on those lists of "fastest-growing" communities in Michigan. There's corporate and industrial parks along major roads. Subdivision after subdivision. And, heading in to the 2020 Census, the best estimate is that more than 80,000 people now callShelby Township home.
Shelby Township is home to a seemingly ever-growing collection of newer, luxury homes. The median value of a house in the township is just under $217,000 in 2018 – about $70,000 more than the county-wide average. And the township has added more than 550 single-family homes in the past five years, one of the highest rates of growth anywhere in Southeast Michigan. A recent check at Realtor. com showed about 40 homes – about two dozen of which are new construction – currently on the market with asking prices above $600,000. The opportunity for comfortable luxury living – with great community amenities – abounds in Shelby Township.
But there's plenty more to be found in Shelby Township than just suburban neighborhoods and luxury homes. If you enjoy nature, revel in our local automotive heritage, or enjoy finding an unexpected bit of Cold War history hidden in a park, Shelby Township just may be the place for you. Love a crisp apple or spending time along Macomb County's increasingly accessible and recreationally-friendly Clinton River? Then you might need to spend a day – or a whole lot of days! – in Shelby Township.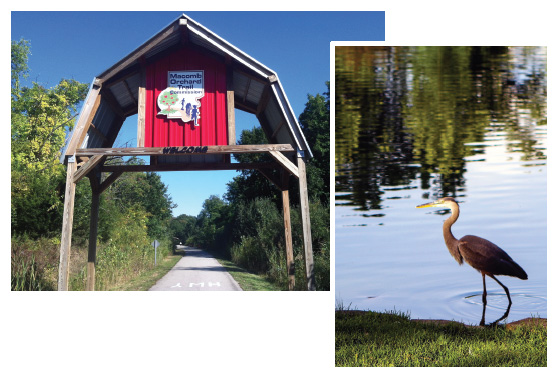 Our tour of Shelby Township on this day includes a stop at River Bends Park. River Bends encompasses about 870 acres and follows along about six miles of shoreline of the Clinton River. A pedestrian bridge over the river connects the two sides of the park. In the western portion of the park, in the Holland Ponds area, several walking trails will bring you past the Great Blue Heron Rookery. These majestic birds often nest in this area. Best viewed with a good pair of binoculars, Great Blue Herons typically can be found in the park from late March until about the first of October when they migrate to the south. Their large nests dot several trees. In 2019, about a dozen active nests were in the park. Sand Hill cranes can also often be found in this area, along with other birds and wildlife.
The park includes a number of amenities. There's an area for trap shooting and archery. Near the shooting range is where you'll find the remnants of a Cold War-era missile battery. Some odd cement structure that once housed the missiles, and a historical marker, are all that's left of the former Nike Missile station there. Installed in the 1950s, the missiles were designed to shoot down Soviet Union bombers if World War III ever happened. Thankful, the presence of these missiles is a fading memory now – they were never fired.
The east side of the park is a bit more developed, with the expected picnic tables and shelters. Also on the east side, you'll find another remnant of a now mostly-forgotten bit of local history. At the far eastern end of the park, there's some remnants of the Clinton-Kalamazoo Canal. In the 1800s, there was a plan to build a canal along the river from Clinton Township to Kalamazoo. While a little excavation happened, the canal never really got started before the money ran out.
If River Bends does not hold enough nature for you, consider traveling the Macomb-Orchard Trail, which begins in Shelby Township and goes north east about 24 miles all the way to Richmond. It's also a part of the new Lake to Lake Trail running from Lake Huron to Lake Michigan across southern Michigan. For those who prefer a tasty snack while out enjoying nature, the highly-popular Yates Cider Mill is just one of several places in Shelby Township were you can enjoy a locally-grown snack or beverage while out enjoying the great outdoors.
Located near the exact center of Shelby Township is the Packard Proving Grounds, which over the past 20 years or so – thanks to the work of a lot of dedicated volunteers – has become a polished gem in metro Detroit's bundle of automotive heritage sites. First created by the Packard Automobile and its forward-thinking president, Henry B. Joy, in 1927, the proving grounds served as a testing site for Packard's line of luxury automobiles and, during World War II, for Chrysler-built Army tanks and related vehicles. After World War II, the facility was more or less abandoned and fell into disrepair. In the late 1990s, volunteers began a long, tedious process to restore the facility and its buildings, which had been designed by famed architect Albert Kahn, whose name always seems to turn up when it comes to historic buildings in and around the Motor City.
Now, the Proving Grounds serves as an all purpose venue. This summer, it will host about 80 weddings, numerous historical tours and visits, farmer's markets and community meetings. It is also a great place to watch the township's annualJuly 4th fireworks display, fired off from nearby Ford Field.
"We have 18 Packard automobiles in our fleet now and they – and these magnificent buildings – draw people not only locally, but from around the world," said Rene' Moon, the assistant events coordinator at the Proving Grounds. "We've had groups from Australia, we get a lot from California – the phone and the emails just never stop," she said. "I think the thing that continues to draw people, it's the automobiles of course, but the craftsmanship of these buildings is amazing."
The Packard Proving Grounds now includes eight historically restored buildings on 17 acres. Tours are available by appointment.
So whether you live in Shelby Township, are looking to move there or are just looking for a fun place to go, Shelby Township seems to have it all.