Vintage Salads Stand the Test of Time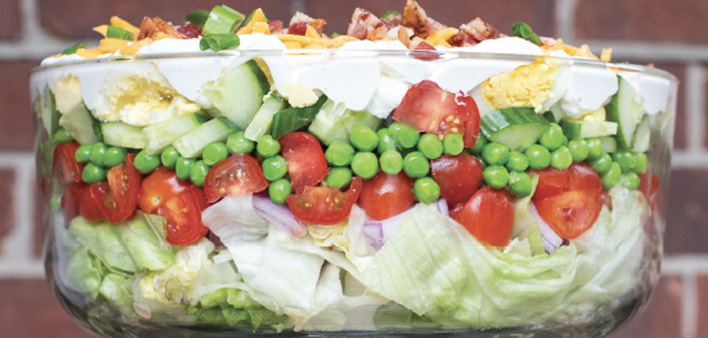 By Tracey Moro / Photography by Mike Ferdinande
Some food just doesn't go out of style. Or should I say, some recipes just keep on living, decade after decade, passed on from generation to generation. Those are the recipes that have been written over and over again, from the small recipe card that Great Grandma had to the new one she penned for her Granddaughter on that scrap piece of paper, which is now covered in oil and flour, and maybe held together by Scotch tape. Many of these recipes have turned into picnic favorites we have all grown to love. And every summer picnic includes a coveted salad that has stood the test of time within a family. Some were really popular years back and we may have just forgotten about them, replaced them with new favorites. These are the recipes we wanted to include in our Summer Edition. Hopefully they will spark a few memories from years gone by and inspire you to make them again. We already know they are fabulous, since they have lasted for generations.
We reached out to our dear friend and celebrity Chef Cathy Lentine, of Washington Township, to see if she had any salad recipes that have lasted generations and she was quick to share. Her favorite, the Tomato, Cucumber Salad is super simple and has been in her family for years, probably coming from her family in Italy before her mother. "This was a staple growing up in a traditional Italian Family! We would have this salad at all our summer picnics," said Lentine. But Cathy's Seven Layer Salad is an American classic from back in the 1960s when it could be seen at local church picnics. Having great presentation and perfect for large groups this salad is always a crowd pleaser. Of course Cathy puts her own spin on each recipe and hers has more than seven layers with some added Parmesan cheese to the dressing, giving it great texture.
Seven Layer Salad By Cathy Lentine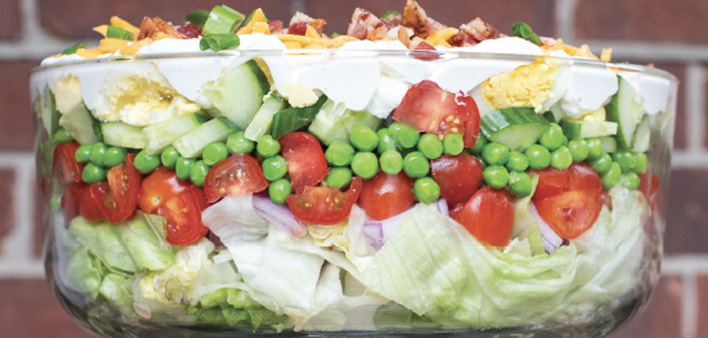 Dressing Ingredients:
1 1/3 cup mayonnaise
¼ cup sour cream
2 tsp. white vinegar
1 tsp. each of salt and pepper
¼ cup of grated Parmesan cheese
Salad Ingredients:
1 small head of iceberg lettuce shredded
1 pound of bacon cooked and crumbled
12 oz. of peas thawed
1 cup of shredded cheddar cheese
1 cup of red onion chopped
1 cucumber chopped
1 ½ tomatoes cubed
12 hard-boil eggs cubed
Chopped green onion (optional)
In a large clear bowl assemble the layers starting with the lettuce, add the red onion, tomatoes, peas, cucumber and then the egg.Spread dressing on top.Cover with the cheddar cheese and top with crumbled bacon.Finish by sprinkling with chopped green onion.
Tomato and Cucumber Salad By Cathy Lentine
Ingredients
1 large cucumber sliced
4 vine ripe tomatoes sliced 1 red onion
½ to ¾ cup olive oil
¼ cup red wine vinegar
1 Tbsp. dried oregano
1 tsp. each of salt and pepper
Directions
Mix sliced vegetables into a large bowl and toss with the olive oil and vinegar.
Season with oregano, salt and pepper.
Let the salad marinate and absorb the flavors before serving!
When Cathy Lentine reached out to her friends to see who had a family salad recipe they wanted to share, Michelle Randazzo of Romeo was quick to share her family's Ambrosia recipe. Another cool, refreshing fruit salad, Ambrosia is more of a dessert with its whip cream base and marshmallows mixed with mandarin oranges, pineapple and of course, maraschino cherries. Apparently Ambrosia began as a southern tradition dating all the way back to the 1800s. The recipe expanded over the years once whip cream was introduced and later, adding the marshmallows, it changed again into the recipe you see here.
Ambrosia By Michelle Randazzo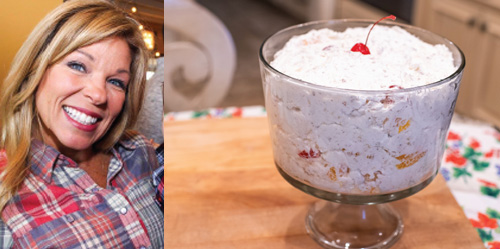 Ingredients
8 oz. of thawed whipped topping
½ cup vanilla yogurt
1 cup shredded sweetened coconut
1 11 oz. can mandarin oranges, drained
1 8 oz. can of crushed pineapple, drained
1 cup maraschino cherries, drained
1/2 cup chopped pecans (optional)
1 ½ cups mini marshmallows (fruit flavored optional)
Directions
In a large bowl mix together the whipped topping and yogurt.
Carefully fold remaining ingredients together.
Top with one or two maraschino cherries for presentation.
Chill before serving.
We couldn't do a vintage salad recipe story without including a Jell-O salad. Molded or with fruit, Jell-O salads were extremely popular. Although they hit their popularity peak in the 70s and were leaving most household menus by the 80s there are still a few hanging on today. At 91, Josephine Mlynarek, of Clinton Township, has been making this salad for her family for several generations and now has great grandchildren enjoying it at holiday and family birthday parties. This cool, refreshing Jell-O fruit salad is usually served with a dinner but could be a stand alone snack or dessert on a hot summer day.
Heavenly Green Jell-O By Josephine Mlynarek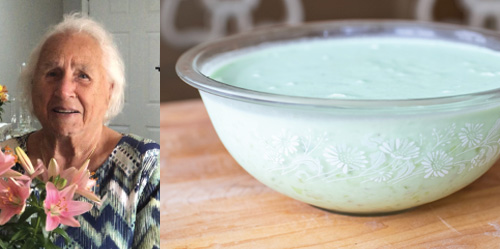 Ingredients
2 small Lime Jell-O packets
2 cups boiling water
1 cup cold water
1 large can crushed pineapple (drained)
pineapple juice drained from the can (1/2 cup to 1 cup)
1/2 cup celery
1/2 cup nuts chopped
1 package Philly Cream Cheese – room temp
1/2 pint whipped whipping cream
Directions
Make Jell-O according to package, using two cups of boiling water, one cup of cold water and the drained pineapple juice.
Put in refrigerator and let thicken slightly.
Meanwhile chop celery and nuts, and whip the whipping cream.
Once Jell-O is thicken beat with a mixer until it turns a light green.
Keep mixing and add cream cheese in small pieces, the crushed pineapple, celery and nuts.
Then fold in the whipping cream until everything is mixed evenly.
Refrigerate at least a few hours before serving.
A picnic isn't complete without a version of the Potato Salad. According to Chef Angelo, from Vince and Joe's Gourmet Market, every Sicilian household has their own version of the Red Skin Potato Salad. "At summer gatherings at Stony Creek with lifelong friends, you could find at least 10 different versions of this same salad. This is the one that we grew up with at our house, and can even be served warm," said Angelo. He remembers eating it warm at home, then cooler once at the park, and then cold out of the fridge for a nighttime snack.
Sicilian-Style Red Skin Potato Salad By Chef Angelo Loria, Vince & Joe's Gourmet Market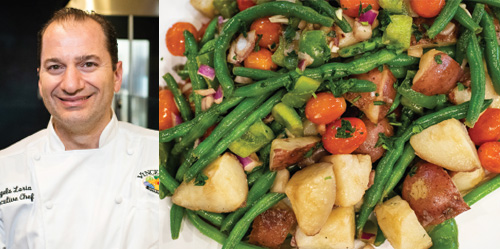 Salad Ingredients
1 lb. green beans,
cut into one inch pieces,
blanched 2 lb. red skin potatoes,
cut into bite-sized pieces,
boiled in water then cooled
1 medium-sized plump tomato, cut into bite size pieces
1 red onion, julienned
1 bunch parsley, chopped
¼ basil leaves, sliced thin
Balsamic Dressing
Dressing Ingredients
1 cup olive oil
2 oz. Balsamic vinegar
1 Tbsp. Dijon mustard
1 tsp. salt
1 tsp. pepper
1 Tbsp. honey
1 anchovy filet
Directions
Mix green beans and potatoes with tomatoes, onions and herbs.
Whisk or blend all ingredients for balsamic dressing together.
Toss green bean and potato mixture with enough dressing for your liking.
Taste and add salt and pepper if necessary.
Notes: Green beans and potatoes should be cooked through but firm. Other options to this recipe would be to add peppers such as fresh banana, jalapeno or serrano peppers for a little heat. Add chopped celery or fresh fennel for crunch.