Verona Inspired Italian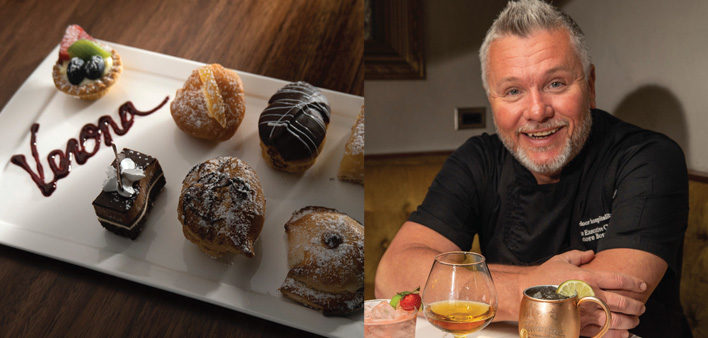 An Italian restaurant inside a local hotel brings homegrown flavor in a contemporary atmosphere.
By Alexis Bohlinger
The Cambria Hotel in Shelby Township is the newest hot spot for business stays and conferences, and outstanding Italian fare with Verona Inspired Italian restaurant bringing the best Italian food around and an all-around good time. Built by the Yellow Door Hospitality Group, Verona Inspired Italian is the sister location to Bar Verona with locations in Washington Township and Commerce Township.
When you first walk into the hotel, you see the reception desk to your left. The rest of the lobby contains the seating area, kitchen and bar for Verona Inspired Italian. Through the window, you can look into the scratch kitchen where the chefs are making their pasta, sauces, dough and soups, fresh daily.
Macomb native and Corporate Executive Chef, Sam Borgia, is responsible for creating the menu for all three locations but wanted to bring something special to Verona Inspired Italian given its significantly different setting and vibe. "We make all of our sauces and dressings fresh in house. We case our own sausage and make our own pasta and dough. We believe in sourcing locally and we strive to take all of our food items from A to Z," Borgia said. "This process takes longer and a lot of restaurants don't see the need to put in the time, but I know that we are doing it right." Borgia explained that he is an avid gardener at his home in Washington Township and that the "best food you will ever taste is the kind you grow yourself." Borgia strives in his cooking to bring that fresh homegrown flavor to each of his dishes.
Verona Inspired Italian and the Cambria Hotel officially opened their doors in February 2021. "We began construction before Covid," said Borgia. "But with the dedication and grit of our staff who stayed on during that time to work, we came together and pulled it off. Our room service and carry out options sustained us during that time."
Now, fully open to the public, the restaurant is open for dinner and is "perfect for a romantic date night," Borgia continued. "The restaurant was decorated by JoNicole Caradonna, one of the owners' wives. She has a great eye for décor and rather than the traditional Italian setting created a fresh, contemporary atmosphere."
When you visit Verona Inspired Italian, you will have a wide variety of menu items ranging from salad, pizza and pasta, to steaks, seafood and chicken. Borgia also raved about the popularity of the vegan menu. "Our vegan meatballs and vegan chicken parmesan have gotten great reviews."
Other menu favorites include the sausage and peppers, eggplant tower and charred octopus appetizers. Follow that with an eight ounce Nona's Meatball with a dollop of whipped ricotta. From there you can try a variety of bold pastas, steaks or seafood. And as always, end with a mini cannoli, gelato or espresso brownie layered with mocha cheesecake.
Whatever your craving may be, Verona Inspired Italian will not disappoint.