Vacation in Your Backyard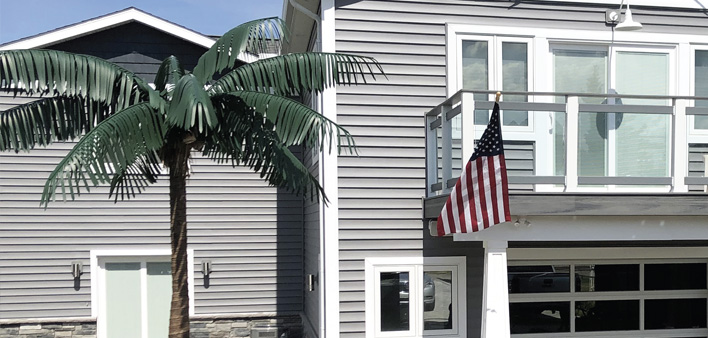 By Nick Lico
The COVID-related lockdown of two years ago forced many to view their homes in a new light. For months, home was where we lived, worked and entertained ourselves. Many decided that they wanted larger kitchens, dedicated home office space, and large outdoor living spaces that function as an extension of the home.
More of our customers are investing in their homes and not traveling as much. They're creating retreats in the backyards, extending their living space," said Jason Arnott, Earth Environments owner and founder.
One such customer is Joe Vaglica. He and his wife are reimagining their yard in phases.
"We hired Jason to design our dream backyard. His company redesigned our front yard two years ago and our backyard last year. This year they're going to install a little orchard for us. It's part of a five-year plan," Vaglica said. Their backyard oasis includes a waterfall and an exposed-aggregate patio.
Tim and Kelly Burt also contracted Earth Environments. They decided to have a fi re pit and stone steps installed in their backyard.
"We wanted to expand the living space off the back porch. The finished product is fantastic and adds so much to the back of the house. We've received a lot of compliments," Tim said.
A musician at heart, Silvia Simon decided she wanted to spend more time under the stars pursuing her passion. She chose to add a paver brick patio for her chiminea and to reduce the significant slope from her yard to the lake behind her property in Washington Township.
"I worked with Jason on the pattern and colors of the pavers. This is a popular place for family and friends. I gather with other guitarists once a week and we have a party there about once a month. It makes the walkout basement area even bigger," she said.
Entertaining might as well be Cathy Lentine's middle name. A cooking celebrity whose work has also appeared in this magazine, she is currently in the process of remodeling an existing backyard kitchen next to her pool house.
"My husband and I have been in our current home for 10 years and we decided it was time to change things up," Lentine said.
"I'm doing this top of the line. We're putting in really nice indoor/outdoor cabinets, strictly outdoor appliances, a large grill, pizza oven, dishwasher and fridge," she said.
She is also replacing a pergola with a roof to prevent leaves from falling onto the dining area. The design will feature open windows to let in the fresh air and roller shades for when the weather doesn't cooperate. Lentine contracted designer Diane Socks, Advanced Renovation, Loukas Construction along with Sargent Appliance.
Sometimes, other work leads to remodeling the backyard. That's the case with Billy Van Hove of Harrison Township.
"We added to the house and the entire yard got torn up, which prompted us to get a lot of work done, including adding a firepit and paver lights. The result is lot more usable space and a really nice hangout spot with patio furniture. It's probably one of nicest backyards in the whole sub," Van Hove said. He contracted Lemwoods Landscape for the project.
In business for over 20 years, Lemwoods Landscape owner Tracey Lemmons has seen an increased demand for firepits, outdoor kitchens and sunken hot tubs. When asked about typical pricing for these projects, she replied: "It's all over the map. It depends on the material they pick and the extent of the project. A lot of people don't really know what they want."
Lemmons suggests customers research the project.
"Look at photos of what you want. We can always scale something to fit your home and budget," she added.
"A lot of people are wanting a covered patio or cabana and don't realize how intricate and expensive it can be. People are spending from $30,000 to a few hundred thousand, which makes having a realistic budget and having the project properly designed critically important," added Sam Marino, of Marino's Landscape in Washington Township.
If those figures sound daunting, consider taking Vaglica's advice.
"Don't look at budget as your constraint; you can phase it out. Break the overall project and budget into phases that make it affordable. We would not have been able to afford doing everything at once. Breaking it up into phases made it reasonable," he said.