Therapy & Education Combined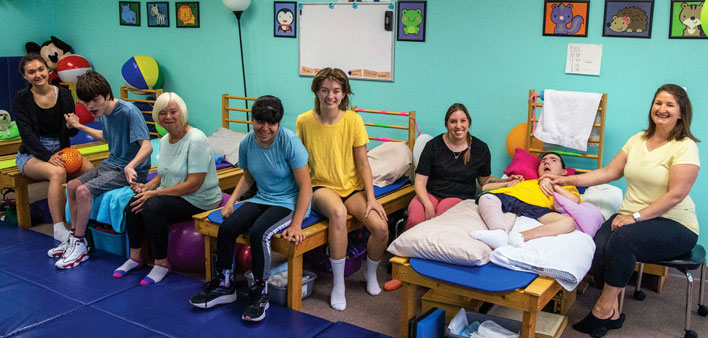 The Conductive Education Center in Sterling Heights helps kids with cerebral palsy.
By Jenna Galasso/Photography by Mike Ferdinande
Cerebral palsy. Two words many people know but not many truly know what the neurological disorder entails. Cerebral palsy is the most common motor disability that affects a person's ability to move, balance and posture. Impairment of speech, hearing and language are all effects of the condition. The disability, is not curable; however it is possible for different treatments to improve the lives of those who have the condition. This is what the Conductive Education Center of Metro Detroit, located in Sterling Heights, is doing. Neither a therapy nor a treatment, conductive education is a comprehensive method of learning for individuals with neurological and mobility impairment.
Cerebral palsy is typically treated by three different types of therapies: physical therapy, speech therapy and occupational therapy. A new type of therapy was founded in Hungry in the 1940s that combined all three types of treatments into one. It's known as conductive education.
Conductive education programs are meant to be more task-oriented learning programs instead of medical treatment therapies. Conductive education is meant to not only be a "three in one therapy" but also aims to look at kids as a unified whole individual involving all aspects of functionality.
Szilvia Hargitia, a conductor at the Sterling Heights center, explains her story of how she grew up in Hungary watching her sister become a conductor, which is essentially a teacher of all therapies. Hargitia admired her sister's work for how "one could use their life to do such good for others."
Dawn Sunderlik, one of the Conductive Education Center's original founders, has a son, Zack, with cerebral palsy. When she found out Zack's life would be forever changed, she decided to get him the treatment he needed. She found out about a conductive education program in Poland and flew out six weeks at a time to get treatment.
Fast forward a couple years later to a study at Oakland University that derived fascinating results, especially for families affected by cerebral palsy. The study entailed three control groups of children with the condition: one group not being treated by any therapy, the second group treated with traditional therapy, and the third group treated with conductive education. After all of the three groups were compared, it was clear that conductive education yielded the best results, not only for the kids, but the families as well. The parents absolutely loved the idea and the additional bonus of the kids' improvement of their social skills and most importantly – their confidence.
This study led Sunderlik and some other parents to start their own conductive education program, here in Sterling Heights. Oakland University donated all of their equipment to the program in 1999. Other financial supporters of the program include Andiamos which hosts the Gala Andiamo every fall and Detroit City Sports which provides items for their auction yearly, as well as other fundraising within the community.
Fundraising is important for the organization, since the center has never charged a family for being involved in the program. What's even more impressive is that the nonprofit has been around for 23 years, while "10 percent of nonprofits only make it past the 20-year mark," Sunderlik said.
A typical day in a conductive education center begins easy for the kids. The conductor and other aids help each child with getting their muscles ready for the day. They start by counteracting the contraction the muscles go through by massaging the tissue, lifting their arms, practicing grasping, rolling over or changing positions, all while keeping active and being playful with the kids, because they're kids. Szilvia noted, "The encouragement and playfulness helps the kids cheer for each other." These exercises are meant to prepare them for their daily tasks of movement and function.
Allie Brenner, 27, who is friends with Sunderlik's son Zack, now 26, has been attending Metro Detroit's Conductive Education Center since the beginning. Allie has improved and currently is working at a local movie theater. Although Zack is wheelchair bound and may not be able to say much about his friendship with Allie, it's not hard to tell how much the means to him from his infectious smile whenever Allie is around. The parents speak highly of the program but what speaks even louder than the families' praise are the kids' smiles. Just when the parents cannot begin to say thank you enough, the kids' smiles say it all.
To further support visit cecmd.com