The Benefits to Therapy Animals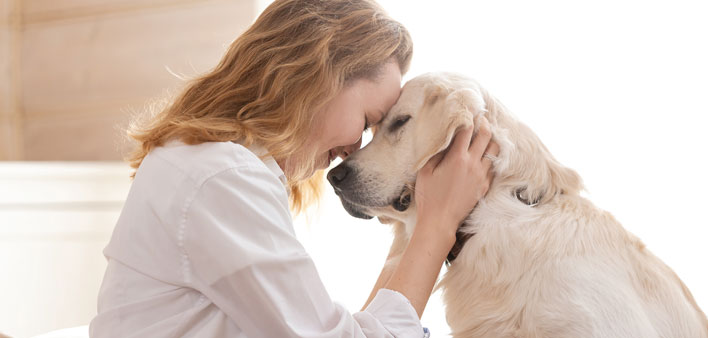 By Shelley Galasso Bonanno, MA, LLP
Interactions with animals and our bonds with them can provide emotional comfort, support and appear to help strengthen resilience through times of crisis. A growing body of scientific studies confirms that our connection with animals is strongly correlated with increased feelings of well-being and alleviates anxiety and depression. This research is being utilized throughout communities to help explain the increasing use of animals, particularly dogs, to provide therapy and support in various settings ranging from schools to hospitals to correctional facilities.
Therapy dogs provide emotional support for individuals suffering from various mental and emotional conditions — such as anxiety, depression, mood disorders, and phobias. They are specially trained animals that also partner with their human handler to assist in a variety of facilities. Increasingly, local organizations such as schools and court systems use therapy dogs to help survivors of trauma. Some local long-term care facilities offer pet therapy programs to help improve the mood and general well-being of their residents. The research further suggests that the dogs can help facilitate social interaction and create positive emotional responses among residents. Most recently, the Macomb County Prosecutors Office announced it is participating in the Canine Advocacy Program in connection with CARE House, to help children cope with the trauma of abuse and/or neglect by using a trained therapy dog to assist them in the process of preparation for court.
Studies have shown that interacting with animals can increase people's level of the hormone oxytocin. Oxytocin helps us feel happy and trusting and contributes to our body's ability to heal more quickly. Interactions with pets have also been shown to decrease levels of cortisol, otherwise known as the stress hormone, resulting in increased feelings of calm and increased feelings of wellness.
It is not only our relationship with animals such as cats and dogs that has proven to provide significant therapeutic benefits. Other animals can also act as therapists themselves or facilitate therapy, including horses. Equestrian therapy is a specific form of therapy that makes use of horses to help promote emotional growth. Research has revealed a great deal of success, particularly when used with individuals experiencing anxiety, autism, dementia, developmental delays, depression, brain injuries, trauma/abuse issues and other mental health issues. Those who provide equestrian therapy note that a horse can respond immediately and give feedback to the rider's action or behavior. Many might say horses can mirror the rider's emotions, thereby forging a strong and mutually satisfying bond between the horse and the rider.
While animal-assisted therapy may not be right for everyone and is generally not the only therapeutic option, animal therapy is proven to decrease stress and reduce feelings of fear or worry. For many, it can be a valuable adjunct service for decreasing depression and anxiety and increasing emotional wellness, particularly during times of stress.

A lifelong resident of Macomb County, Shelley Galasso Bonanno is a practicing limited licensed psychologist who earned her master's degree from Wayne State University in 1987. She has a breadth of experience in working with adults, children, families, and couples. In addition to working in private practice, Ms. Bonanno performs consultative services for State and forensic agencies. She performs custody and parenting time evaluations and is a court approved mediator. Her writings have appeared in various online and print publications. An advocate for mental health, you can follow Ms. Bonanno on Twitter @shelleybonanno.