Their Own Stampede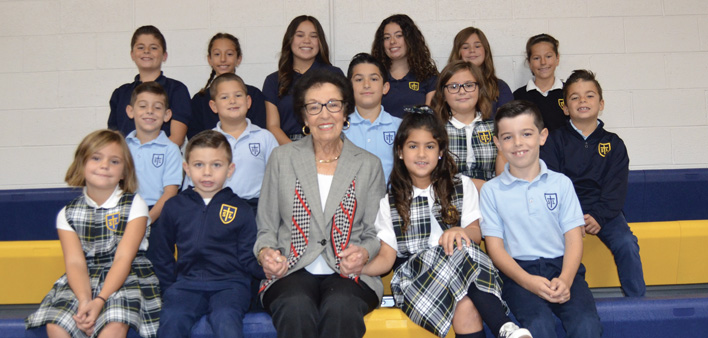 (from the Winter 2022 issue)
By Tracey Moro
The St. Lawrence Catholic School students in Utica are known as the Mustangs and one local woman has created her own stampede. Known to her friends and family as Dollie, Stephanie Lentine, of Washington Township, is delighted and proud to watch her 15 great grandchildren grow up attending the same school.
"There's a Lentine in every hallway," said Stephanie Serra, Lentine's niece and the advanced director at St. Lawrence. "There's almost one in every class, with two in kindergarten. The youngest is in four-year-old preschool and they go all the way to eighth grade."
At 91, Lentine drove herself to the school for our photoshoot and didn't hesitate to climb the stairs to the top of the bleachers. The great grandmother lost her husband a few years ago. "My husband Sam had a special connection with the nuns at his school growing up. His mom had died when he was two so he only had his dad, so the nuns really helped out," said Lentine.
This foundation set the stage for the Lentines who would go on to raise five children, sending them to catholic schools in Clinton Township. "We believed our children needed to learn about religion while at school and get a spiritual foundation," said Lentine who also is a member of the St. Lawrence parish. The tradition continued with Lentine's grandchildren and is now continuing with the great grandchildren.
Although there are 15 great grandchildren at St. Lawrence that's not all of Lentine's great grandchildren. She has 27 total. "A few have graduated from St. Lawrence already, and a couple live out of state. The rest are still too young to go to school," said Lentine who also spent 13 years in Catholic school.
You might say Lentine has helped populate Macomb County. With just one couple, Stephanie and Sam, have created a family of 70. "We are used to big crowds at family gatherings," said Stephanie Scheper, also named after her mother and a seventh grade teacher at St. Lawrence. "For years we all spent holidays at my parents' home but since my Dad passed we have my Mom come to our homes. It's great when we all get together."
The Lentine Mustang Stampede includes Joey Lentine – four-year-old preschool, Gino Guerrieri – kindergarten, Teddy Loukas – kindergarten, Santino Guerrieri – second grade, Ida Marie Loukas – second grade, Joey Michael – second grade, Emma Wrightner – second grade, Juliana Wrightner – third grade, Dino Loukas – fourth grade, Sophie Santoro – fourth grade, Nadia Wrightner – fifth grade, Elena Mabesa – sixth grade, Anthony Michael – sixth grade, Leah Santoro – sixth grade, Angelina Michael – eighth grade.