The Flower Above All Others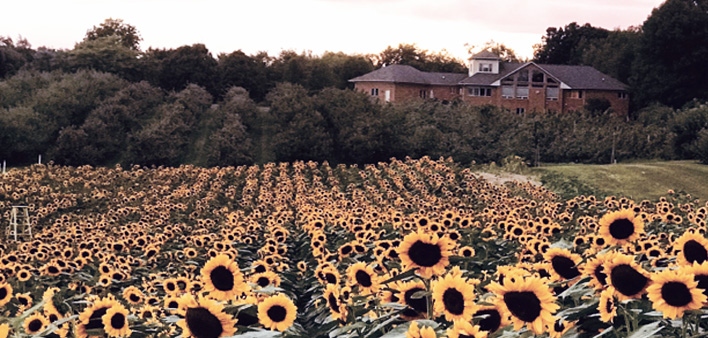 By Rebecca Calappi
If any flower deserves the title, "majestic" it's the sunflower. In recent years, the sunflower has enjoyed a burst of popularity, which has resulted in one of the most colorful festivals of the summer—the Sunflower Festival at Westview Orchards.
For two days at the beginning of August, sixth-generation farmer Katrina Roy, co-owner of Westview Orchards, hosts a festival devoted to the sunflower.
"It's the happiest crop we've ever grown. Just having something to give people a mental and emotional lift is wonderful. There's just something about it. It's a mental retreat from our everyday lives," Roy said.
Visitors should make reservations on the Westview website to save their space for the July 31 and August 1 event.
Wagons take visitors on a one-mile ride to the field. "Once they get to the sunflower field, we'll have almost six acres, that's six football fields, of sunflowers. New this year, we have cut flowers, zinnias, marigolds and cosmos that will be for picking, too." Roy said they planted even more sunflowers this year, so maybe visitors to Westview in mid-July will be lucky enough to see the golden waves of flowers.
The fields will also be peppered with different pieces of farm equipment for photo ops among the flowers. Also, there will be a big yellow and white tent, live music, wines and hard ciders, a variety of baked creations and food. A few surprises are also in the works and will be announced in the weeks just before the festival.
Additionally, Westview will offer yoga classes in the sunflowers.
At the festival, don't be surprised to see guests dressed in sunflower attire. In fact, plenty of sunflower merchandise will be available.
"It's a fun time to be creative. It's about the flowers. It's about the nature and capturing those moments," said Roy. "It just rejuvenates people and takes your worries away and gives you something to smile about. Being out there in the sunflowers gives you that."
For more info visit westvieworchards.com