The Benefits of Vacationing as a Couple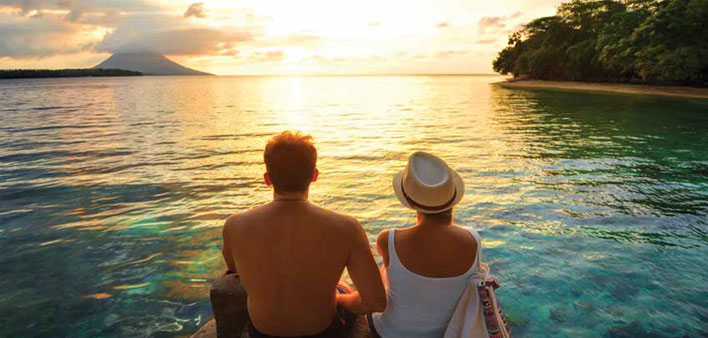 By Shelley Bonanno

It is that time of year again. Summer. An ideal time for many to vacation. Research has shown that taking time off from the hustle and bustle of everyday life has many advantages for both our physical and mental health. A vacation, whether short or long, offers the opportunity to decrease stress and rejuvenate. But often it's not easy to break away from work and routine.
Concerns regarding financial resources or guilty feelings about leaving family, including children or aging parents, can prevent planning that yearned-for vacation. While those feelings are valid, research has demonstrated that when people return from vacation they feel calmer, energized, and in general, more satisfied with their lives. In fact you may find you have more to offer your family and obligations upon your return, including increased motivation and an enhanced capacity to cope with stress.
People who vacation together as a couple are provided a unique set of positive opportunities. Vacationing together can allow couples the time to focus on the relationship and help to rediscover what initially brought them together. A vacation offers the opportunity to view the world from a different lens. Experiencing new sights and activities and taking new challenges together builds trust and increases intimacy, offering a new perspective on the world and the relationship.
A couple's vacation offers a unique opportunity for shared enjoyment as a couple. Vacationing together can promote a couple's bond and deepen their emotional connection. Providing a break from daily routines provides both quality and quantity of time together, and renewed energy often lost during the monotony of everyday life. Vacationing can also rejuvenate your sex life and enhance feelings of closeness.
Research has shown that spending time together as a twosome, away from the daily routine, not only rejuvenates relationships but increases overall feelings of well-being and happiness. This summer could be the perfect opportunity to take your partner by the hand and enjoy the many benefits vacationing as a couple has to offer.
Shelley Galasso Bonanno, MA, a lifelong resident of Macomb County, has been a practicing limited licensed psychologist for nearly 30 years. Bonanno is also a court approved mediator who has extensive experience in working with families involved in divorce/child custody disputes. Her writings have appeared in various online and print publications. An advocate for mental health, you can follow Bonanno on Twitter @shelleybonanno.