The Arsenal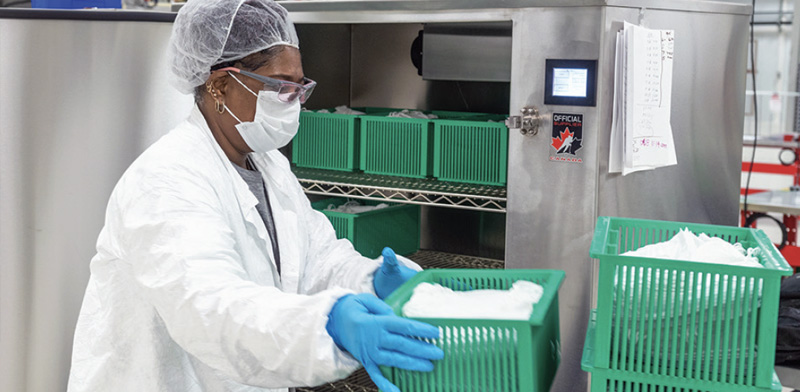 By Nick Lico
During World War II, Southeastern Michigan became known as the Arsenal of Democracy for building the planes, trucks and tanks that helped the Allied powers fight the Axis. It also made weaponry, drugs, helmets, electronics and much more. During the COVID-19 pandemic, our area's manufacturing demonstrated a similar dexterity, quickly transforming to address the needs of frontline workers and the general public fighting a different kind of war.
Automotive Adapts
Shortly after the United States realized the severity of the pandemic, General Motors announced a partnership with Ventec Life Systems to build critical care ventilators. GM also announced that it would start making face masks and face shields. "We are proud to stand with other American companies and our skilled employees to meet the needs of this global pandemic," said Mary Barra, GM chairman and CEO. Roseville-based All State Fasteners (ASF) provided all of the fasteners for the ventilators. "Ventec had an incumbent fastener supplier who couldn't handle the ramp up. The fact that we took what should have been a 12- to 14-week timeframe and condensed it into nine days is indicative of what a great automotive company can do," said Nick Giorgio, the company's executive vice president. ASF's resourcefulness was rewarded with work on a second ventilator program with GM. "It was an honor to be part of a program that saved American lives. It was humbling and inspiring to be part of this program. What we worked on was directly related to people living or dying and that had a tremendous effect on our efficiency," Giorgio added.
Ford, meanwhile, collaborated with 3M to begin producing powered air-purifying respirators in Flat Rock. It also started making face masks at the Van Dyke Transmission Plant in Sterling Heights and face shields at its Rawsonville plant. The company also started making reusable gowns to help protect health care workers. "The need to protect our medical teams is heightened; Ford's gown production could not come at a better time during this crisis," said David Claeys, president of Beaumont Health hospitals in Dearborn and Farmington Hills. "Our frontline health care workers are working around the clock to treat COVID-19 patients and we need the necessary supplies to support them."
Sanitizing Becomes Needed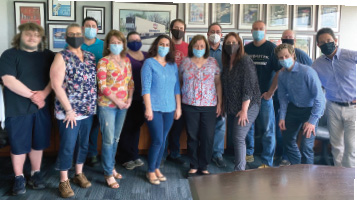 Hand sanitizer became a hot commodity as soon as the virus hit and many local companies, including a few breweries and one local chemical solvent company responded by pivoting from their regular production. "We make a lot of specialty chemicals that are used in a wealth of products, including bridge construction, smartphones and medical devices. As we like to say, our products are found on planes, trains and automobiles," explained Mark Thurber, CEO, Maelstrom Chemical Technologies in Shelby Township. Repositioning itself to address the needs of the health care community during the virus was not difficult. "Changing from our regular production to producing hand sanitizer was not a quantum leap for us," Thurber added. "We had the World Health Organization-required materials on hand and we followed the organization's stringent formula to create an extremely effective hand sanitizer." The company donated the hand sanitizer to various organizations, including doctors' offices, senior centers and hospitals. Based on its experience during the pandemic, Maelstrom will be adding a line of decontaminants to its product offerings.  
Blake Farms also made and donated hand sanitizer to area hospitals, first responders and frontline medical workers. "A couple of weeks after the governor's stay-at-home order went into effect, we repurposed our distilling manufacturing processes to make hand sanitizer," said Kaley Pittsley, Blake Farms director of marketing and events. "Customers will find it at all three Blake Farms locations."
Businesses Give Back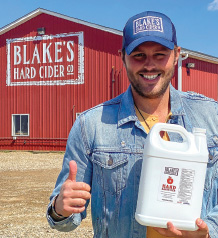 All businesses have been greatly affected by the pandemic and the families of those who succumbed faced additional hardships when planning their funerals. "Visitations were limited to 10 people at a time and many families opted for direct cremation, with a memorial service at a future date," said Sarah Lee, owner of Lee-Ellena Funeral Home in Macomb Township. She explained that the loss of visitations and funerals has been especially sad because it makes grief recovery more difficult. A Macomb Township company, meanwhile, found a way to put a smile on the faces of frontline workers. In business since 2017, Lawn Bombs produces and places handmade lawn signs for special occasions, such as birthdays and graduations. To show its support for health care workers, Lawn Bombs placed "Our Heroes" signs at area hospitals. "We donated the signs as a way to thank the workers, to show them how much we appreciate all that they did during a very difficult time," said Sherry Ellis, co-owner, along with her husband, Nick.
Financial Caring
Recognition is nice, but many businesses needed financial help to get through the pandemic. Which is why the Macomb County Planning and Economic Development (MCPED) worked with the Michigan Economic Development Corporation (MEDC) and First State Bank to coordinate economic assistance. MCPED received an $800,000 grant from MEDC, a cash match of up to $100,000 from First State Bank and $30,000 from the county. The county also recently received grants from the federal government to further help small businesses. "We received $152.5 million through the government's CARES (Coronavirus Aid, Relief, and Economic Security) Act. We're putting it into different areas of support, including $70 million for small businesses," said Macomb County Executive Mark Hackel. Hackel explained that these are grants, not loans, and need not be repaid. He expected information, including criteria, to be available in early June at MacombBusiness.com. Many other businesses throughout our county sprang into action transforming and innovating where they could. If we could include them all, the magazine would be full. Macomb businesses should be proud. Now, the spring of our discontent appears to be almost over. Slowly, businesses are reopening and with any luck, our lives will soon return to normal (or something approaching normal). When they do, let's not forget all of the frontline workers who made tremendous sacrifices, and the many companies and organizations that innovated to support them. They are all our heroes.