Sweet Success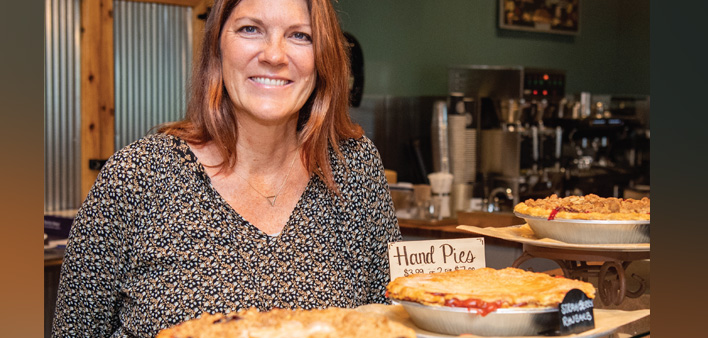 Four Macomb County women show us how their passion for baking can lead to sweet success. By Tracey Moro/Photography by Mike Ferdinande Baking is usually just part of a woman's life. We have proud moments when we look at our pastry and see that it turned out just the way we had hoped. We appreciate the time and details that go in to making sure our cookie is plump or our pie crust is fl aky. And we love hearing from our family and friends how wonderful our goodies look and taste. But it takes a gift from inside to really take those goodies and turn them into businesses that not only do well, but "take the cake" – so to say. In this issue we feature two of the most successful business women in Macomb County – and they just happen to be bakers. And, we introduce you to two more women bakers who have each taken their joy for baking and began a business and we think they are on the road to success as well.
Meet WENDY ACHATZ – Achatz Pies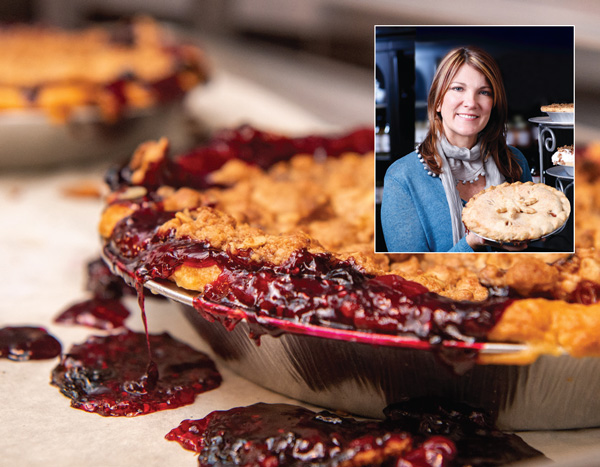 When Wendy Achatz, of Armada, celebrated her 20th year in business back in 2012, Macomb Now put her on the cover. Now celebrating 30 years, she continues to build on Achatz Pies, focusing on quality and the success of her employees, which ensures the success of her stores.
Wendy's story began when she was a young waitress for her family's restaurant. While learning the hardworking ethic restaurants instill, she began making pies from home and eventually sold to local restaurants, packing the kids up to deliver. In 1995, she moved operations into the current Armada location and expanded her volume–making fruit and cream pies, selling at farmers markets and distributing to local restaurants and small grocery stores.
"I taught myself before there was YouTube. I asked questions and gained a lot from my family," said Achatz. Still watching every penny she increased wholesale production, shipping truckloads to local grocery chains. Eventually she added raw pies to be baked at grocery stores, which worked great most of the time. The need to go into their bakeries to troubleshoot led to her training videos.
"We are Safe Quality Food (SQF) certified meaning we follow strict guidelines and have a third-party inspection. It's very important. We teach safety across the board. We are constantly checking and double checking temps, weight and watching for waste," Achatz said.
Today you can learn all about baking pies and starting a baking business from Wendy's website and YouTube videos. She's been featured on Food Network, the Today Show and Good Morning America, among others. With more than 3,000 subscribers to her YouTube channel, seven locations and distribution of her pies wholesale to more than 1000 grocery stores and restaurants across the continental United States, Wendy and her pies have become nationally famous.
"For 30 years I've been too busy to think ahead. We began with used equipment and doing everything. We would figure how many customers you need to pay bills, just trying to keep our heads above water," she said.
With 100 plus employees Wendy knows they are happy. "I started teaching open book management to my store managers, which is one of the best things I did," said Achatz. "I learned from Zingerman's. There's a goal, forecast and challenge and it keeps everyone happy. I also recommend having at least one day a week off. You need time for life, for family. We missed so much when we worked seven days a week."
Meet JENNIFER STOCKWELL-COLOMBO – Just Delicious Scones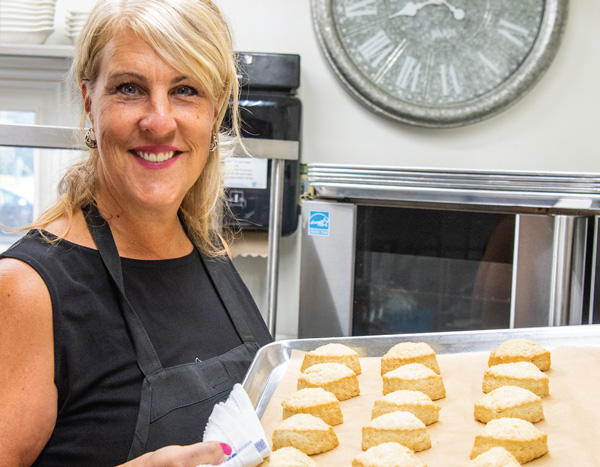 Another local lady who has made a definite name for herself as an entrepreneur and a baker is Jennifer Stockwell- Colombo, owner of Just Delicious Scones. "My influence was really from my mom. She created an environment so rich with food I never knew we were poor by her cooking," said Stockwell-Colombo. "I traveled a great deal. In Amsterdam I had fresh scones and loved them. So once home, my Mom and I purchased a coffee shop and we made pastries," said Stockwell-Colombo.
Her first scone, the cranberry apricot, was a hit with folks claiming it tasted just like home and that's when she knew she was onto something great. "The momentum was exciting. My mom and I closed the coffee shop. I eventually went back to the same building and opened Just Delicious as a catering business and began selling wholesale to local markets."
In 2010 she set up shop making scones in Roseville. Then, after finding a houseful of furniture someone was giving away and using vintage tea cups, saucers, linens and the large dining tables, she set up a parlor environment that played into the tea and scones she remembered from Amsterdam. Within three years she moved into a bigger building next door offering a brunch menu with quiche and salad, scones and tea. The Tea Room is also available for parties.
In 2016 she received a grant from Goldman Sachs as a small business. She took classes and gained valuable insight, learning from some of the very best. "Because of that I started to do things differently. That's when we started the online store."
The Pink House in downtown New Baltimore opened in 2019. "The success has been great and has a trickling effect between all the downtown businesses," said Stockwell-Colombo. This year they added a storefront and manufacturing kitchen in St. Clair Shores, plus a liquor license for the Pink House. "It's bringing in new customers, younger customers too," said Stockwell-Colombo. "It's a beautiful view of the lake from the porch. We are planning a big celebration on September 10."
With 34 employees, Jennifer isn't looking too far ahead; she wants to slow down. "I want to travel again. I want to be above my company in a way that I can start to reap the joys of 27 years of hard work. I want to improve the lives of all of the people who work for me. To bring joy, better lives and share it with them," said Stockwell-Colombo.
Meet LOIS SPRUYTTE – Little Bit of Mom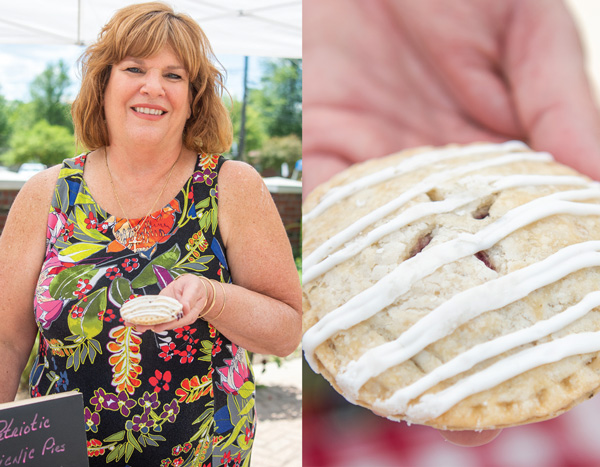 At age 62, Lois Spruytte, of Richmond, has had years of baking experience but no formal training. It wasn't until she was about 50 years old that she started taking her baking to the next level. She explained how she would bring in goodies for her coworkers and they pitched her the idea of competing in a baking competition.
"I've competed for over 10 years now. I went to the Zehnder's Apple Pie Contest first and didn't win, but when I went the next year I won," said Spruytte. She has been competing ever since including the APC (American Pie Council) National Pie Championships and the World's Food Championships, placing third in the world in 2018. She plans to travel to Dallas for the World Food Championships again in November.
"I am always learning something new, and making new friends," said Spruytte. "I worked on my pie filling recipe and then created a cherry blueberry with lime pie filling and put it in a small round pie crust – what I call a Picnic Pie," said Spruytte.
Her Picnic Pie fits right in the palm of your hand and her crust recipe includes lemon and thyme. "They are baked with love. This past year I made my Picnic Pie for JoAnna Gaines with her Magnolia Silos Baking Competition which was filmed the end of March. It began airing on Discovery+ in June. And, Yes, Joanna is just as nice in person as she is on TV," said Spruytte. Lois was one of six competitors each vying for $25,000 and a chance to have their baked treat featured on the summer menu at The Silos Baking Company.
If she's not in her kitchen you can find Lois at the Richmond Farmers Market. She has started her own business – Little Bit of Mom – selling her Picnic Pies and other treats. We suggest you get there early since she tends to sell out within the first hour.
Meet VITAMARIA LODUCA Vita's Cakery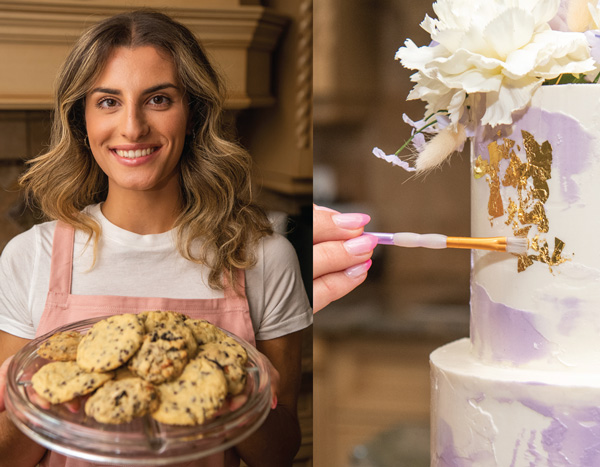 VitaMaria LoDuca, of Clinton Township, is our only baker to have taken formal culinary classes. "I never thought of baking as a career until I started working at Vince & Joe's Gourmet Market at the age of 15. The people I worked with taught me so much and helped me grow as a baker. Although I loved working at Vince & Joe's, the hours of a baker were not what I had envisioned for a career path. I searched for a career with more 'standard' Monday-Friday hours and explored many different work options," said LoDuca. She then took culinary classes during her senior year at Fraser High School. "I figured I already knew a great deal and it could be an easy class."
She ended up loving it so much she decided to attend Macomb Community College Culinary School, changing her focus halfway through to a pastry arts degree. At the encouragement of Chef Scott O'Farrell, she applied for a culinary scholarship, sponsored by Vince & Joe's, and was one of two students chosen.
While taking college classes she also went back to Fraser High and worked with the culinary teachers as an assistant. Shortly after, she began Vita's Cakery out of her parent's basement.
Vita's Cakery offers custom desserts for all occasions including custom cakes, decorated sugar cookies, cake pops, and cup cakes. "The business took off and managing it along with a full-time job and school was nearly impossible. After careful consideration, I decided to put all of my time into managing and growing Vita's Cakery and finishing my degree," said LoDuca.
At 22 VitaMaria hopes to always be baking, "I have been in business for over three years and am so proud of what it has become. While starting Vita's Cakery was a bit of a learning curve, and still sometimes is, I fi nd myself thankful to be working my dream job and getting to be my own boss which is something that I've always wanted to do," explained LoDuca.
SETTING YOUR GOALS
To the ones starting out, Achatz asks "What is your goal?" She explains how you need to know what your goal is, and how much hard work it's going to take to get there. "You need that understanding of hard work," claims Achatz, who never imagined she would be where she is today, 30 years ago.
And, to the new entrepreneurs Stockwell-Colombo said, "Your dream of bringing delight when someone eats your bake goods – you just have to focus on that – to that feeling you have when you see that person enjoy your gift. Let that drive you through the hard times."