Sun and Sand: Memories of Metro Beach – 1950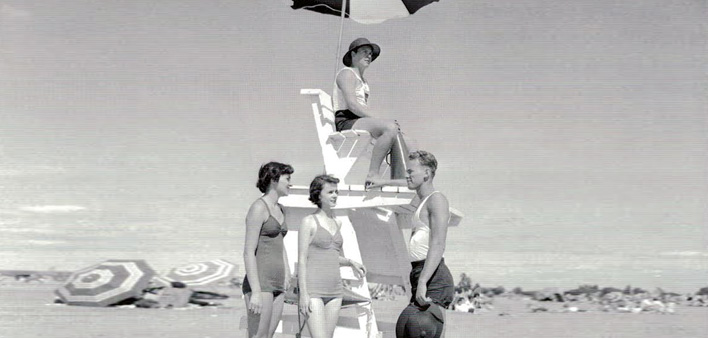 (from the Summer, 2012 issue of Macomb Now Magazine)
By Denis LeDuc
Under a brilliant summer sun, girls in swimsuits and handsome lifeguards pose on a golden sandy beach. This could be a scene from a Hollywood movie, but it is in fact our very own metro Beach." A Haven for eastsiders seeking to escape the hot pavement and unairconditioned houses of metro Detroit, Metro Beach has invited generations of summer visitors to swim, walk the shoreline and feel the cool breath of the lake on their skin as seagulls lazily circle overhead.
Taken in 1950, the year in which the park first opened, this photo beckons us back to an era when women wore one-piece bathing suits and lifeguards donned pith helmets to ward off the heat of the summer sun. A torpedo-style lifebuoy and coiled rope stand ready at the base of the platform; a megaphone is at hand, while those heavy, canvas beach umbrellas that we rented, are clearly visible in the background.
Through recently renamed Lake St. Clair Metropark, this will always be "Metro Beach" in our memories and still our beloved local oasis from the heat and humidity of the season.
Photo courtesy of the Walter P. Reuther Library, Wayne State University.