Sumptuously Entertained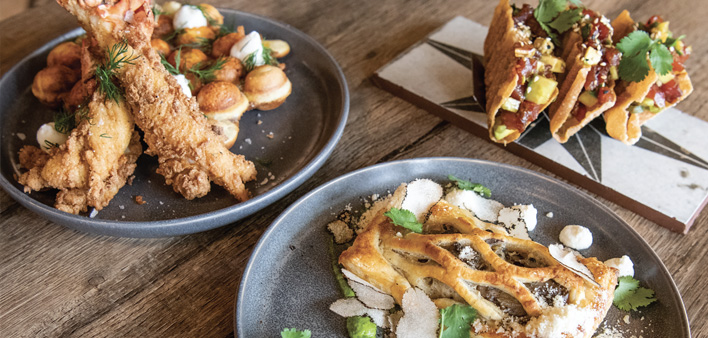 By Nick Lico/Photography by Mike Ferdinande
Webster's Dictionary defines "regale" as to entertain sumptuously. That's a fitting description for Regale. Situated in a strip mall at 22 Mile and Hayes in Shelby Township and open since 2019, it's the brainchild of owners Shawn and Rachel Mckerness.
"I wanted Regale to be a friendly, neighborhood restaurant where I cook for everyone, then come around and say hello," Chef Shawn Mckerness said.
The setting is intimate (seating for 30) and eclectic. There's a replica of the cruise ship where Shawn and Rachel met while working. The main wall features a large world map, while the back wall displays a collection of interestingly shaped cutting boards.
Also interesting is the approach to portions.
"We offer moderately portioned dishes that are perfect for sharing. This gives everyone at your table an opportunity to try a variety of dishes," Mckerness said.
Based on our server's recommendations, we started with the charred green beans. They were sweet, crunchy, nutty and flavorful.
Next was the swordfish and chips, an exceptionally delectable alternate to fish and chips. We also tried the wild mushrooms croquettes and were glad we did. These bite-sized morsels were scrumptious. We topped our meal with Canadian butter tarts, what Mckerness describes as a variation on traditional pecan pies.
Mckerness also recommends the poutine and the wonton tuna tacos. They're on the list for our next visit, along with the chicken-fried lobster and the pan-seared salmon.
The house chardonnay tastes like a premium offering and there's an ample variety of libations. The waitstaff is knowledgeable and attentive without being obtrusive.
Regale has gained a loyal following on various social media, including many positive reviews on the Eat Local Macomb Facebook page and Yelp.
If you plan on going, be sure to make reservations well in advance. Bring your appetite and your patience. The dining experience is meant to be languid, stretching to well over an hour.
"I did not imagine this level of success. I'm amazed at what we've been able to achieve in such a short time and strictly by word of mouth. I owe it all to our customers," Mckerness concluded.
For more information regalecraftfood.com