It's Portable, It's Walkable – It's Street Food And It's Good!
By Tracey Moro
If you've traveled throughout the country you've likely experienced street food. New York streets are famous for pizza slices, Los Angeles has their tacos, perfect to walk and eat, and Washington DC has food trucks that line the streets near every museum. Street food has been around for years and includes favorites like corn dogs, lobster rolls – mostly seen on the east coast, Po-boys in New Orleans, and even the funnel cake first found in Pennsylvania. So what type of street food does Macomb County have and where do you find it? That is the question we began this story with.
The popularity of the food truck, touting the street food, has increased through COVID19 and now we are seeing and enjoying street food throughout our communities. Finding food trucks at breweries is commonplace – almost every brewery that doesn't already serve food will have food trucks rotating, giving patrons a variety of choices to enjoy. And we know when we go to our local festivals and city events we will find an array of street food and food trucks. Because of this, we reached out to a few event gurus who have been hiring street food vendors for years.
Food Trucks Thrive at City Events
"What we look for in food trucks are those who have a good local following (so you know their food is good!) or even sometimes those who are new because people are excited to try them. And those who have a strong reputation for arriving on time and being ready to serve when the event opens as well as being able to serve large crowds of hungry festival goers quickly and efficiently," said Melanie Davis, Sterling Heights community relations director. "Outside of that, we look for a variety of cuisines so that our events have everything – from traditional burgers, hot dogs and fries, to ethnic specialties like Greek, Polish, Mexican, Asian, German, Middle Eastern and more."
Henry Bowman, director of Parks and Recreation in St. Clair Shores agrees with Davis. "We look for variety, and trucks that treat our residents fairly and are dependable," said Bowman. "My favorites are BBQ Daddy – great food especially the Mac and cheese, Lil Bros Burgers has great sliders and just opened a restaurant in St. Clair Shores, Señors has great food and wonderful people and Grampies – has wonderful seafood – the clam chowder is to die for."
Another festival guru is Joe Ventimiglia, known for his years coordinating the Festa Italiano at Freedom Hill County Park. Now over 50 years and one of the largest local festivals, this year's event will be July 14, 15 and 16. "All the food is incredible and there's plenty of it for all appetites. The festival is all about our Italian heritage, great foods, music and drinks. The camaraderie."
Folks can enjoy Italian "street" favorites like steak Siciliano sandwiches, lamb chops, muffaletta, Italian sausage, pizza, pasta, calamari and even cannoli. Look for all your favorite Italian markets there including Vince & Joe's Gourmet Market, Nino Salvaggio International Marketplace, and Randazzo Fresh Market, along with other favorites like Andiamo, Gnocchi Restaurant, Vegano Italiano, Vito's Bakery and many more.
Food trucks are also popping up in places you wouldn't think about, including backyard parties and even outdoor weddings. Another place Macomb Now found food trucks was in a subdivision, which apparently is popular.
Detroit Panzerotti Company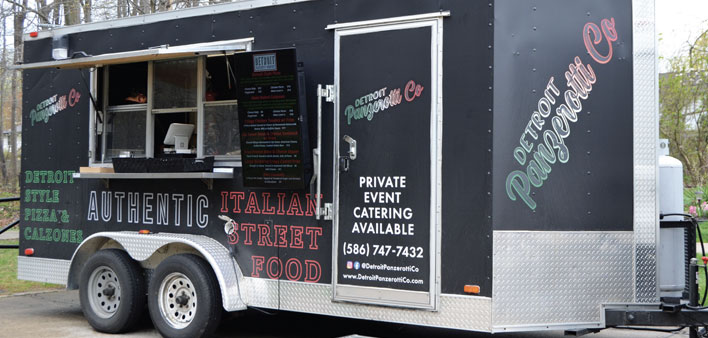 In its fourth season and recommended by Davis, Detroit Panzerotti Company, is a family run food truck owned by Nick Panzerotti, his wife Natalie and uncle, Paul Buscemi. "Our Detroit style pizza and calzones are what's most popular. Everything is made on the trucks. We use premium Grande Mozzarella cheese which is the best," said Panzerotti. Panzerotti finds that most people locate them on social media then word of mouth. They will travel the truck, which is really a trailer, all over within a 50 mile radius of Shelby Township. We caught up with them in a neighborhood in Sterling Heights. They served up and sent us home with a chicken Parmesan calzone, a steak and cheese sandwich, a cheese and pepperoni pizza, even some mini cannoli.
Local Sterling Heights resident Allen Moza says that street food from food trucks is quick, easy and different. Although his favorite food truck is Mexican since he thinks the food is more authentic, on this day he was ordering cheese pizza, fried pretzel bites and mini canolli. "They (Panzerotti) came here a few times last year. The food's always good," said Moza.
Pop's Sweets on the Streets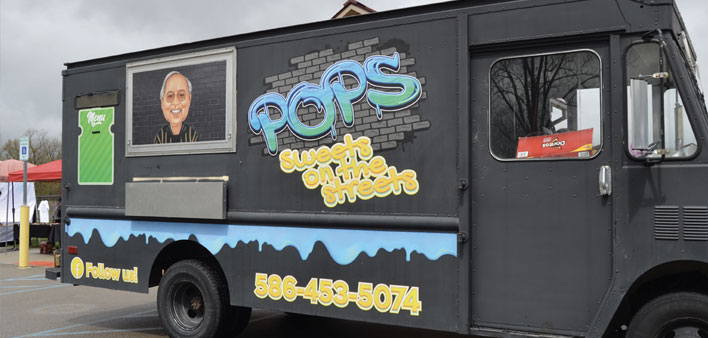 Pop's Sweets on the Streets is a food truck owned and operated by Mike Karpinski and his wife. Mike is the former owner of Pops Sweets An Treats, a retro candy shop which was in downtown Mount Clemens. "I started the truck over a year ago. I was getting requests for parties and everyone loved it and convinced me to do it. The truck is much more of a food truck (than sweets) with barbecue, chicken dinners, loaded tater tots, an assortment of food," said Karpinski.
Karpinski says he is having fun again, meeting great people too. "I believe in food trucks," Karpinski said. And when asked about breweries he said, "They are great for us. The breweries are what keep us afloat during the winter months. People enjoy it, get great beer, it's a win/win."
We met up with Karpinski and his wife at the Utica Puppy Parade on a Saturday afternoon in April, after they had already worked another event just up the road. He cooked up his best for us, including nachos and their famous spicy chicken sandwich with fries.
Estia Greek Street Food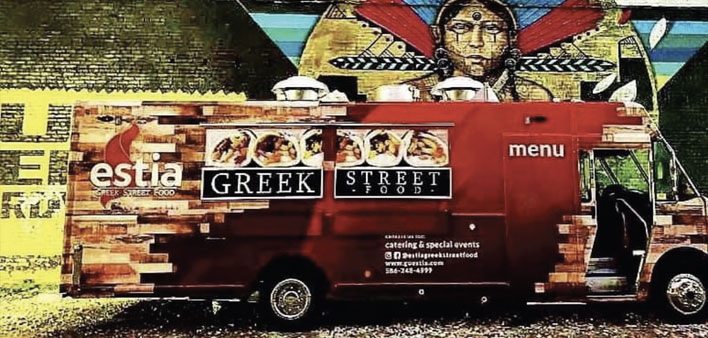 Also recommended by Davis is Estia Greek Street Food founded by Nina Bittas, her and husband and cousin. With restaurants in Warren and Grosse Pointe, their food truck is the perfect extension of the business. "In 2019 we opened the food truck and eventually opened a second restaurant again, this time a quick service restaurant, in Grosse Pointe near Mack Avenue between 8 and 9 Mile. It's the first of its kind in that area," said Bittas.
Bittas says they are known for their authentic Greek gyros made-to-order on their homemade pita bread. Choose from pork, chicken or lamb in the restaurant but only chicken or lamb on the food truck. "The traditional gyro is called The Real Greek made with pork. In Greece everyone loves pork, that is the traditional style of the Greeks. It's pork, tomatoes, tzatziki, and onions, on pita bread," said Bittas. She explained the lamb or beef gyro is the Chicago style or Americano gyro. You can find Estia at this year's SterlingFest.
Since we have featured Italian, American and Greek, why not also Polish? Davis also recommended food truck Polish Mania Warsaw Cuisine.
Polish Mania Warsaw Cuisine
Owned and operated by MarzAnna and Richard Bos, this authentic Polish menu includes street favorites that are truly walkable. "Some of our menu items are 'walkable' items such as Pierogi or Kielbasa Sub or Tacos Polacos," said MarzAnna Bos. "The most popular menu item is definitely Polish Combination Platter as it has most of all Polish favorites: Stuffed Cabbage Rolls, Polish Sausage and Pierogi. Second most popular is Potato and Cheddar Pierogi, of course!"
All their food is made traditionally following their heritage. "Most of our Polish dishes are cooked with our ancestors' traditional recipes but we, also love to create newer, modern Polish dishes (sometimes inspired by other cuisines to create fusions) such as our famous Tacos Polacos."
When asked where they like serving the most within Macomb County, she replied, – "We love to serve at Sterling Heights Dodge Park (Farmers Market, SterlingFest) as well as St. Clair Shores concerts on the lake. We, also, love to support small businesses in Macomb County and love to serve at Sage Creek Winery in Memphis, Copper Hop Brewery or Jamex Brewery in St. Clair Shores. We have many Macomb County businesses that request us to serve lunch to their employees and those are always great, especially when they are repeat requests, which means they like our dishes," said Bos.
Keeping Track of Food Trucks
Finding food trucks has gotten easier the last couple years. Panzerotti and Davis both told us about a website – yourneighborhoodbites. com. This is where folks can go to find where their favorite food trucks might be. You can search by truck, by food type and by city. "Your neighborhood website helps fi ll in our weekdays," said Panzerotti. Davis also directed us to a Facebook group – Macomb County Food Trucks – which is another great resource for food truck owners to get their name out and for event planners and residents to find their favorite trucks. Started and moderated by Karpinski (Pop's Sweets on the Streets) the group has been growing for over a year now. "The Facebook group was a way to help fellow food truck owners network. It's over 1,000 in the group," said Karpinski.