The Stars of the Table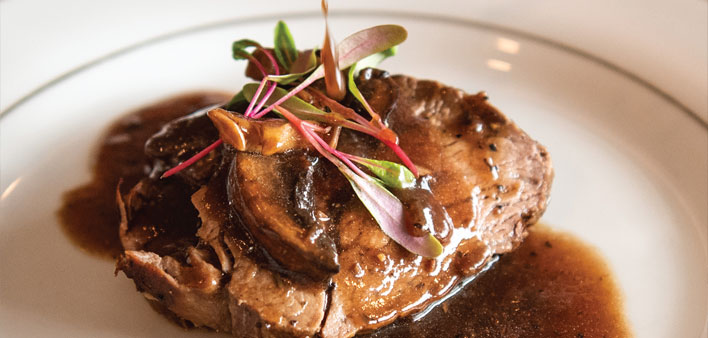 Recipes for dining at home.
By Tracey Moro / Photography by Mike Ferdinande
Tables set with linens and fine china aren't only for fine-dining restaurants. Why not bring that extra level of cooking into your home, especially for the holidays or those special occasions? We reached out to some local chefs to share their favorite fine dining main entree recipe. We wanted the stars of the show, the menu favorites, that main course recipe that one could manage, with some assistance from a local chef, to cook and serve at home. We think, no we know, we have some delicious recipes for you to try.
Verona Inspired Italian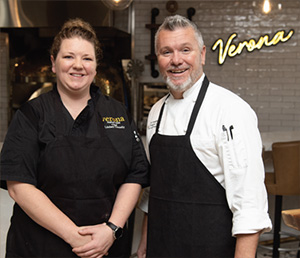 Located inside the beautiful Cambria Hotel, Verona Inspired Italian is serving Italian dishes with a twist. The new menu has a modern Italian feel with new takes on your favorite Italian dishes. "With all the Italian restaurants nearby, we felt we needed to do something different. Being in a hotel also gives our guests a unique atmosphere to enjoy their night out," said Executive Chef Lindsey Connelly.
With 20 years experience in the industry, Chef Connelly moved to the kitchen after working 15 years as a bartender. She then worked her way up as line cook, sous chef and now executive chef. She and Chef Sam Borgia, Verona's executive corporate chef, worked together on this recipe, which is a favorite on Verona's catering menu. "If you are looking to order something similar to this at the restaurant, try a center-cut filet with mushroom demi-glace," said Connelly. "This dish is a favorite during the holidays. Many families will order meals to go, just like this, feeding the family."
When cooking at home, Connelly suggests you use a meat thermometer so you don't overcook the beef. "It's important to let it rest for a good 10-15 minutes before slicing to let the juices distribute throughout the meat," said Connelly. "Don't skimp on the wine, use a good red wine you would want to drink. It's only two cups so there's plenty left in the bottle to enjoy a glass while cooking."
Beef Tenderloin with Wild Mushroom Red Wine Reduction
Executive Corporate Chef Salvatore Borgia
Executive Chef Lindsey Connelly
Serves 8-10
Ingredients
1 trimmed beef tenderloin (4-5 lbs.)
Kosher salt and coarse ground black pepper
Canola oil
Tenderloin Directions
Brush tenderloin with oil and season generously with kosher salt and black pepper. Using an electric or charcoal grill, sear all sides of tenderloin for 2-3 minutes per side. Transfer to a cookie sheet and roast in a 300-degree oven for 20-25 minutes or until internal temperature reaches 120 degrees (medium rare). Rest tenderloin on a wire rack for 10-15 minutes before slicing. Slice into 1/2 inch thick slices and arrange on serving platter. Cover in wild mushroom red wine reduction.
Wild Mushroom Wine Reduction
4 Tbsp. unsalted butter
2 Tbsp. canola oil
1 medium shallot, finely diced
2 Tbsp. minced garlic
1 lb. sliced wild mushrooms
2 sprigs rosemary
2 cups red wine (red blend preferred)
2 cups beef stock
1 Tbsp. worcestershire sauce
1/2 tsp. black pepper
1 tsp. Dijon mustard
3 Tbsp. corn starch slurry
Directions
In medium sized sauce pot, melt two tablespoons butter with canola oil. Add shallots, minced garlic and wild mushrooms, rosemary and sauté for 3-4 minutes on medium heat.
Add red wine, beef stock, worcestershire and black pepper. Reduce on high heat for 5-6 minutes.
Reduce heat to medium, remove rosemary sprig and whisk in Dijon mustard and remaining two tablespoons of butter.
Bring to a simmer and whisk in corn starch slurry until thickened. Ladle over sliced beef tenderloin, garnish with fresh herbs and enjoy.
The Continental at Ford House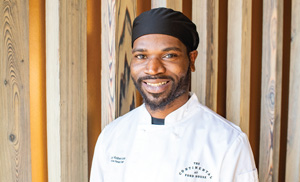 With a one-of-a-kind spectacular view, east siders have enjoyed dining at the new restaurant, The Continental at Ford House, for almost two years now. Known for its popular menu items like the Maurice salad or seasonal favorites like the pumpkin pear soup, dinner reservations can sometimes be hard to come by now that it's been open and getting great reviews. Mark Heppner, president and CEO at Ford House says the focus in 2023 will be internally, "investing in our own team. How can we improve? We've done tremendous establishing ourselves, now it's about fine tuning."
When it comes to the menu, the choices are many, thanks to Executive Chef Jeremy Robertson. For his main dish recipe he chose a very festive, colorful, comforting dish that he thinks brings families together. Robertson developed his love for food early making pizzas at the local deli at age 15. After two years at Eastern Michigan University he transferred to Washtenaw Community College enrolling in the Culinary Arts and Hospitality Management program earning additional certifications in baking, pastry arts and cake design. With experience in all genres of the food industry, Robertson feels Ford House is the perfect fit for him. "I get to share my work experience and knowledge of so many different cultures with the various visitors we see from all over the world. I am in a position where I can express my creativity, be innovative and really push myself to provide something for everyone and something unique for those who seek a foodie adventure. Which, all in all, makes Ford House a dream job for me."
When Robertson isn't cooking, he's focused on raising his two boys, gardening and enjoying the outdoors. But when it comes to cooking his thought process is simple – comfort food elevated. "I like to take things we all enjoy, elevate the flavor, the look, the taste to something unique, something extraordinary, but still something recognizable," said Robertson. With the grilled salmon and colder winter temps, Robertson recommends broiling it. "That's how I cook it when there's two feet of snow." He also suggested serving it with basic risotto and harvest squash. 1100 Lake Shore Road, Grosse Pointe Shores (313) 884-4222 fordhouse.org
Salmon with Pomegranate Relish
Executive Chef Jeremy Robertson
Serves 2-4
Ingredients
6-8 oz. salmon – 4 Pieces
2 Tbsp. honey
¼ cup finely chopped parsley
2 Tbsp. minced garlic
2 lime juice & zest
½ cup oil
1 cup pomegranate ¼ cup red onion – diced small
2 Tbsps. jalapeno, finely diced Salt & pepper
Directions
Grab a mixing bowl, add honey, parsley, garlic, lime juice and zest and then whisk oil into mixture. Add salt and pepper to taste. Divide mixture into two and pour one over salmon, reserving the other half. Place salmon in fridge to marinate up to 24 hours.
Add Pomegranate seeds, red onion, and diced Jalapeno to the reserved liquid. Mix until well combined. Adjust salt and pepper to your preference. Set aside in fridge to allow flavors to marry.
Preheat oven to broil at 425 degree, with rack on middle shelf. Remove salmon from marinade and place on oven-safe pan. Cook salmon for 8-12 minutes. Salmon will flake when well done. Remove from pan and serve with your favorite sides, topped with a hefty spoon full of the pomegranate relish to bring it all together.
Vince and Joe's Gourmet Market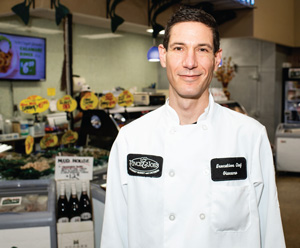 Although Vince and Joe's isn't a fine dining restaurant, you do find the very best meats, cheeses and produce for any type of fine dining meal you want to enjoy at home. And, both locations do offer full meals to go, event catering, a full bakery, a large wine shop, and on-site brick oven pizzerias.
Executive Chef Giacamo Quasarano leads the kitchen at the Clinton Township location. He's been in the food industry since age 13 when while speading summers in Chicago he worked the play "Tony & Tina's Wedding." "The job truly got my foot in the door of the food industry as I learned many skills, including food prep, bartending and more," said Quasarano.
After coming back to Detroit, he worked at different establishments, including The Whitney in Detroit, before going to Macomb Community College Culinary School. His first chef position, at a popular seafood restaurant, is where he found his love for cooking seafood. After 15 years in the restaurant industry, he decided he wanted a change. "The past six years at Vince and Joe's has allowed me to develop my passion, providing high-quality, gourmet food for our customers and the entire Clinton Township community," said Quasarano.
He chose one of his favorite seafood dishes he cooks for special occasions. "It presents very well and tastes even better. For sides, my favorite is a nice risotto maybe with wild mushroom or roasted veggies. Also, a nice chardonnay, sauvignon blanc, riesling or even champagne would pair good with the tail," said Quasarano. He also said drawn butter isn't necessary since it is finished with brushed on butter. His biggest tip would be to not overcook. "Cook the tail 1-2 minutes less and let it rest a couple minutes before serving."
Rock Lobster Tail
Executive Chef Giacamo Quasarano
Serves – 1-2
Ingredients
1 rock lobster tail (14-16 oz.) Pinch kosher salt
1-2 turns black pepper grinder
1 tsp. melted butter
1 cup water
½ cup lemon juice (freshly squeezed preferred)
½ cup white wine
Directions
Start with heavy-duty scissors and face tail meat side toward you. Then, begin cutting the shell from the center to the last part of the shell, right before the flipper. Carefully remove the last pieces of shell and discard. Carefully pull the tail meat through the cut in the shell and the let tail meat rest on the shell.
Preheat oven to broil or 500 degrees.
While the oven is preheating, place the tail in your preferred boiling pan and season with salt and pepper. Add liquids to the bottom of the pan. Once the oven is preheated, place the lobster tail on the center rack in the middle of the oven.
Cook for 8-10 minutes or until the meat is opaque and lightly brown on top. After cooking, remove the tail and place on your plate.
Finish with a light brush of melted butter and a pinch of fresh parsley.
J.Baldwin's Restaurant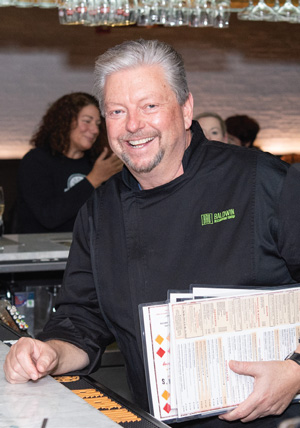 Our friend Chef Jeff Baldwin is no stranger to Macomb Now, having supplied many recipes in past issues. His rise to the top started in the mid '80s after graduating top of his class from the Culinary Institute of America in New York. After two decades of working at some of the best restaurants in the area, Baldwin decided to go it on his own. Today the whole family works together as the Baldwin Restaurant Group with two restaurants including J.Baldwin's in Clinton Township and Testa Barra in Macomb Township and a third one in the works. Both restaurants serve spectacular food, host culinary classes and wine dinners and offer off-site catering.
Baldwin's legacy recipe for marinated lamb chops has been on the menu since day one and is one of the top three choices on today's menu. This signature dish has been a favorite "go to" recipe throughout Chef Baldwin's culinary career. Although it is great for summertime grilling, Baldwin recommends using a cast iron pan and searing the chops on each side during the colder months when cooking indoors. Unless of course you're one of those who keep the grill going all year long. Enjoy your chops as an appetizer or a main entree. Baldwin recommends serving the chops with sautéed spinach with garlic, feta cheese and tomatoes and garlic mashed potatoes.
Marinated Lamb Chops
By Chef Jeff Baldwin
Serves 4
Ingredients
1 cup olive oil
1 lemon, zested (about 1/2 teaspoon)
1 lemon, juiced (about 2 tablespoons)
1 Tbsp. Baldwin's family seasoning blend
1/4 cup soy sauce
1/4 teaspoon freshly ground black pepper
2 garlic cloves, chopped and minced
A sprig of fresh rosemary, chopped
16 lamb loin chops, trimmed of excess fat
Directions
In a small bowl stir together the first ingredients. Put the lamb chops in a sealable plastic bag and pour the marinade over them. Move the chops around in the bag so the marinade coats them well. Marinate for one hour.
Grill, sear, or broil the chops for 3-4 minutes per side for medium rare.
Andiamo Italia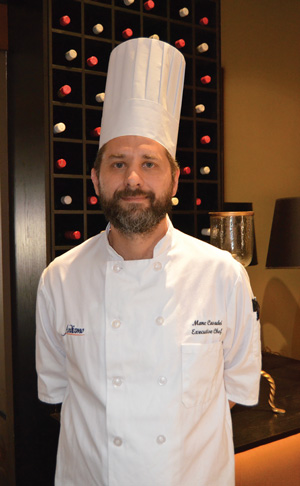 The well-known Italian eatery has five main restaurants including the flagship Andiamo Italia & Celebrity Showroom in Warren, plus locations in Detroit, Livonia, Fenton and Bloomfield. And now we have more Andiamo to enjoy near home with the new Andiamo Presto in Washington Township.
Executive Chef Marc Casadei welcomed us with a veal in a white ragu sauce dish that is cooked overnight, creating a veal so tender you will need to be gentle with it coming out of the oven. The recipe, Bolognese Bianco di Vitello, as it is stated on the Bloomfield menu, includes veal breast, mushrooms, mixed vegetables with Fontina cheese Fonduta on open face pasta ´e Mafaldine. It's an all-inone- meal with veal as the star.
Casadei studied at Northern Michigan University and worked at Tre Monti Ristorante in Troy before coming to Andiamo. When asked why he chose this dish he said, "It's a very cool dish, with a nice balance of flavors and not something you see everyday." Casadei claims the dish isn't difficult to make. It's more time consuming since there are many steps. "It's important to completely submerge the veal in the oil while cooking, anything left exposed is going to dry out," said Casadei. "Have all the ingredients ready ahead of time so you can put together easily on the day you're serving and be sure the pasta is al dente." He also mentions that although the recipe calls for eight hours he sometimes will cook well beyond that. This recipe is "definitely worth the time to cook it."
Bolognese Bianco di Vitello
Executive Chef Marc Casadei
Serves – 10
Ingredients
5 lbs. veal breast (cleaned and trimmed)
3 qts. vegetable oil
2 bulbs of fresh garlic
1 sachet d' épices (pronounced "sa-SHAY DAY-pees")
1 cheese cloth 8×8 inch doubled square
1 butcher's twine 6 inches long
1 star anise / cinnamon sticks / fresh bay leaves 2
0 black peppercorns lightly toasted
10 juniper berries
1 Tbsp. pickling spice
Pre-heat oven to 225 to 250 degrees.
Place veal, garlic, and sachet in a six-inch-deep hotel pan or appropriate size roasting pan to submerge veal in oil.
Directions
Cover pan with plastic wrap and cover tightly with aluminum foil. Place pan of veal into the pre-heated 225 degree oven for approximately eight hours.
After eight hours remove pan from oven and allow the veal to cool in the oil until well chilled.
Remove veal from oil and place onto a wire drain rack and pat dry to remove excess oil.
Gently break or cut up veal into one-inch chunks and remove again any excess fat or silver skin.
Store and reserve in the refrigerator or freeze in three-ounce portions until ready to serve.
Mix of Vegetables & Sauté
1 cup finely diced onions
½ cup each finely diced celery, carrots and sliced leeks (white parts only)
2 cups sliced cremini mushrooms
1 Tbsp. minced garlic
2 tsp. crushed red pepper flakes
2 tsp. herbs de province or oregano (optional)
2 Tbsp. unsalted butter
3 oz. extra virgin olive oil
2 tsp. each kosher salt and fresh ground black pepper
3 Tbsp. fresh chopped Italian parsley
1 cup Noilly Prat vermouth or white wine
4 oz. veal demi glace or stock
3 Tbsp. soft butter for finishing sauce
10 oz. grated fontina cheese
Mascarpone Cream Base
1 qt. heavy cream
1 cup mascarpone cheese
1 tsp. kosher salt ½ tsp. white pepper
1 Tbsp. Porcini mushroom powder
1 cup grated Parmesan Reggiano
2 tsp. Urbani truffle oil
1 tsp. freshly grated nutmeg
Pasta e Mafaldine 100% Grano Italiano
8-10 ribbons of pasta (substitute your favorite pasta) per serving as needed cooked al dente (about 10 minutes) in salted water. Once drained, drizzle with olive oil. Do not cool or wash with water.
Finishing Dish
Cook pasta for approximately 10 minutes or until al dente, then drain.
Cook the Mascarpone cream base in sauce pan combining all ingredients, set aside.
Pre-heat large sauté or sauce pan.
Add olive oil, butter, mushrooms, and sauté for two minutes. Quickly add vegetables including garlic and red pepper flakes. Gently sauté for another minute then add vermouth and reduce by 50 percent. Add the Mascarpone cream and veal as needed and bring to a gentle boil, simmer for three minutes. Finish with soft butter and fresh parsley.
Layout pasta on a rectangle plate and sprinkle with grated fontina cheese. Cover the pasta with the veal sauce and serve.