A Stage In A Barn – 1967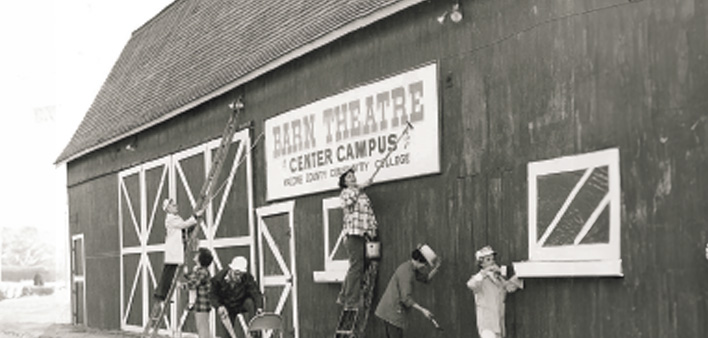 (from Fall 2023 issue of MacombNow Magazine)
By Tracey Moro
Performing on a big stage is a thespian's dream come true and as a theater student just starting out, any stage will do – even if it is in a barn. This one has treasured memories still being talked about today.
Those memories date back to the '60s when theater students at Macomb Community College (MCC), stumbled upon the 1924 rustic barn on the corner of Hall and Garfi eld roads on the property the college had purchased for their Center Campus in 1967. Macomb students and staff geared with creating a space to for students to perform transformed this rustic barn into a summer stock theater —debuting its first show in 1968.
Drama and speech instructor, Dale Cottrill, was a driving force behind the barn's existence in the department. The barn became a leading repertory theater in the area, proving you could do more with less. Each year audiences inside the barn enjoyed shows like – Butterfl ies Are Free, Godspell as well as Gypsy, just to name a few. Even though there was no indoor plumbing or heating, the barn shows were continually sold out, making this stage a favorite in the area.
In 1972 the Macomb Theatre At-the-Barn shifted to be under the college's Continuing Education Department, allowing it a more regional appeal. The staff consisted of paid professionals and performers shifted to seasoned actors from the area, as well as from bordering states. "We had an apprentice program where MCC students received credits," said Art Rizzo, former artistic director for MCC Continuing Education Department. "We did 5-7 shows (mostly musicals) a season. We also toured a production of Godspell for five months throughout Michigan in the winter of 1974, performing mostly in churches."
In the photo above you see apprentice theater students painting the outside of the barn, in hopes it would help bring their shows to life. Some of these students and others are still reminiscing about the barn and there's even a Facebook group where they share photos, playbills and memories about their days performing in the barn. Known as "Barnies," their passion for theater still lives on. There are many recognizable student names who went on to have amazing careers at places like the Stratford Festival, Meadowbrook Theatre and even Broadway.
In 1977 the Macomb Barn Theatre closed, but it wasn't long after that the college began construction on the then new state-of-the-art Macomb Center for the Performing Arts building. Known at the time as the largest stage in Michigan, the center was designed to accommodate national touring companies, complete with stage lighting, a loading dock and dressing rooms with showers.
A dedication black-tie event celebrating the opening of the theater took place in September of 1983. For the past 40 years the center has evolved from six shows a year to 75 professional performing shows, along with dozens and dozens of community and college programs. With this year's 40th anniversary season, there's a lineup including 100 professional and community-based shows.
Photo courtesy of Macomb Community College and the Macomb Center for the Performing Arts.