Sprucing Up Your Yard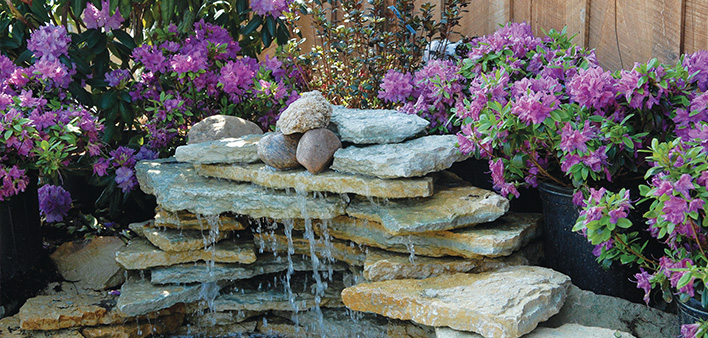 By Barb Zendt
Imagine sitting around a roaring fire in a firepit on a beautiful brick patio, cooking outside in a wood-burning oven or grilling on a natural wood barbecue. Or imagine just relaxing while you listen to a bubbling brook or waterfall – all in your own backyard!
Sounds nice, doesn't it? Well these scenarios don't have to be scary or costly. You just need to plan it out, decide if you want to do it yourself or find the right contractor and use the best selection of landscape hard goods available.
Start by visiting a local landscape store, most will have displays to give you ideas for whatever project you have in mind. Unique displays will inspire you. Look for pavers, fire pits, waterfalls, fireplaces and lighting too. It's best to see in person to get the whole effect.
Adding new elements to your existing yard can spruce it up and bring new life to your outdoors. Especially if you don't feel like you are utilizing your yard to its fullest.
To add some beauty and drama to your yard, a water element tops the list. Soothing ponds, water fountains, waterfalls, can improve your yard's appeal while the sounds of water will be relaxing. To begin figure out your budget and the space you have to work with. Have an idea of what you think you want, then talk with your landscape professional before purchasing anything. Something simple like a statue that doubles as a fountain can be an easy addition, while a small pond with fish and nighttime lighting will require much more planning.
Adding a paver driveway, walkway, or patio, makes a beautiful and inviting addition to any yard. You can change the style from casual to formal just by the color and style of the pavers you choose. Displays will help you envision how your new driveway, walkway or steps will enhance the color and materials of your siding, brick and roof. Some paver projects can be done easily on a weekend by a homeowner, while others require a professional. Use some graph paper to plan it out. A landscape store can help you figure out what you will need for your project and help you with your quantities.
Probably the most popular addition to a backyard is a fire pit, fireplace or wood oven. These are especially popular with families who want to be outside in the evening sitting around a fire. The fire pit or fireplace creates a focal point for your yard, adding interest, and when it is lit there is extra added ambiance. Much like a fireplace in a home, a fire will provide warmth and extend the use of your yard into the fall months. A fireplace will also add resale value and act as a selling point.
Go back to your budget before starting. Gas fireplaces cost more than wood burning but it really depends on you and if you want to just turn it on and enjoy or be more hands-on. There are also custom built fireplaces, prefab or freestanding. Be sure to have fireproof flooring or ground cover surrounding and have the space clear of plantings, fencing and far away from your house. Remember it is a fire. Once completed – think S'mores!
Barb Zendt is co-owner of Rocks n Roots landscape yard in Washington Township, one of the largest suppliers of landscape hard goods in Michigan. They also offer free seminars on installing pavers, walls, steps, ponds, waterfalls and outdoor lighting.