Soiree Time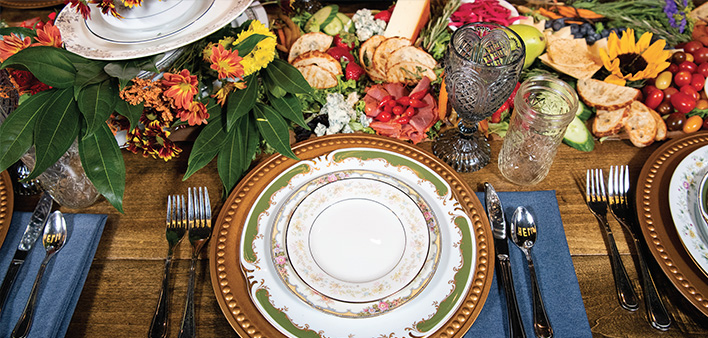 By Rebecca Calappi/Photography by Mike Ferdinande
Snowy, cold winter evenings are the best time for an elegant dinner party – a soiree. Delicious food, the perfect drinks and a table loaded with ambiance sets the tone for a memorable dinner that friends, and family will be talking about well into spring.
As Macomb Now Magazine celebrates its 10th anniversary, it's the perfect time to talk to the county's top event planners, caterers and foodies about how to throw a party that will keep the town talking for all the right reasons.
Rosemarie Baldwin, co-owner of J.Baldwin's restaurant and Testa Barra, of the Baldwin Restaurant Group, specializes in helping hosts create a picture-perfect event. "You have to go back to the creative environment that's warm, relaxing and soulful," said Rosemarie. "There's stylish expressions that can be about the host. The host has to bring out their own expression. If the host brings out their own expression, whether it's nature or whatever, then it becomes a unique experience about them."
Creating a warm and welcoming environment where guests feel at home can be tricky. You also want guests to feel a bit pampered, too, with the whole experience. Baldwin also owns DetroitChinaRental.com. Loaded with vintage china patterns in a variety of colors and patterns, renting place settings, chargers, glasses and linens gives you more options with colors, patterns and textures that add depth and richness to any table.
"When you look at a table, you want to look at a seamless presentation," explained Rosemarie. "As much as the china can be mixed and matched, the silverware and glass should match. You're looking at a refinement to shabby chic."
Make sure the arrangements and other centerpieces are low, so people can connect across the table. "Food and wine are your centerpieces. If you look at that as the color of your table, then you look at your table completely different," she said.
And don't forget a pop of sparkle. A touch here and there of gold, silver, rose gold or copper brings a shimmer that will tastefully dazzle.
Once there's a theme, or a look, next up is the food. However, hosting a party doesn't mean being stuck in the kitchen the whole time. A delicious balance of catered food and home cooking strikes the right chord for the perfect party. Find a few signature dishes and plan the rest of the menu with a caterer.
Chef Gabriella Baldwin from Testa Barra suggests starting with a beautiful meat and cheese display.
"I always start my holiday get-togethers with a fabulous charcuterie spread which includes an array of aged cheese, cured meats, toasted chestnuts, a good mustard, baked feta spread with olive oil and fresh thyme, pickled elements such as cornichon pickles, castelvetrano olives, and pickled fennel; as well as a silky cippolini marmalade to bring it all together," Gabriella said. For larger dinner parties, Rosemarie recommends fast appetizers for when guests are arriving. "It really creates more conversation and that 'wow' factor," she said. While your guests are happily nibbling appetizers, whip up a signature batch cocktail. Mixologist Blaine Figard of the Baldwin Restaurant Group counsels for cocktails that aren't too sweet. Gins, bourbon and whiskey are all popular spirits right now. Also, think of the presentation of the drink: sugar rimmed glasses add sparkle while holiday fruits such as oranges and cranberries add a pop of color. (See drink recipes next page.) If wine is also being served, Carl Brittingham, beer and Top paragraph…..wine director of Vince & Joe's Gourmet Market, has advice. Knowing each bottle contains about four glasses, go back to your headcount to figure out how much wine to buy. If you know your guests will be thirsty, buy more, but average is one to two glasses. "I ask them what they like, what they've drank before. Then I go from there," said Brittingham. "I always give them something I've had that I enjoyed." For the holidays, it's nice to break out a bottle of bubbly. The effervescence of a nice Champagne or sparkling wine add a beautiful touch to an elegant evening. One of the great things about bubbly is that it's wonderful as a before-dinner drink or as dessert. Remember to provide a sophisticated non-alcoholic beverage for those who do not imbibe. Infusion beverages are all the rage right now and you can use anything from fruit and spices to flowers. Use your imagination and get pinning on Pinterest!
The Meal
Traditional dinner parties have guests sitting around a big table together for a plated meal, but a more modern approach is having food stations set in nooks around the home.
"You can do Mediterranean, baked potato, sweet, Moroccan or just different types of food that add variety," said Rosemarie. "The sit-down at the holiday season is always about the classics—beef Wellington, chicken cordon bleu, people like to be familiar with the tastes."
Gabriella has mouth-watering plans: "I skip the salad during the holiday months and go right into the main feast, which would showcase a Frenched pork rib roast stuffed with parsley, garlic, macadamias and golden raisins. I season and drizzle my roast with Sicilian olive oil and cook it to perfection.
"My sides would include silky robuchon potatoes, whipped to perfection with butter and cream, then gently garnished with grated winter truffles. I do love a good cranberry sauce during the holidays, not just Thanksgiving. My cranberry sauce has fresh cranberries, sous vide with orange zest, Grand Marnier, dried currants and brown sugar."
Gabriella says we must not forget the vegetables. "Green beans remind me of being a child during the holidays, but I do mine with a little twist. I love to use brown butter for holiday cooking due to the depth and nuttiness it brings to a simple recipe. I blanch my green beans, then in a sauté pan I combine them with brown butter, shallots and sunflower seeds I dried out from the fall harvest. Sautéed together and seasoned to perfection: this side is a simple show stopper."
Dessert
A fine dessert after a gorgeous meal is the icing on the cake for many dinner parties. The final course of the evening should dazzle without laying heavy in the stomach. Candace Weiler, production manager at Christine's Cakes and Pastries, suggests choosing your theme before heading to your favorite bakery for dessert.
"Preplanning is always super important," Weiler said. "Be aware of any food allergies, too."
A classic finish to a meal is a torte. Or, if you're going to Christine's, try the Four- Chocolate Cake or the Lady Chambord for a family-style serving. Good options for plated desserts could be crème Brule or mini fruit flans.
"A lot of people are going with cupcakes right now," said Weiler. "This way you can get a variety of flavors, such as yellow, strawberry, mousse. You just get as many cupcakes as mouths."
To estimate the number of pastries, such as eclairs or cannoli, figure 1.5 for each guest. Then, place your order as far in advance as possible and know how you're going to store it until it's time to serve. Also, Weiler suggests picking up your dolce the day of your event, if possible, and definitely not more than 48 hours prior. Delicacies such as eclairs and cannoli don't have a long shelf life, and no one wants to serve soggy dessert.
One of the most important things to consider when picking up your dessert is how to get it home. Weiler said many customers fail to plan for a space in their car to set the dessert to get it home without it moving around in the vehicle. "Lots of times we have people come in the bakery and they think that holding it is the best way. It's wrong. You want to make sure you have the space in the vehicle. Make it the last stop of the day with your car wide open," she said.
After the laughter and conversation have ended and guests have gone home, be sure to take a moment to feel proud of an excellent celebration and be sure to toast yourself on a party well-planned. And hopefully, there will be an extra serving of dessert with your name on it, too.