Small-Town Charm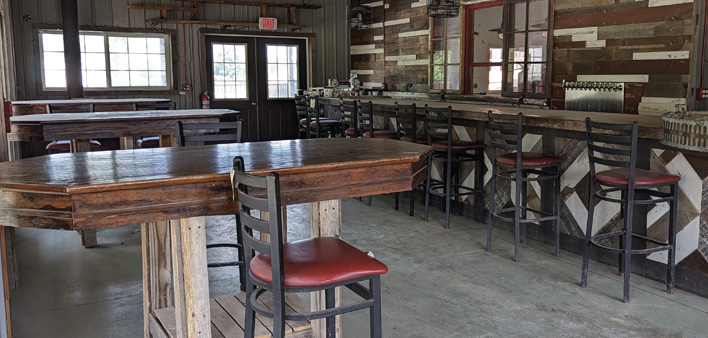 No apples this year, but watch for pumpkins, cider and doughnuts this fall at the Big Red Orchard.
By Alexis Bohlinger
Big Red Orchard on 32 Mile has provided a nurturing haven for family fun throughout the span of a century. Transitioning from its origins as a late 1800s farm to becoming the inspiration behind your cherished "Big Red" gum, these grounds hold a captivating history with years of apple and pumpkin picking, cider sipping and children laughing as they brave the straw bale mountain.
In December of 2022, Rob and Trisha Misiewicz became the newest owners purchasing what was known as Miller's Big Red. Already being business owners and farmers in the community, the purchase was a no-brainer for them when the 46-acre property went up for auction. "We could not stand to see a place with so much rich history be turned into subdivisions," said Rob Misiewicz.
Their plan is to restore and revitalize the orchard by introducing regenerative farming techniques. "Now that we have kids, we are much more aware of the food that we put into our bodies," said Trish Misiewicz. "By being a smaller farm than many of the orchards around, we are able to test different methods of farming to avoid spraying chemicals on our crops."
Trish explained that they have started using the regenerative farming techniques that were originally tested on the Miller's family farm in Almont. "We have already begun working with a local tree trimming company to swap Roundup for mulch to control the weeds and we plan to expand our efforts to the rest of the crops in the spring. We are also going to test a small-scale garden market where we go the all-natural route with our planting techniques. If this succeeds, we can try those methods on a much larger scale," said Trish.
In addition to chemical-free farming, they are doing construction on the property to restore the older buildings to their original glory. "We are in the middle of renovating the main barn, which will become our marketplace, and also plan to start renovation on a newer, unfinished metal building on the property within the next year. We plan to turn that into a 400-person capacity event center for weddings, corporate outings and educational seminars."
"We're very excited about the work we've done so far but we still have a long way to go," said Trish. "This fall, families can come out for pumpkins, apple cider and doughnuts, and the straw mountain will be open for the kids." She continued, "We've been overjoyed with the support from the community, and we are very excited to present the orchard when it is completed."
Since last December, the Big Red staff has tilled over half of the land and trimmed the entire orchard. They have also planted over 1,000 new trees and have 400 more on order for next spring. "We could not do this without the help of our amazing orchardists who stayed on from the Miller's Big Red to help," said Rob.
The Misiewicz family is excited about the unique opportunity to restore this historical icon. "We want to bring this place back to what it used to be and grow from there by adding our own spin.," said Trish. "We will be a smaller orchard, which lends opportunities for us to test the natural methods and hold educational classes to teach the community how to grow and cook their own food in the healthiest ways."