Smaller Surgical Cuts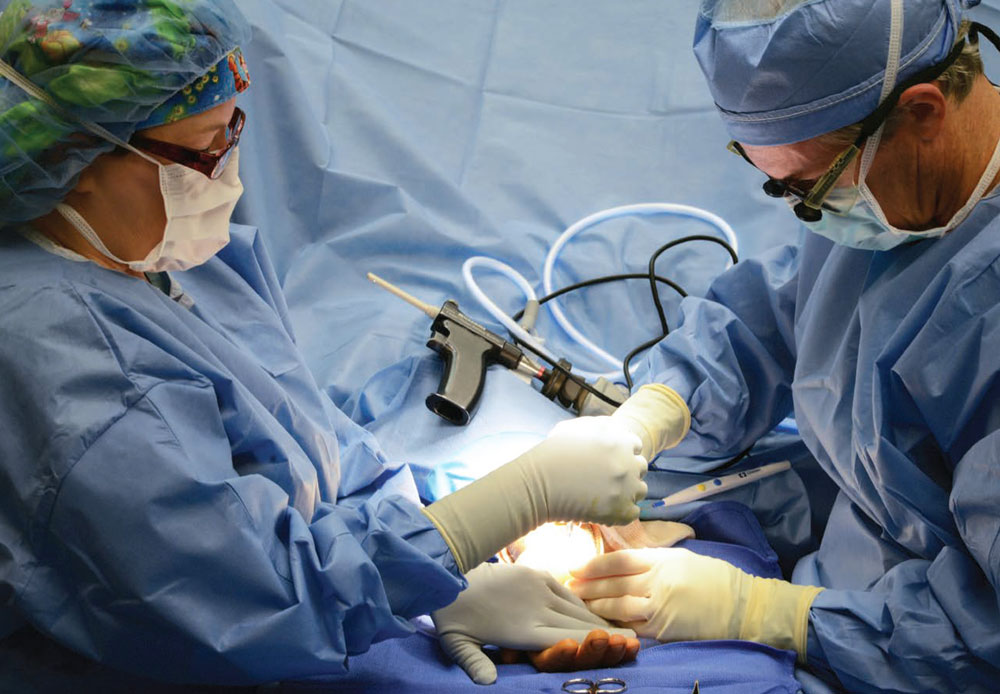 The expansion of surgical rooms will provide top health care at Henry Ford Macomb Hospital.
By Nick Lico
It seems a contradiction in terms: the smaller the incision gets, the more and greater the amount of equipment needed to handle that procedure. and there's no arguing that surgical incisions have become significantly smaller than they were 20 years ago.
Back then, it would have been difficult to imagine open-heart surgery being performed without actually opening the chest, or a hip being replaced and the patient being sent home the next day. Surgeries that took hours in the operating room and days of hospitalization to recover are now being performed quickly on an outpatient basis. These surgical advancements are the results of technological advancements. While these advancements provide many benefits, they also pose challenges.
"Advanced technology takes up more space in the operating room. To continue to perform more minimally invasive surgeries we must increase the size of our surgical center. This will result in even greater patient satisfaction, as well as physician and staff satisfaction," explained Gregory Jakub, Henry Ford Macomb Hospitals (HFMH) manager of community relations.
The average size of operating rooms nowadays is a minimum of 650 square feet and growing. By comparison, most operating rooms at the HFMH Clinton Township facility are about 430 square feet. "Expansion of the operating rooms and accompanying services is critical to enable our hospital to provide the highest possible quality of care to our patients, while also benefiting our recruitment, retention and education of the very best surgeons in our community," said Tina Lavinio-Mattinen, HFMH development officer, office of philanthropy.
Phase One was completed in May and was funded by HFHM and philanthropic donations. It included building out the second floor inpatient, pre-operative and post-operative patient holding areas, equipment for the new retinal surgery program, purchasing third-generation Da Vinci surgical robots and purchasing neuro stealth technology.
Phase Two, already underway, includes seven new 650 square feet operating rooms on the second floor. Also part of this phase is a new state-of-the-art hybrid operating room, which will give patients advanced cardiovascular and thoracic treatment options and increased flexibility for surgeons.
"Hybrid operating rooms will allow us to do a minimally invasive robotic bypass operation and, at the same time, do a catheterization and put stents in blocked arteries. performing these operations at the same time and with these advanced technologies is less traumatic to our patients, resulting in better outcomes," explained Dr. Steven Harrington, the hospital's medical director for cardio thoracic surgery. Harrington added that the hybrid operating rooms also enable surgeons to perform major operations with tiny punctures without ever having to do incisions in the skin.
"That's just one benefit of advanced imaging technologies. We can see, for example, where tumors start and stop so we can make very precise cuts," he said. As one can imagine, this advanced technology is not cheap, which is why the hospital is seeking the community's assistance.
"To better meet the needs of our community, we're in the first year of a three-year, $15 million capital campaign. We are looking for financial help from foundations, corporations, small businesses and individuals. No donation is too small and all donations are tax deductible," Lavinio-Mattinen said.
"We want to be a leader, to have macomb County look to us to continue to be their source for the very best in health care. We don't want people to feel like they have to go to Cleveland Clinic, the Mayo Clinic or even downtown. People want to be able to get what they want at home, right here in Macomb County. We're proud to support and take care of the people in Macomb County. We take that responsibility very seriously," Dr. Harrington added.
To contribute to the surgical center campaign, contact Tina Lavinio-Mattinen at [email protected].