Sip and Sit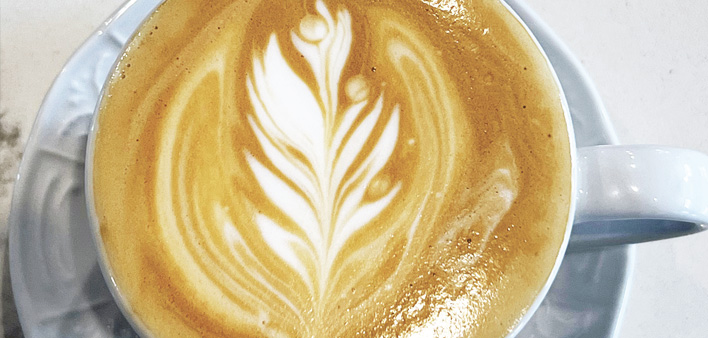 By Rebecca Calappi
Long a cozy gathering spot to catch up with a friend or to focus on getting work done, coffee shops are often the "living room" of communities.
While lingering in cafes has long been tradition in Europe, the idea of sitting around and enjoying a coffee didn't really catch on in the United States until the 1970s. Today, it's almost a given. Free Wi-Fi and tasty warm drinks make working remotely or meeting friends a chinch, and coffee shops are the perfect spot.
Independent coffee shops can offer customers special experiences in ambiance and palate much more than a chain store could. It's coffee with a personal touch and sense of pride.
New on the scene in downtown Mount Clemens, Black Cat offers freshly roasted beans and handcrafted drinks for an unforgettable experience. But John Hanna, owner, says it's more than what is served that makes Black Cat special.
"It isn't what you can get here. Black Cat was born at Walnut and Macomb Place. It was not created on a spreadsheet. It was created from the background up. That's a huge difference," Hanna said.
Black Cat opened in November 2021. Since then, it has become known for quality. For example, the hot chocolate isn't made from a powder. The baristas steam the milk and add Ghirardelli dark chocolate for a more decadent flavor. The shop also features a cold-brew coffee infused with nitrogen, so it's bubbly like champagne. It takes several days to make and is poured from a tap.
"At Black Cat, you're getting a handcrafted beverage. How many handcrafted things do we get today in this world we're in? We have great baristas who make some seriously phenomenal drinks. It's that handcrafted difference," said Hanna. "Our beans are roasted locally in Michigan. They're flown in for freshness. We make all our own syrups in-house. And we take our water in Mount Clemens and send it to a lab, so we know we're offering the best."
Further north in Romeo is Main's Treat Coffeehouse. Jon Rose is owner of the shop and says locally roasting the beans makes a difference.
"We're locally roasted, so it's not commercial coffee. Our beans are roasted in Romeo and are top-quality, single-source beans, mostly from South America," explained Rose. "The sooner you can get it from the roaster after it's had time to settle and cool, the truer the taste is going to be. It's better and truer to its intended flavor."
Mindful of customers' needs, Main's Treat Coffeehouse offers options for many dietary needs. There are four alternatives for dairy available, as well as gluten-free options on the food menu.
"The community found us and embraced us as their home away from home. A big part of it is there's not a lot of places other than bars, so the kids after school can come here and have a place to meet up. It's been one of our success stories," said Rose. "There's nothing else like this around here. We talked to a lot of people about what's needed here, and a lot of people said this was it."
Fortunately, Macomb County is full of hidden coffee shop gems, such as Coffee Break Café in Eastpointe, EOS Café & Coffeehouse in St. Clair Shores, Northern Grind Coffee in Utica and The Dovetail in Warren. The next time you need a pick-me-up, explore the coffee shops in your community. Find the one that vibes with you. You'll be supporting a local business and getting your dose of caffeine. It's clearly a win-win.