Shores Students in the Kitchen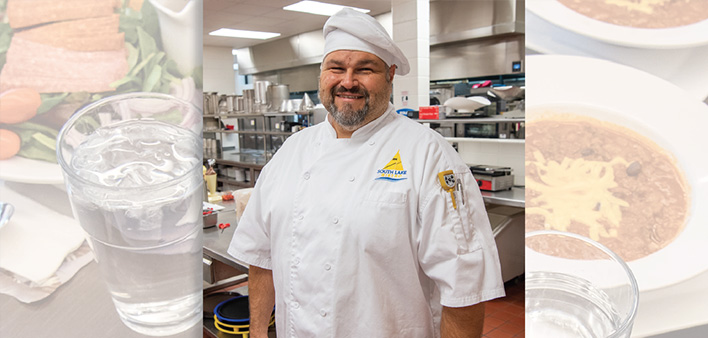 By Rebecca Calappi/Photography by Mike Ferdinande & Marsha Salome
When it comes to the future of the culinary industry, Chef Darrel Shepherd at South Lake High School in St. Clair Shores is leading the way.
The Culinary Foods program at South Lake is the only one in St. Clair Shores and supports all three school districts. But it's not your regular classroom-based experience. Students don't sit at desks in front of a board or a computer. They sit at bistro tables in a kitchen while wearing a chef 's uniform. Textbooks are replaced with recipe books and food thermometers are in hand more than pencils.
The first thing students learn is food and kitchen safety. "Each class has 32 to 34 students, and I have 104 kids," says Shepherd. "The program has two two-hour blocks and one one-hour foods class, which is a food/nutrition class, so they can learn the building blocks for a healthy meal. They get their elective credit, foreign language credit, visual arts credit and a math credit. Plus, completion of this class makes students eligible for 18 credits at any culinary school in the nation."
Additionally, students are also ServSafe food handler certified. "The neat thing is, there is a job right now for every one of my students who wants to work through school," said Shepherd.
South Lake Senior T'yonna Green, 17, has taken the Foods program courses all four years in high school. "My mom went to school for cooking, so it's following in my family's footsteps. It's a great experience for a kid to have. We have an amazing kitchen," she said.
In a typical week, Monday and Tuesday are technique building and skills days where students research their menu and prepare for the lunch crowds. "The skills needed in culinary arts grow every day. They learn how to use the knife safely and learn different cuts. But the menu drives the lessons and the students generate the ideas for the menus," explained Shepherd.
In the six years Shepherd has been at the helm of the program, he's had several kids go on to university and several kids who have gone on to successful careers in the industry. "It's a great fall back. Students can work through college, make a decent living and be fed," said Shepherd.
"The mandate I was given was to become a bridge to the community," Shepherd continued. "It's been an amazing success because of my students and their passion. When the students saw the support the community gave us, you can't help but be in awe. Without the community support, my students' education is not complete."
"Chef taught me a lot of things," recalls Green. "Before I even went to Foods, I never caught the concept of how to use a whip, temperature, don't overheat the skillet, always use gloves when serving food. Now, I want to go to Atlanta to look at some schools on spring break. I know I want to have Chef for one of my recommendations."
The result of Shepherd and his students' passion for culinary masterpieces is the newly remodeled South Lake Bistro. It's nestled into the east side of South Lake High School and re-opened in October 2018, with a completely new kitchen, including state-of-the-art appliances, a large dining room and secure access for the public, so they don't have to go through the school office.
The bistro is open Wednesday through Friday from 11 a.m. to 1:30 p.m. The kitchen is fully licensed and inspected and the public is welcome and encouraged to sample the menu, which rotates regularly and can include from-scratch soups, hearty salads, panini sandwiches, and cultural dishes.
"We don't just cook one food level. We cook with shrimp, beef, we have the experience with different cultures on how to cook our food. My favorite is our Italian food. Our aioli sauce is amazing," Green said.
"This is the one thing that really differentiates my kids in this program: South Lake is a Title One school, which means the majority of our students are below the poverty line," explained Shepherd. "This empowers them to see that no matter where they're at, they can always help someone else."
Be sure to check the Web site for the current menu: southlakebistro.weebly.com/current-menu.html