Shooting Stars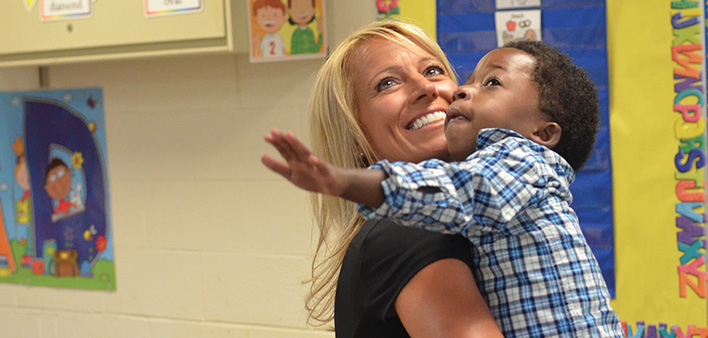 By Rebecca Calappi
Hailey Petty was born with a genetic fluke. Several of them, in fact. The now 17-year-old was diagnosed with Rett Syndrome and Lenox-Gastaut Syndrome. One of those conditions would be challenging enough, but the two combined is a recipe for severe seizures, gastric issues and a Parkinson's disease-like illness.
As a result of the genetic mutation that primarily affects girls, Hailey Petty is nonverbal, uses a wheelchair, has limited use of her hands and has seizures. She's considered SXI, or severely multiply impaired.
Shelley Petty, 46, is Hailey's mom. She can't say enough about how Macomb Intermediate School District has helped her family.
"MISD— I feel like they really do it right," Shelley Petty said. "It's so important to empower parents to advocate for their kids."
She's had Hailey in various programs in MISD since she was about a year old, but programs are available from birth.
"She was about a year old when she started through the Early On Program," said Shelley Petty. "It provides early intervention services, parent networking and education. It encompasses the child and the family. That services birth to age three."
Justin Michalak, assistant superintendent of Special Education and Student Services, works closely with parents, like Shelley Petty, to tailor education programs to the unique needs of each child.
"Go back 60 years ago, and there were few learning programs for children with learning disabilities. You wouldn't see the level of support in districts that you see today," said Michalak. "That's the beauty of special ed at the ISD, every child is unique and has unique abilities and needs. No matter what program you're in, you have that IEP that tailors the educational needs to that child."
An IEP is an individualized learning program that protects the different ways a child with special needs learns. It is a legally binding document by which school districts must comply.
According to Michalak, there are about 127,000 kids in the county and more than 19,000 of them have IEPs. Once a child qualifies for one of 13 special education entry points, MISD can become like an extension of their home classroom, or MISD can be the foundation of their education.
Since the 1950s, MISD has been providing special education programs to county children. In fact, the program is so well developed, it draws people to move to Macomb County, so their children can benefit from what MISD offers.
"In Michigan you exit special education at age 26," said Michalak. "We keep kids as long as it's appropriate. We want them to have the opportunity to go back to their local district."
Suzanne Pauli, 25, is another MISD student. Born with an extra Chromosome 26, Pauli has Down syndrome.
She's about to age out of MISD, but Pauli has been within the system for several years, since graduating from L'Anse Cruse North with her high school diploma. She's one of the students Michalak spoke about who were able to return to her local school. Currently, she's a student at Lutz School for Work Experience.
"I drop my stuff at my locker, sit in the room and wait until 8 a.m. because my class is at the mall," explained Pauli. "They take me to Pet Supplies Plus. I work three days a week—Sundays, Mondays and Wednesdays."
Pauli's father, Al Pauli, has been pleased with the experiences his daughter has had through MISD.
"She's made a lot of friends at Lutz. I think you'd be hard pressed to find someone who has a bad thing to say about her there. She's a very responsible individual," he said. "I've not ever heard her complain about it. When we were on a cruise, she couldn't wait to go back to work and school. She's got a pretty good following. She has no problem making friends. A lot of that is due to the camaraderie that's made in the school environment. It's all praise and appreciation. All the teachers I've met there have been absolutely great."
In addition to working, Pauli is a Special Olympian. She has several gold, silver and bronze medals in downhill skiing, bowling, bocce ball and soccer.
"I'm proud of my daughter," said Al Pauli. "She tries hard. She wants to make you happy and I'm proud of what's she's done. I don't treat her any different than any of my other children. Her accomplishments just make her mom and dad so proud. She continuously surprises us."
What makes MISD so special is the continuum of services it provides. From birth to age 26, children with special education needs can get speech, physical and occupational therapies, as well as hearing and vision consulting. Additionally, MISD has programs for students who are severely emotionally impaired, physically impaired, or are diagnosed with autism.
"We're always child focused," said Michalak. "You pull into our parking lot and you'll see 180 busses. The ISD coordinates transport around the county. Our busses travel 3.5 million miles per year. It's an exceptional team that comes together around this county."
MISD has more than 12 locations throughout the county, including Lutz School, which helps older students transition into jobs, volunteer positions and activities for daily living. Hailey Petty attends Glen Peters School, where she and other students with similar severity in impairment can learn through center-based programs.
"We have a nurse full time who can handle her seizures and make her feel safe; that's a really big deal," said Shelley Petty.
Overall, the goal for the students within MISD is to be able to reach their own unique potential. Hailey Petty will not live on her own, but she could find volunteering opportunities where she can earn a sense of fulfillment. On the other hand, Suzanne Pauli, is looking to one day move out of her parent's Macomb Township home and start a life with her boyfriend, Anthony.
There's so much beauty within the MISD. Each student is unique, like snowflakes. No two are the same, but each is like a star shining with full hearts, big smiles and tons of potential.