Shirts for Success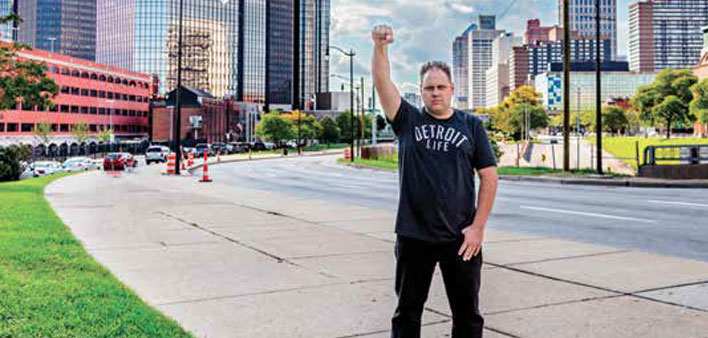 By Alexis Bohlinger | Photography by Steve Mills
Think positive. Stay inspired. That's the message local entrepreneur Chris Reynolds hopes to spread with his clothing line.
After six years of martial arts, Reynolds wanted to spread the positive messages he learned from his sport by creating a clothing line that would inspire athletes to overcome adversity and be their best.
It all started in 2005 when Reynolds, of Sterling Heights, was doing karate and working a full time job. "One day I had the idea to make a T-shirt that had a positive message – something that would make me believe in myself," he said. At the time, Reynolds was working as a personal assistant but he took a leap of faith and left his job to pursue the clothing line.
After researching the market, Reynolds knew there was a niche that needed to be filled. "I'm a pretty positive guy. I would go to tournaments for martial arts and I had the idea to create a logo that people could relate to, hence I designed the Flip Your Lid guy." It's an outline of Reynolds doing a flash kick. "It's a symbol people can identify with as being great and being inspired."
Growing up Reynolds didn't have much money. "I had to be creative and had to make a lot of my Halloween costumes from scratch. I think this helped me down the road in designing the clothing line." Reynolds designs all of the clothes himself. "I'm pretty much a one-man show but I have a manufacturing team in Roseville that makes the clothes."
Reynolds currently has two clothing lines, Flip Your Lid Wear and Detroit Life. Flip Your Lid Wear has been very popular among the younger generation, teens to early 20's. "I want these kids to have something positive that can represent them.
With Flip Your Lid Wear anyone can be cool and stylish," he said.
Detroit Life became a focus for his business in the last six months. "The Detroit Life brand is really about Detroit as a whole – the good, the bad, going against all odds and rising up above them," said Reynolds. While Flip Your Lid is only available for purchase online, Detroit Life is available in a number of retail stores around metro Detroit. "We have a full line cart at Lakeside Mall in Sterling Heights now through the end of December. We are also located at Detroit Motorcycle on Van Dyke in Center Line and The Detroit Shoppe at Somerset Mall in Troy," he continued, "The Detroit Shoppe was the first store to believe in us and push our product."
Reynolds considers himself to a be a personable, fun-loving guy. He also truly believes in his product and wants to connect with his customers. Reynolds says, "In this business, you can put anything you want on a T-Shirt and tell the world what you're thinking. I get to do something I love and actually make money doing it. I feel like I'm living the dream."
Reynolds attributes a great deal of his success in business to martial arts. "It helped me to believe in myself. If I ever had doubt I could go to the karate school and work on my tricks." He also commented that he was fortunate enough to have positive influences in his life.
When asked about goals for the company, Reynolds replied that he hopes to grow the business and continue to spread a positive message to people and inspire them. "At the end of the day whatever your shirt says, you've got to like it and believe in it."