Shaping Roseville Students Since 1967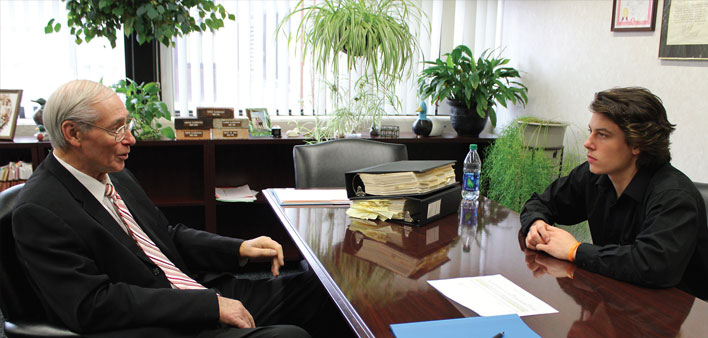 By Nick Lico
Education is part of John Kment's DNA. The last of his parent's five children and born later in their marriage, his older sister was a teacher at the grade school he attended in Detroit. His educational career began in 1967 as a substitute teacher for Roseville Community Schools. A year later, he was offered a full-time position. Since then he has seen a great deal of change in the 50-plus years he has been an educator.
"The first year that I taught at Brablec High School – at the time the newer of the high schools – we shared a building in the old Roseville High School. We had the afternoon shift and classes went until 5:40 p.m. You can only imagine how students reacted on Friday afternoons when the temperatures were in the 80s and 90s," he said.
At Brablec, the Wayne State graduate taught history, political sciences, English and biological sciences. He eventually became the assistant principal and athletic director at Roseville High School until the 1988-89 school year, when he was named Roseville Community Schools superintendent. Yep, that's 30 years ago, after he had been teaching for 20 years. As one can imagine, Kment has seen a great deal of change during his tenure.
"At that time, girls' skirts couldn't be too short and boys' hair couldn't touch the collar. In 1972, our enrollment was 15,000 students; we're now under 5,000. The growth that is now taking place in the northern part of the county was happening in the southern part then," said the three times president of the Macomb County Superintendents Association.
When asked what he believes has been the most gratifying aspect of his job, he promptly replies, "As a teacher you get to know the kids. You know their good days, bad days, their families. You can't help but smile and feel good when you see them walk across the stage to get their diploma or when they come back after school. When you know they now have a successful job that allows them to raise a family and contribute to society, that's the most rewarding part."
To help ensure more students acquire a successful career, Kment believes there must be clear and frequent communication between the schools, parents and the student. "We're also seeing greater focus on working with businesses and industry to prepare students for the jobs of the future," Kment said. Part of that preparation is evident in the number of vocational programs offered by Roseville Community Schools. "We have a good balance between preparing our students for college or vocational schools. In either case, we're helping prepare for not just a job, but a career that will help them buy a car, buy a house and raise a family," he said.
At 71, Kment sees the end of his career approaching, which will allow him to spend as much time as he can with his family: six children, five of whom are teachers (the other is a police officer) and 10 grandchildren. He also expects to spend more time pursuing his favorite activity: watching sports. As he explained, if it has a ball and it flies or bounces, he'll watch it.
Looking back on his 50 plus years, Kment is convinced he made the right decision back in 1967. "Besides marrying my wife, the best thing I've ever done is coming to Roseville to teach," he said.