Savoring Sweets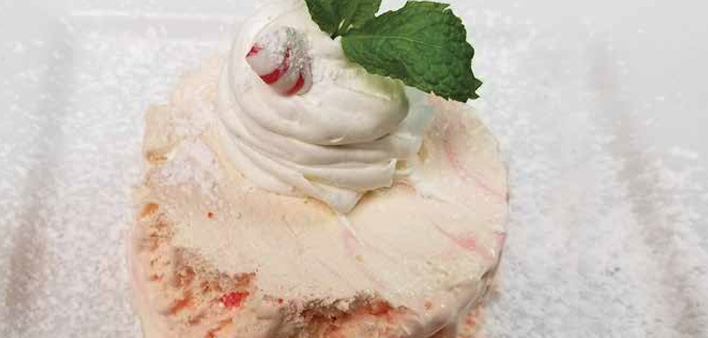 By Tracey Moro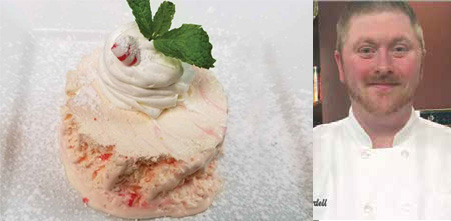 Brad Bardell
Executive Chef Brad Bardel, a Chesterfield Township resident, has been in the culinary field for 27 years and is currently in his second season leading the kitchen at Brownies on the Lake in St. Clair Shores.
White Chocolate Peppermint Semifreddo
By Executive Chef Brad Bardell
Brownie's on the Lake – St. Clair Shores
Ingredients
2 egg whites whipped to stiff peaks
1 tsp of sugar
2 egg yolks whipped to double in volume
2 cups of whipping cream
3 peppermint candies
2 oz of white chocolate, melted
Red food coloring
Directions
Whisk your egg whites and sugar to form stiff peaks. Whisk your egg yolks. Whisk your heavy cream. Fold your egg whites into your whipped cream, then fold the yolks in. Crush the candy and fold it into the mix. Add white chocolate. Place your mousse into a ceramic dish that has been sprayed with cooking spray. Add 2-3 drops of food coloring and ribbon in with a spoon. Freeze. When frozen pop out of ceramic dish and garnish with powdered sugar, whipped cream and crushed peppermints.
---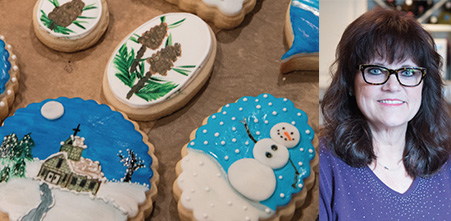 Lisa Czarnik
Lisa is a busy mom and has been a nurse for 22 years. She began her love of pastries making cakes in her spare time and opened Sweet Blessings by Lou in her home.
Lemon Sugar Cookies
By Chef Lisa Czarnik
Sweet Blessings by Lou
Ingredients
1 cup butter, cold, cut into chunks
1 cup sugar
1 egg
3/4 tsp fresh lemon juice or lemon extract
1/4 tsp clear vanilla extract
1 tsp fresh lemon zest
3 cups plus 1 Tbsp all-purpose flour
2 tsp baking powder
Directions
Position oven rack in center of oven and preheat oven to 360°F. Use parchment paper to line two large cookie sheets, Cream together butter and sugar until combined and fluffy. Add egg, extracts and lemon zest, mix well. In a separate bowl, whisk together flour and baking powder. To the creamed mixture, add flour/baking powder 1 cup at a time, mixing on low speed until combined. Scrape sides and bottom of bowl as needed. Combined mixture will be very thick and crumbly. Dust rolling surface and rolling pin with flour. Roll dough to even thickness, about ¼ to ½ inch thick. Dip cookie cutter in flour and press straight down, arranging cutters to get as many shapes out of one rolled piece of dough as possible. Using metal spatula, lift cut cookies and place on prepared cookie sheets. Space cookies at least two inches apart. Recoat surface and rolling pin as needed. Gather scraps and knead together, and roll again. Place cookie sheet in the freezer for 10-15 minutes before baking. This step helps the cookies retain their shape when baking. Bake only one cookie sheet at a time, on center rack of oven for 9-11 minutes. Remove from oven and cool at least two minutes before removing from cookie sheet. Transfer to wire rack to cool completely.
Lemon Royal Icing
Ingredients
1/2 cup meringue powder
1 cup minus
1 tablespoon water
2 pounds sifted powder sugar
2 tsp corn syrup
2 tsp fresh lemon juice
Directions
Using stand mixer fitted with paddle attachment, mix water and meringue powder until well combined and foamy. On low speed, add sifted powder sugar, lemon juice and corn syrup in small increments, scraping down sides and bottom of bowl with spatula as needed. Increase speed to medium low and beat for 5 minutes. Increase mixer to medium high and beat until glossy and stiff peaks have formed (3-4 more minutes). Spread icing on cookies and decorate as you like.
---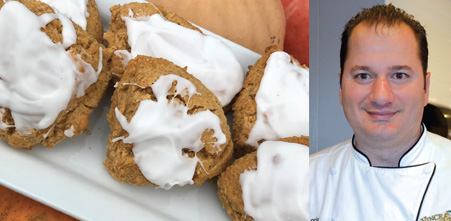 Perfectly Spiced Pumpkin Scones
By Chef Angelo Vince & Joe's Gourmet Market
Prep: 30 mins, Cook: 15 mins
Total: 45 mins, Makes 16 Scones
Pumpkin Scones
Ingredients
2 cups all-purpose flour
1/3 cup brown sugar
1 tsp baking powder
1/2 tsp baking soda
1/2 tsp kosher salt
1 tsp ground cinnamon
3/4 tsp ground ginger
3/4 tsp ground cloves
1/2 tsp ground nutmeg
8 Tbsp cold unsalted butter
1/2 cup pumpkin puree
1 Tbsp molasses (we use blackstrap unsulphured molasses)
3 Tbsp half and half or cream
1 large egg
2 tsp vanilla extract
Directions
Center a rack in the middle of the oven and heat oven to 400º F. Line a baking sheet with parchment paper, or use non-stick cooking spray.
Whisk the flour, sugar, baking powder, baking soda, salt, cinnamon, ginger, cloves and nutmeg together until blended.
Cut the butter into small cubes then scatter over the flour mixture. Use a fork or a pastry cutter to "cut" the butter into the flour until the mixture resembles coarse cornmeal with a few pea-sized bits of butter, about five minutes. (You could also use a food processor for this – if using, add flour mixture to the bowl of a food processor, add the cold butter cubes. Then pulse three to four times until the mixture looks like coarse cornmeal or crumbs).
In a separate bowl, whisk the pumpkin puree, molasses, half and half, egg and vanilla extract until blended.
Stir the pumpkin mixture into the flour and butter mixture until a soft dough forms. Transfer the dough to a floured surface. Knead three to four times until it comes together.
Pat the dough into a 10-inch by 7-inch rectangle (a rolling pin can be used here). Cut the rectangle in half lengthwise then cut into four even pieces crosswise, making eight rectangles. Cut each rectangle into two triangles, making 16 scones.
Transfer scones to the baking sheet then bake 10 to 15 minutes or until golden brown and a toothpick inserted into the middle comes out clean. Transfer to a wire rack and cool completely.
Pumpkin Spice Glaze
Ingredients
1 cup powdered sugar, sifted
1 Tbsp pumpkin puree
1/8 tsp cloves
1/8 tsp ground nutmeg
1/8 tsp ground ginger
1/4 tsp ground cinnamon
1 to 2 tsp half and half or cream
Directions
To make the pumpkin spice glaze, combine the sugar, pumpkin puree, spices then add one tablespoon of half and half. Stir and check consistency. Adjust the same way as you would a simple glaze. Pour glaze on each scone.
---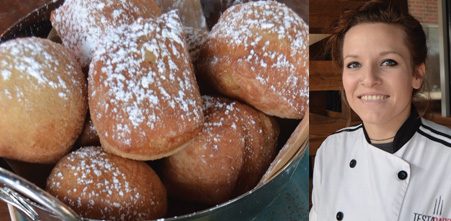 Bombolino
By Pastry Chef Chelsea Pope
Testa Barra Restaurant
Serves 8-10
Ingredients
1 cup bread flour
1 cup all purpose flour
1/3 cup sucrose
7 Tbsp butter
1 package yeast (2-1/4 tsp)
1 tsp salt
3 large eggs (whole)
2 large egg yolks
1 cup water
1 tsp vanilla
1 tsp cinnamon
1/2 tsp nutmeg
Powder sugar
Directions
Dissolve yeast in 80 degree water, with dough hook, mix everything together on first speed for six minutes, then second speed for an additional six minutes. Mixture should ball up into the hook. Place mixture in oiled large bowl, cover with plastic wrap and let the dough rise for three hours or until dough has risen over the top of the bowl. Roll out dough on floured table to one inch thick. Cut into two-inch wide ropes and two-inch squares. Place onto sprayed parchment paper and let rise once more until doubled in size. Fry in 350 degree oil until golden brown and cover in powdered sugar!
Testa Barra serves Bombolinos with an orange zest cassata cream as well as a dolce which is cooked sweetened condensed milk (boiled for two hours). They top the dolce with sea salt and serve. Delicious!
---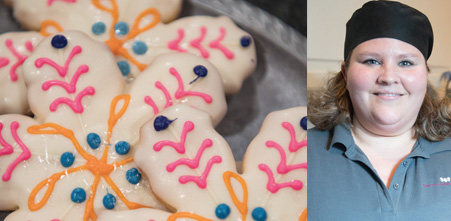 Jennifer Tilton
Jennifer has been in the pastry industry for more than a decade. She began Indulge by Jenn in 2007 working out of her home doing custom orders while working full time.
Short Dough Cookies
By Pastry Chef Jennifer Tilton
Indulge by Jenn
Ingredients
1 lb unsalted butter, softened
8 oz sugar
1/2 tsp salt
3 eggs
1 Tbsp vanilla extract
1 Tbsp almond extract
1 lb 8 oz pastry fl our
Directions
Place the butter, sugar, salt in the mixing bowl. With the paddle attachment, cream these ingredients at low speed, until light and fl uffy. Add the eggs and extracts and blend at low speed. Sift in the flour. Mix until just combined.
Roll out dough on a floured surface, to 1 inch thickness and cut out cookies with your favorite cutters. Place on cookie sheet, bake at 350 degrees oven for 15 minutes or until golden brown around the edges.
Topping
Topping the cookies with chocolate adds a nice sweet crunch. Just melt colored chocolates and decorate. Or use a royal icing.