Sailing on Ice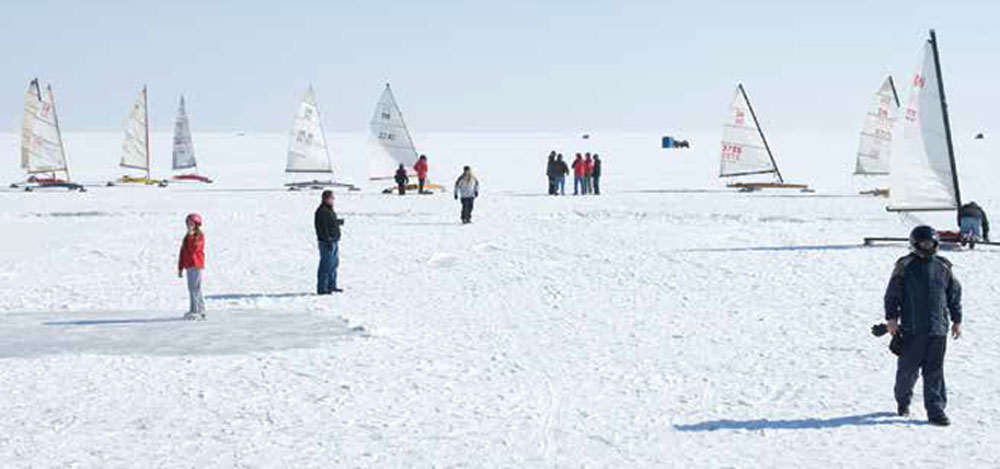 By Tracey Moro | Photography by Santa Fabio, Chuck Drummond & Ronald Rabine
It's above freezing and the wind is at least 10-15 knots. Anchor Bay is continuous ice, probably six inches thick or more, as far as you can see. It's a sunny day and it's perfect conditions for ice boat sailing on Lake St. Clair.
That's when you're sure to find Jim Rogers of Chesterfield, Ron Sherry of Clinton Township, and members of the North Star Sail Club, enjoying a sport not many even know about let alone participate in.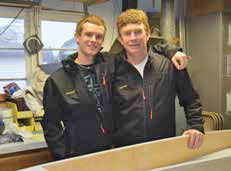 Sherry and his son compete around the world in DN Class ice boat sailing, named after the Detroit News. This class of boats is home buildable and the most popular. Ron is a five-time world champion and current North American Champion and his son isn't far behind. Their love for the sport was sparked by Ron's father, Lorne. A past world champion himself, he was involved with racing right up until his passing two years ago. Ron's passion for ice boat sailing turned into a lifestyle and career. His company, Composite Concepts, Inc., builds the DN Class boats and parts, supplying to ice boat sailors around the world.
"I began racing at 9 years old," said Sherry. "My father and I built our own boats and now my son and I do the same." One of two main production builders of the DN boat in the country, Sherry spends his days building the boats at his home or at his shop in downtown Detroit. He has made his passion his livelihood.
The 12-foot long, 8-foot wide boat has a 16-foot mast with 60 square feet of sail. The 46 pound boat has three runners with blades, one on each side and one in the front which steers the boat. "On a good day we can be at a speed of 90 mph within seconds," said Sherry. The speed and camaraderie are why they sail.
Sherry began winning competitions as early as 12 years old. His son, Griffin, a senior at Parkway Christian School, plays hockey, sails and races ice boats, having traveled all over with plans to go to the world championships in Austria this winter. He is currently ranked fifth in the world. Races are planned where the ice is best, having been on Lake St. Clair a few times in years past.
Ron and Griffin are the exception; most ice boaters aren't competing they are simply pleasure sailing, enjoying a day on the ice. On a good ice day you may find as many as 30 to 40 people on Lake St. Clair looking to get on an ice boat and sail. "What I really like more now is taking someone new out on the ice and giving them the experience. As a club we try to get 15 to 20 new people to ride each season," said Sherry.
"We get out behind our house here on Anchor Bay," said Jim Rogers. Retired from Chrysler, Rogers sails on the ice in the winter and on the lake in the summer in his Troller.
Rogers is a historian type who knows more about ice boat sailing than most, having been doing it for more than 60 years. "The Roosevelts were big ice boaters. They sailed ice boats that were Stern Steerers and they were huge," said Rogers. "My buddy in high school built one and it sparked me to get into it." Growing up in St. Clair Shores, Rogers spent many winters on the ice, having built half a dozen ice boats including some for his grandsons.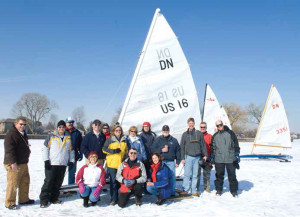 Sherry and Rogers are considered leaders of the North Star Sail Club group of amateur ice boaters. "We do pleasure sailing. Everyone is just most concerned about going fast, not competing," said Rogers. "On an ice boat you lay flat, like in a bobsled, and you begin running and then jump in the boat, trimming your sail to gain speed. The sensation of speed is incredible. You can't be out on the ice alone doing this sport. You must be with a group for safety reasons."
North Star Sail Club's group started out with just a few friends and two boats and each year it has added a couple more boats and a couple more people. "We don't really post anything or plan out a schedule, since we can't predict the weather. We will just text the group," said Claudia Drummond, the club manager. "We take turns on the boats. The first time I used it, I had such a great experience that I told my husband 'we are getting one of these.'" Drummond explains how so much of your ride depends on knowing how to control the wind. "I picked it up quicker since I had been sailing for many years and had the experience. A lot of times we will put new people out in a two seater, called an Arrow," said Drummond.
Another boater, Stephen Kowal-Besler, 17, of Chesterfield explains how he was attracted to the sport.
"I was invited to try ice boating by a few members of the club when I was about 12 years old," said Kowal-Besler, a senior at De La Salle. "The speed and the adrenaline rush," hooked him and his older brother, Nicholas, to the sport. He had experience sailing, but said "ice boating is totally different."
This winter don't be surprised if, while the ice and wind conditions are perfect, you see members of the North Star Sail Club out on the lake. "Don't be afraid to come join us," said Drummond.