Rose Capital – 1944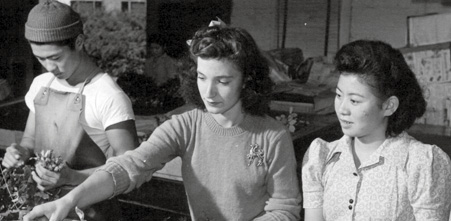 By Lynn Anderson
Although Mount Clemens was known as the Bath City, it was also renowned for roses. Often called the Rose Capital, Mount Clemens was one of the centers of the rose growing industry in the United States, and the largest producer of roses in the state. One of the most successful was the Weiss Family's Mount Clemens Rose Gardens, with more than half a million rose plants in production.
Meanwhile, after Pearl Harbor in 1941, more than 127,000 people of Japanese ancestry (many of whom were 2nd and 3rd generation Americans) were forced to be incarcerated in deplorable internment camps, simply because of their nationality and fears that they might be a threat to national security.
Here in Macomb County, businesses were losing valuable workers to the war effort. The rose business was still very busy with wartime weddings and military funerals, so Paul Weiss began looking for a solution to his manpower dilemma. It was during this time that Japanese-Americans had a reputation for making things grow better than anyone else. Japanese gardeners were famous for meticulously tending gardens and lawns, and picking them clean of every weed, twig, dead leaf and pebble. They were also very successful strawberry farmers.
So in 1943, Weiss petitioned the Federal Government for permission to relocate several Japanese-American families who were interned in camps. He promised the government that he would vouch for them, bring them to Michigan, give them jobs in his greenhouses, and help them regain their dignity.
Thanks to the Weiss Family, dozens of these Japanese families were rescued from the camps, and brought to live in Mount Clemens and work at the Rose Gardens. They lived in homes, apartments, and hotels throughout the area, and their children went to Mount Clemens schools. It's a credit to the citizens of Mount Clemens and Macomb County that these families assimilated into the neighborhoods without any incidents. At a time when our country chose to segregate these people because of how they looked, the people of this community embraced these families and welcomed them with open arms.
This picture, taken in the Spring of 1944, shows Perry Miyake, June Daunt, and Toshiko Minami working in the sorting room, sorting and wrapping the roses that would go into people's homes in celebration of Mother's Day.
The Mount Clemens Rose Gardens closed their doors in 1999, after 80 years as a leader in the industry, producing more than six million roses annually from their greenhouses covering 10 acres along Clinton River Road and Cass Avenue, in Clinton Township. The acreage is now being developed as the Rose Garden Estates subdivision.
Photo courtesy of Karen Chong of the Miyake family.
Lynn Anderson is a freelance journalist, living historian, actor/spokesperson, and Fashion Curator of Fashion and the Automobile. She proudly lives in Clinton Township. This adaptation of her article was fi rst published in the Summer 2015 issue of the Historical Society of Michigan's Chronicle Magazine.