Rising to the Challenge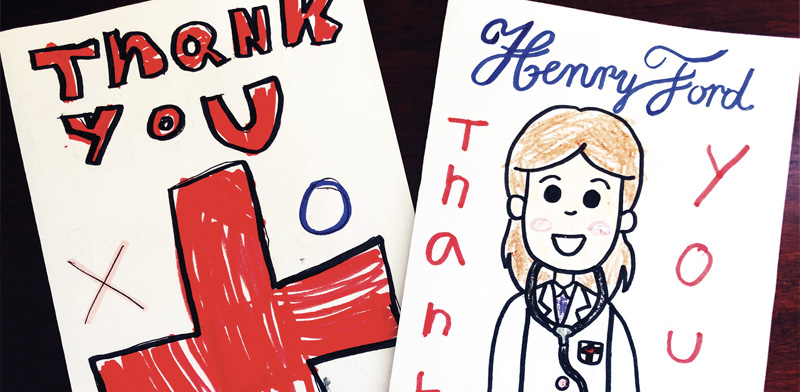 By Rebecca Calappi
As waves of sick patients rolled into hospitals and emergency centers, health care providers experienced something no one has witnessed in the United States in more than 100 years: A pandemic.
More than 50,000 people in Michigan sickened from COVID-19, with more than 6,000 confirmed cases in Macomb County alone. Hospitals were busier than they ever were before.
"The first couple of weeks of March not only did we see a sharp escalation of patients we now know had COVID-19, but also there were very few methods to diagnose them quickly," said Dr. S. Nasir Husain, director of Infection Prevention and Antibiotic Stewardship, Henry Ford Macomb Hospital. "Everything else became irrelevant besides COVID-19. It was pretty challenging in the first few weeks."
As the tide of COVID-19 continued to flow, Henry Ford Macomb Hospital found itself in an unusual situation. "There was a time, it was more toward the end of March, that every room in the ICU was full and we had to create this extension of the ICU," recalled Dr. Husain. "We chose the area where the day surgeries were performed. We had to do that because we didn't have enough rooms in the ICU."
As health care providers scrambled, they also invented. Care delivery went from in-person to telehealth in a snap. Screening stations were set up around the state and hotlines were made available.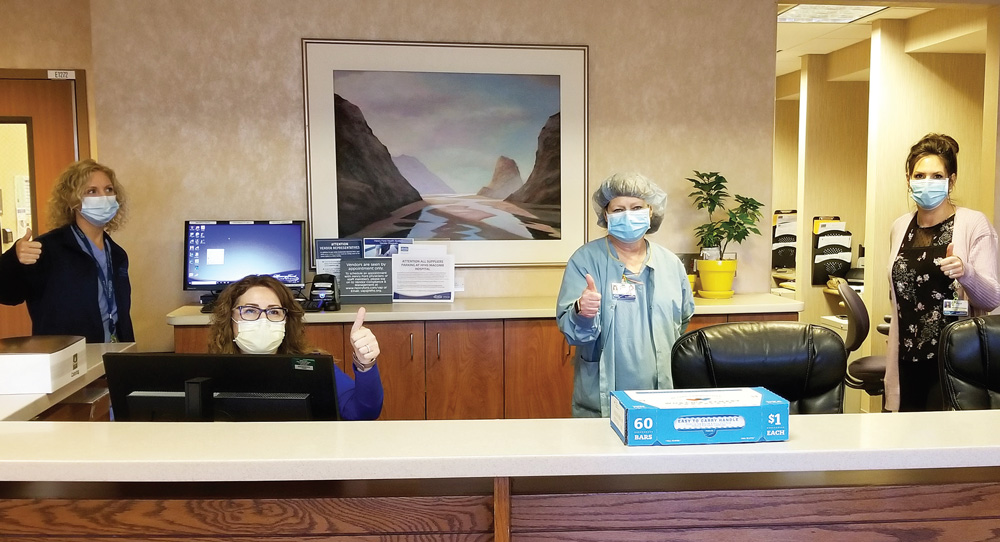 At Henry Ford Macomb, health care workers needed a way to provide comfort and guidance to patients who were sick and tested positive but could provide self-care at home. The CovidCare Kit was born.
"I think the other side of this is the emotional, spiritual and mental damage of this infection. These care packages that were offered, I don't think it affected their physical ability to recuperate, but it showed someone cares," said Dr. Husain.
Patients weren't the only ones relying on the hospitals. Family and friends had to rely on health care providers to communicate the condition of their loved ones. Because of the contagiousness of COVID-19, it is a lonely illness and hospitals closed to visitors.
Beaumont Hospital, Troy, created a way for patients, who were secluded while visitors were restricted, to keep in touch with loved ones. The hospital has tablets available, so patients and families can communicate.
Patient Ronald Bollinger and his wife Mary of Macomb Township are benefiting directly. Bollinger, 70, went to the hospital by ambulance in mid-May with severe COVIDlike symptoms. His prognosis was grim. Tests revealed he experienced a massive heart attack, due to an enormous bacterial growth, which gnawed away at his heart valve and portions of his heart. COVID tests came back negative and his heart valve was surgically replaced.
"I didn't know if I'd ever see him again," Bollinger said. "So being able to communicate with him via tablet has been a big deal for me. It doesn't replace seeing someone in person. But it's so much better than nothing. It gave me a sense of peace. We are so grateful to staff for making this happen for us."
In addition to innovating care, nurses came into the spotlight for their role in caring for the sick.

"This pandemic hit our area so fast and so hard, and it was something no one on our staff had ever experienced," said Dr. Julia Libcke, chief nursing officer at McLaren Macomb. "There was a tremendous amount of communication and coordination needed as we escalated quickly with an influx of very sick patients. The way our leaders and nursing staff responded was truly inspiring. Facing the most serious health crisis of our lifetime, the way our care staff met that challenge made me incredibly proud."
Laura Wallace is a nursing student at Lawrence Technological University who works as a patient care technician/nursing assistant at Ascension Macomb Hospital in the Intensive Care Unit.
"In the beginning, it was stressful and scary because COVID happened so fast. We weren't fully prepared as far as personal protective equipment, protocols, staff, and our unit is not big enough to hold the number of COVID patients the hospital admitted. It was very overwhelming in the beginning," Wallace recalled. "Although it was rough in the beginning, my thoughts on nursing have become stronger. I am grateful to be working alongside amazing nurses, respiratory therapists, doctors and all other medical staff. We have received so much support from the public from breakfast and lunch being provided, to people cheering us on as we walk into the building at the beginning of our shift or at the end of our shifts. It feels very rewarding to be able to be part of this pandemic and being labeled as a "Health Care Hero" regardless of our job. It makes my days much easier and brighter and reminds me what my calling is—nursing!"
At the time of deadline, COVID-19 numbers in Macomb County were on a decline and hospitals were able to catch their metaphorical breath. Now, they're on to a new challenge: making patients and visitors feel safe.
To manage the pandemic, hospitals asked people to stay away. Today, they're ready to take care of many ailments and health challenges. With safety measures in place, such as plexiglass partitions, hand sanitizing stations, masks for everyone, COVID-19 screenings at the door and even a UV robot that destroys germs at Henry Ford hospitals, health care providers are continuing to be our heroes. They are ready to do what they do best: Keep you healthy.