Responding to the Crisis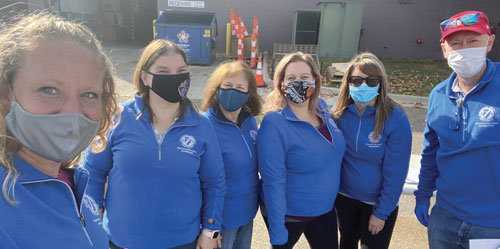 By Nick Lico / Photography by Mike Ferdinande
Last year was a busy time for Macomb County Planning and Economic Development (MCPED). It distributed more than $53 million in grants and loans to 8,200 businesses and organizations.
"No one could have predicted what last year would bring," said Vicky Rowinski, director, MCPED. "Our job was to respond to the crisis and our team worked around the clock to do so. We launched grant programs, distributed relief funds and helped local businesses adapt to the constantly changing environment created by the pandemic. At the same time, we continued our work helping organizations make economic investments here in Macomb County that not only benefit our business community, but also our skilled and talented workforce."
Understanding that the pandemic would have a tremendous effect on businesses, especially smaller ones, MCPED got to work right away.
"The pandemic was also an economic crisis. A lot of businesses had to shut their doors or limit capacity, which affected their bottom line. Our focus pivoted to small businesses, those with 1-25 employees. These are the ones that are typically less prepared for a situation such as the pandemic," Rowinski added.
MCPED created an economic recovery taskforce and one of its tasks was to identify champions in various industries to inform MCPED of what was happening in the various industries and to help businesses overcome the challenges. Through the recovery taskforce, MCPED determined that restaurants and small businesses deemed essential would require the most immediate financial help.
"Four separate rounds of funding were made available to small (50 employees or fewer) brick-and-mortar businesses, businesses with 50- 500 employees, home-based businesses and startups. Macomb County awarded more than 4,100 businesses grants totaling more than $21 million," Rowinski said.
The recipients included Gumbo's restaurant in Mount Clemens and Nitsches Meats and Deli in Shelby Township. "We used the $5,000 grant to take care of our employees, providing them a level of confidence that they would continue to receive their paychecks," said Jerry Taite, one of the restaurant's owners. As the name implies, Gumbo's offers Cajun food using homemade recipes.
"Although it was a small amount, it came at such a difficult time for every restaurant that it was a huge help," added Taite's wife, Courtney. "We are grateful to our customers who stayed loyal to the restaurant."
"We used our $5,000 grant for cleaning and PPE supplies, sanitation stations for customers, some payroll and employee incentives," said Justin Kiel. His family has owned the meat and deli market since 1988. It specializes in locally sourced meats, special cuts and European traditional goods. "It helped to lessen the burden of figuring out where the money would come from and helped keep the business compliant and going," Kiel added.
"Our partners played an important role in helping us distribute aid to local organizations in need," Rowinski said. "Their work was invaluable and we appreciate their ongoing commitment to ensuring Macomb gets through this crisis."
Outside of COVID-19 relief, MCPED's business development team continued its work with businesses and organizations looking to invest or expand in Macomb County. That work, which is a normal function of the department, resulted in projects totaling more than $212 million, with projections of more than 1,800 jobs created and 1,600 jobs retained.
"In 2021, our business development team expects to provide assistance on 17 new investment opportunities. Work supporting businesses through the ongoing pandemic will continue as well," Rowinski added.
For more information on MCPED, visit macombbusiness.com.