Picking Flowers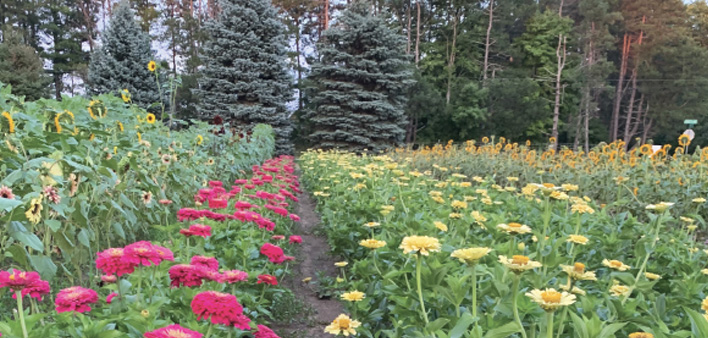 By Nick Lico
If you're looking for a fun, safe family activity that can also brighten a favorite room, consider picking your own flowers at Van Houtte Farms. This family-owned farm is situated on Romeo Plank Road, just north of 32 Mile Road, in Armada.
"This will be our third year of offering U-Pick flowers," said Kyle Van Houtte. His parents, Don and Jan, own the 80-acre farm. They come from farming families, making Kyle, who manages the U-Pick aspect of the farm, a third-generation farmer.
As he explained, offering U-Pick flowers was simply responding to customer requests.
"Mom has been growing flowers for years and we always had people ask if they could pick the flowers themselves. We started the U-Pick operation in 2019 and perhaps because of families looking for something to do during Covid, it really took off last year," Van Houtte said.
Flowers available for self-picking include zinnias, cosmos, snapdragons, marigolds and over 50 varieties of sunflowers. They are available Friday-Sunday from approximately late June or early July until the fi rst frost. Depending on demand and weather, flower picking may also be available during the week, so check in advance. Appointments are not required during the weekend.
"We tell our customers to just show up. We lend them clippers and large mason jars to hold their bouquets. It's $12 for one jar or $20 for two jars. If you want to simply walk around and take in the fragrance and beauty of our flowers, you can do so for $6," he added.
Van Houtte described this as a great family event, including mother-daughter dates. It's also an ideal place for photo ops, such as engagements and family portraits. Cost is $50 per hour for photo sessions and advance permission is recommended.
"We expect an exceptional year for flowers this year. We've been growing them in our greenhouse and we'll probably have one of the largest varieties of U-Pick flowers in the state," Van Houtte said.
While at the farm, be sure to check out their selection of fresh produce that includes tomatoes, squash, peppers, corn, cucumbers, eggplant, cabbage, melons and rhubarb.
"We also offer a number of freshly baked items made by my mom," he said.
Consider returning to Van Houtte Farms in the fall for corn stalks and pumpkins, including decorated and engraved ones. The establishment is famous for its giant pumpkins. You've likely seen some of these very large pumpkins – some weighing over 2,000 pounds – at many businesses across the county.
"Families are always looking for things they can safely do together and picking flowers during the summer or pumpkins and other décor in the fall are ideal activities. They can socially distance while enjoying the sunshine and fresh air," Van Houtte said.
Van Houtte Farms,
69475 Romeo Plank Rd., Armada
(586) 752-5671
For more information about Van Houtte Farms, please visit their Facebook page.