Pick a Trail and Go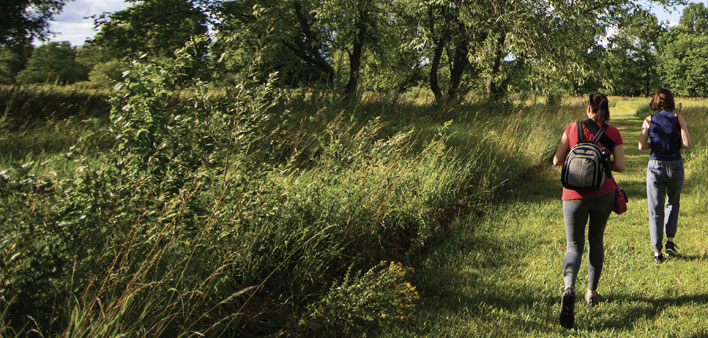 By Mike Lerchenfeldt
Being active can happen anywhere – at home, at work, at school. You do not need a gym membership or exercise equipment to be active. Just grab a buddy and head to a local trail to enjoy tranquil wooded areas and beautiful wildflowers.
Shelby Township's Parks and Recreation Department is responsible for more than 1,200 acres of first-class public parks, access to the Clinton River, and more than 20 miles of hiking and biking trails and paths. Almost every one of the city's 10 parks has an asphalt or natural surface trail with estimates of 300 to 400 weekly users from spring through fall.
"It is amazing to see our community engaged in workouts within our beautiful parks and trails while enjoying the fish, thriving wildlife, and natural plant communities," says Joe Youngblood, Shelby Township parks and recreation director. "We understand that our residents want to enjoy nature and have trail access."
Residents do not have to travel far to find an outdoor adventure along a scenic trail that is right for them. The rustic Outlook Trail at Holland Ponds Park is an excellent place to enjoy a hike, along with possible views of a variety of beautiful animals – bald eagles, herons, egrets, cardinals, rabbits, squirrels, deer, turtles, frogs, and other wetland residents along the Clinton River on the way to Yates Cider Mill.
Holland Ponds Park also displays some of Shelby Township's history with remains of the abandoned Clinton-Kalamazoo Canal project, which dates to 1838. Youngblood says that this park has always been a hidden gem in Macomb County, and now people are starting to take notice. Nearby River Bends Park is an excellent place to bike with a new repair station and views from overlook areas of the Clinton River.
"River Bends Park offers a system of singletrack mountain bike trails that allow you to take your riding along the banks of the Clinton River or you can choose to share the well-maintained paved pathway with walkers and joggers," says Pat O'Neil, Shelby Township resident. "My favorite is a brief two miles into downtown Utica or for a longer outing, I connect with Clinton River Park Trail and ride to Dodge Park."
The paved Clinton River Park Trail winds along the east bank of its namesake river in Utica and Sterling Heights. A handful of parks along the way provide trail users with amenities and access to additional recreational features. Near the southern end of the trail, you can cross the Clinton River on a pedestrian bridge to enter Dodge Park, a fun place for families with playgrounds, picnic areas and the farmers' market on Thursdays.
"Based on feedback over the years, our park users enjoy our trails because they are safe, well maintained, including a heavy emphasis on litter control, and are located through many scenic areas of the city," says Kyle Langlois, Sterling Heights parks and recreation director. "It is not uncommon for trail users to hear water flowing down the river and through the tributaries leading into the river."
In addition, the westernmost portion of the Macomb Orchard Trail runs through Shelby Township and Romeo, ending in downtown Richmond. Many residents now have direct access to this trail without having to drive due partly to new signage along a key connector route along Shelby Road from River Bends Park. This route also connects trail users to Stony Creek Metropark.
"Visitors to Stony Creek Metropark often cite trails as the number one reason they visit the park," says Danielle Mauter, Huron-Clinton Metroparks marketing and communications chief. "Stony Creek Metropark has the largest variety of trail types of any of our Metroparks and we are very focused on improving accessibility and providing continued opportunities for everyone to get out and enjoy them."
The collection of trails within Stony Creek Metropark includes a six-mile paved hike-bike trail around the lake, miles of rustic hiking and nature trails, fitness trails, mountain biking trails, and even cross-country ski trails. This gorgeous park boasts a whopping 27 miles of uniquely scenic trails throughout its system.
Mauter says that this variety allows visitors to choose almost any trail activity they're interested in doing outside from running, to biking, rollerblading, hand cycling, to walking the dog and pushing the stroller – there's something for everyone.
There's also a brand new way to enjoy the trails across all Metroparks and earn incentives with the Metroparks Trail Challenge: metroparks.com/trailchallenge. For more information on Macomb County trails, visit macombgov.org/trails.