Patient Caregivers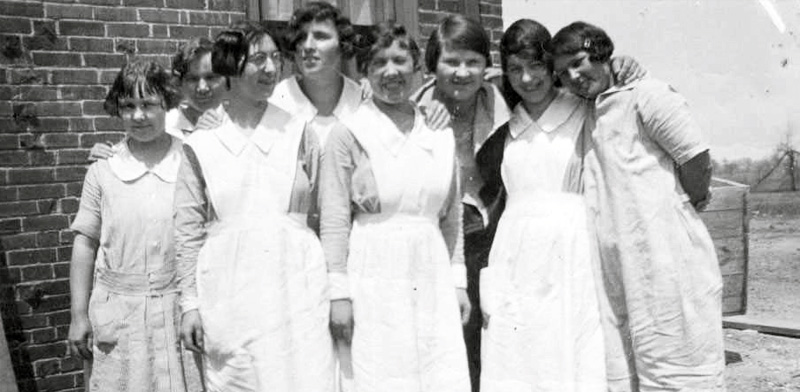 By Tracey Moro
The Sigma Gamma Association began in the early 1900s with local young women meeting for social activities, which later led to organized charitable activities for children and raising money for local hospitals. After the polio outbreak in 1916 they focused their mission on pediatrics. In Detroit the Sigma Gamma Clinic for Crippled Children was established in 1920. As years passed more facilities were established outside of Detroit developing comprehensive long-term patient care.
Located on Ballard Road in Harrison Township the Memorial Orthopedic Hospital was built and designed by renowned architect Albert Kahn. It opened in 1925 and was popularly referred to as the Sigma Gamma Hospital since the Sigma Gamma Sorority was the force behind creating it. They were known to treat children afflicted with polio.
Polio is a disease that is disabling and can be life-threatening. The poliovirus spreads from person to person, affecting the nervous system, causing muscle weakness and potentially paralysis. Although the first major outbreak of polio was in 1916 the disease didn't reach its peak until 1952. In summers people feared polio and would avoid beaches and public pools thought to spread the poliovirus.
The portrait above, taken in 1925 outside the Sigma Gamma Hospital, is of staff members. Some are nurses and others medical staff, all perform patient care. They were the so-called frontlines for polio and other plagues like diphtheria and had already overcome the Spanish flu of 1918.
Their uniforms, all dresses, had pointed collars and some had the familiar aprons whose primary use was to stop pathogens from touching the skin and to save the dress from any stains. We don't see any caps; however, their hair is either cut short above their shoulders or pulled up in ponytails.
Working as a team, they learned to ask critical questions always striving to provide the highest possible level of care. We know they made insightful decisions for managing patients. And as any team, they relied and depended on each other, earning trust and developing close friendships. You can see the bond between them, the closeness and the sincere happiness they show huddling-together not afraid to grab a shoulder and lean in while smiling for a photo. We can assume they enjoyed what they did for a living.
The hospital closed in 1957, shortly after the peak of polio and the discovery of the Salk vaccine. Later the building was home to a series of hospitals including Anderson Memorial Hospital (1963-1966), Clinton Valley Hospital (1966-1968), and Harrison Community Hospital (1969-1988). In 1988, it became St. John Hospital-Macomb Center and in 1999, St. John North Shores Hospital which eventually moved down the road. In 2011 the historic building closed and was recently sold again although it is not known what will be occupying it.
Shown are: Rosemarie Arnold Battishill, Anna May Kroneck, Anna O'Hagan Schepka, Helen Lick Seifferlein, Agnes [Unknown], Laura Hemila Musser, Isabella O'Hagan Aderman, and Mrs. Woods.
Photo courtesy of the Mount Clemens Public Library.