Pairing Wine With Food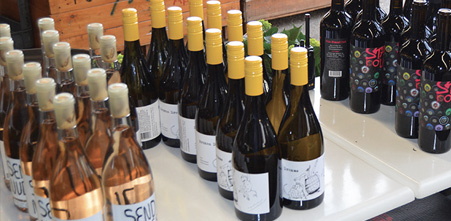 By Nick Lico
Perhaps it's because the average American did not grow up with wine that many find wine intimidating. "I don't know what to look for in a wine." and "I've heard that certain wine goes better with certain dishes, but I don't know what it is." are common refrains heard from those new to wine consumption. Thankfully, there are plenty of options for becoming more familiar with wine and how to pair it with food. One option that is becoming more popular here in Macomb County is the wine dinner where wine is paired with small plated meals.
Vince & Joe's Gourmet Market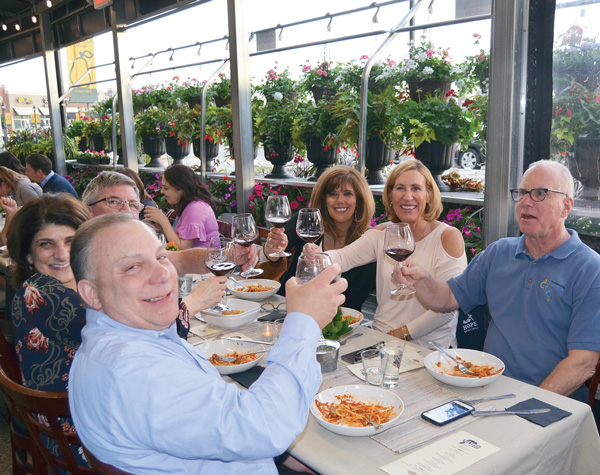 It's only fitting that a place called a gourmet market and with an extensive wine selection would offer wine dinners. Started four years ago, these special events have become popular with Vince & Joe's customers.
"The premise behind our wine dinners is to make wine approachable. We bring in wine makers from France, Italy, Spain and California and show our guests that you don't necessarily need to spend $90 to get an excellent bottle of wine. Oftentimes you can get one for $30, $20, even $10 that will work just as well," explained Angelo Loria, Vince & Joe's executive chef.
On March 18, Ted Ross, a former wine director for the gourmet market, will offer and discuss Kendall-Jackson wines.
"Our patrons will be able to enjoy appetizers, a five-course gourmet meal prepared in the kitchen at our Shelby Township location, outstanding wines from Kendall-Jackson and a presentation from Ted detailing why we're pairing the wines with specific foods," Loria said.
Cost is $75 per person and weather permitting, it will be held under the store's canopy, for an "al fresco" dining experience. Reservations are strongly recommended. Be sure to also check out Vince & Joe's Wine Wednesdays.
Westview Orchards Winery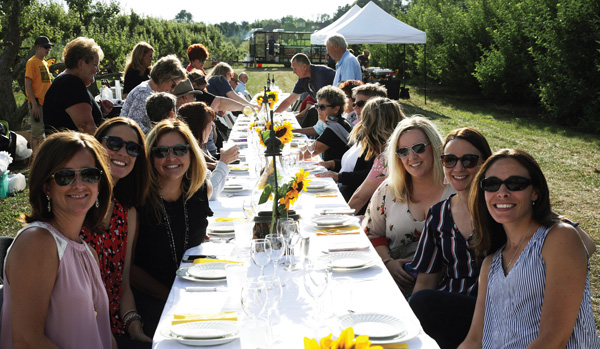 For those who want to pair their dishes with Michigan wines, be sure to check out Westview Orchards Winery's wine dinners. "We have wine dinners usually every second Thursday of the month. Our patrons sample great food from a local restaurant that is paired with our wines. They're typically five-course meals starting at $40," said Katrina Roy, Westview Orchards co-owner. The winery has partnered with local caterers, chefs, even professors at the Macomb Community College's Culinary Institute for the meal offerings. The wines are from the winery's offerings, which range from sweet to dry. As Roy explained, the wine dinners tend to be elegant and fun. "Last year we had fun with the Royal wedding and we had a royal dinner. It was a really elegant dinner with one long table. We also typically have a fun, yet elegant, summertime with an outdoor grille feel. Being so far out in the country, it's a really quiet, relaxing setting," she said.
Youngblood Vineyard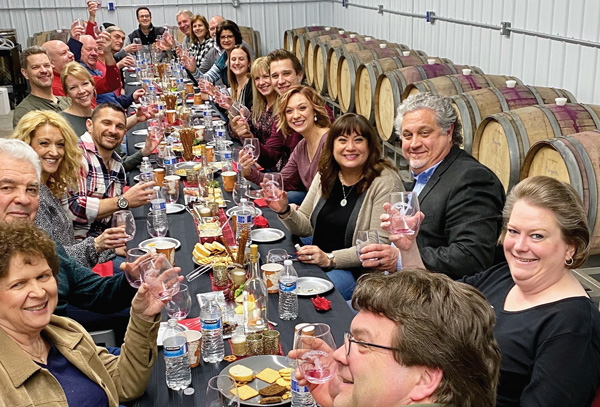 You can also pair wine with dessert. Done correctly, it's the perfect way to top off an exceptional meal. Here are some suggestions from Jess Youngblood of Youngblood Vineyard in Ray Township. "Our Frontenac Blanc is a semi-sweet wine and it pairs well with a heavier dessert, such as a vanilla bean panna cotta with cherry glaze," she said. Youngblood recommends pairing their Marquette, which is similar to a Pinot Noir, with dark Belgian chocolate and their Rose of Petite Pearl with a layered cake, especially one with a berry fi lling. "Last year we infused our Petite Pearl with honey, so the fl avor stays on your palate a lot longer. That's why I thought pairing it with something heavier, such as a cheesecake, would make sense," she said. For a salted dessert, such as a caramel brownie, she recommends her vineyard's sweetest wine, their Frontenac. She also offers the following advice: "Your wine is your garnish to your dessert, but the dessert can also be the garnish to the wine. Finding the right combination can take each meal to a new level."
Testa Barra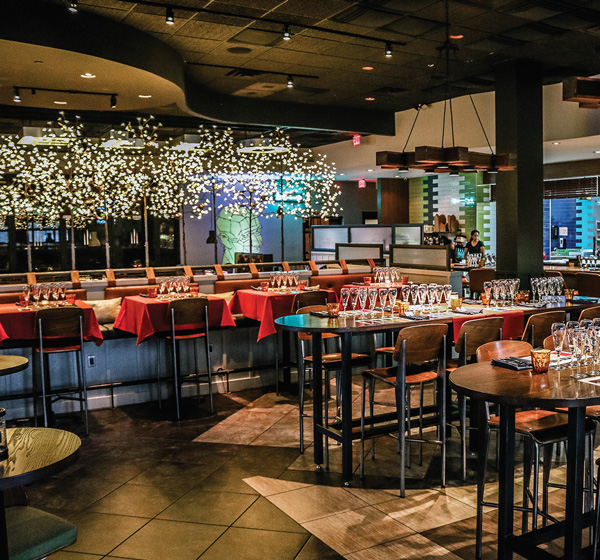 "Most people are familiar with pairing white wine with fi sh and red wine with (red) meat. But there are so many options nowadays that people are leaning away from those traditions and discovering alternatives that truly complement both the wine and the meal," explained Jeff Baldwin Jr., Testa Barra director of operations.
"For every wine and dish combination, we consider three flavors: the wine, the dish and those two together," added Megan Bird, lead sommelier. "We start by identifying the body and flavor of the dish, then looking at the wine as the salt and pepper of the dish. Doing this has enabled us to offer some combinations that wine novices may not have thought of. For example, we offer Riesling with sausage and will pair salmon with Cabernet Sauvignon, Merlot or Pinot Noir.
"Here's another example: mushroom risotto. For most people, a big, buttery chardonnay would be the ideal choice and there's certainly nothing wrong with that. However, you can actually pair it with a nice Barbera (a dark, red wine) to truly complement the dish," Baldwin said.
To help familiarize wine drinkers with some of these uncommon pairings, Testa Barra offers a series of wine dinners.
"On March 2 we have a four-course wine dinner featuring the Wagner family of wines," Bird said. "For $135 per person, plus tax and tip, patrons will enjoy special culinary creations from our chef and premium Caymus wines."
"As a special treat, we will be raffling off various prizes, including a magnum of Caymus Select signed by Caymus Owner Chuck Wagner," Baldwin said.
Testa Barra is also offering four wine education classes in 2020. Each class includes five different wines from a specific wine-growing region and five food pairings. Testa Barra sommeliers help guests identify the various aspects of the wines. Expand your palate and your knowledge by checking out these wine dinners, then share that knowledge with your guests at your next gathering.
For more information on wine dinners
• Vince & Joe's Gourmet Market (586) 786-9230 vinceandjoes.com
• Westview Orchards Winery (586) 752-3123 westvieworchards.com
• Youngblood Vineyard (586) 770-5220 youngbloodvineyard.com
• Testa Barra (586) 434-0100 testabarra.com