Outdoor Skating – 1952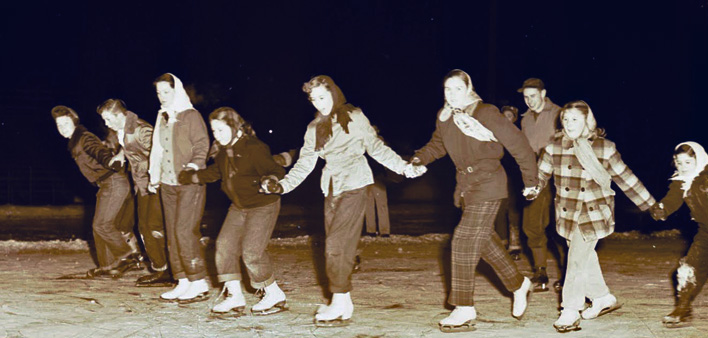 (From the Winter, 2015 Issue of Macomb Now Magazine)
By Denis LeDuc
The leaves have all fallen. The soft, warm colors of autumn have faded into the bleak pen-and-ink landscape of winter. Bare trees stand dark against the white snow and ice of the season. We feel the brisk wind against out faces as we scurry in the dark from our warm homes to school, office, factory, then home again. The couch is warm and beckoning, the indoor lights bright and comforting. It is all too easy to just stay indoors and only view winter through the frosted panes of glass. A malaise sets in!
Instead, the hardy residents of Macomb get out their sleds or ice augurs, strap on their snowshoes or skis, lace up their boots, or shine up and sharpen their skates. Outdoors they go, headed for the slope, trail, lake or rink.
In the January 30th, 1952, Daily Monitor Leader photograph above, the flashbulb of the press camera has popped, catching in an instant the energy, vitality, laughter and sheer joy of these young skaters. They crack the whip as they glide under the lights and across the flooded surface of memorial Stadium at Groesbeck and Lafayette in Mount Clemens. We can feel the chilled air, smell the frosted wool, hear the bite of their skates against the ice, and anticipate the thermos of hot chocolate waiting.
Notice the high, white figure skates on the girls, the dark brown or black hockey style skates on the boys, the leggings, sweater, plaid work, and the girls' scarves or babushkas. The smaller girl o n the right has taken a spill. The two boys on the left wear bomber jackets and pompadour-style haircuts. Being outdoors on the frosty cold days and nights of winter is indeed for their pleasure and enjoyment – and for ours!
Photograph courtesy of the Macomb Daily Newspaper Archives.