Fall Family Fun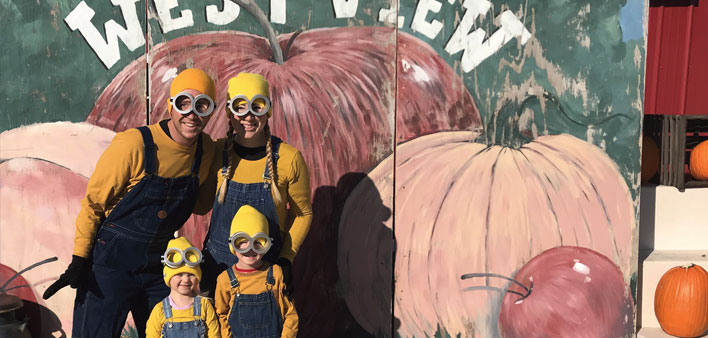 By Nick Lico
Autumn is a special time. Summer's heat is waning and – with any hope – the winter chills are still far away. The kids are also back in school and families are constantly searching for fun family activities. Visiting some of the orchards in our county should always be top on the list.
WESTVIEW ORCHARDS
Popular with local families is Westview Orchards & Winery, located on Van Dyke in Washington Township.
"Whether during the week or on the weekend, there are plenty of activities at Westview in September and October," said co-owner Katrina Roy.
The basic farm fun admission includes access to a three-acre playground, straw mountain (weather permitting), tire mountain, rope mountain, farm animals and a spooky straw bale maze. Options to pick apples or pumpkins are also available and include wagon rides to the picking areas.
More adult-oriented entertainment includes live entertainment on the weekends.
"On Saturday evenings from 7:00 until 10:00 we have music on the porch of the cider barn. We'll also be hosting dueling pianos monthly through December 16 in the barn loft," Roy said. There's no cover for the live music; there's a $20 cover for the dueling pianos.
If stomping on an 1850 barn floor appeals to you, Roy suggests you check out Westview's country line dancing on October 15.
"Doug Mazzola, a local DJ with a loyal following, teaches line dance steps. It's open to the newbies and the experienced and gives everyone an opportunity not to feel awkward when trying this activity," she said.
Westview Orchard & Winery is also offering monthly wine dinners on the first Thursday of the month.
"We've formed new partnerships with different restaurants, including with Chef Mark from Pine Lake Country Club in West Bloomfield," Roy added.
Other activities include sunset yoga in the orchard, followed by food and wine, and fall fruit picking.
"We will be expanding our food offerings on the weekends, including experimenting with new recipes for our wine and cider slushes," she said.
As we get closer to the holidays, Westview is planning a Thanksgiving-themed wine dinner in November and a visit by Saint Nick.
"Our farm market will be open every day by November and will offer gift baskets, including food-based holiday gift ideas that can be shipped across the country," Roy said.
BLAKE'S
With five Blake's locations, including four in Macomb County, there's a multitude of activities for families to choose from.
"It's never too early to get into the Halloween spirit and Blake's Big Apple provides four opportunities for Halloween fun," said Kaley Pittsley, Blake's director of customer experience.
Beginning September 18, Blake's Big Apple will be hosting a haunted hayride, zombie paintball, a three-story haunted barn, and Spookyland.
"Our haunted hayride is a family-friendly, 25-minute ride through a corn maze that includes live actors in more than 20 scenes. Halfway through the ride each guest receives a Blake's doughnut and cider," Pittsley explained. Since some of the actors may approach the hayride, it's recommended that children be at least seven years old.
Also suitable for the same age group is zombie paintball. This 20-minute ride features live zombies and each guest receives a paintball with 75 glow-in-the-dark shots.
If you enjoy haunted houses, just imagine the fun that a three-story haunted barn can provide.
Suitable for all age groups is Blake's Spookyland. It features a straw mountain, dark corn stalk mazes, a petting farm, funhouse/terror tunnel, animated attractions and a 3D maze.
"To get everyone in the spirit while visiting Spookyland we show Halloween-themed movies on a big screen TV," Pittsley said.
It's not just Halloween-based events going on at the various Blake's locations.
"Blake's Orchard & Cider Mill offers approximately 25 different family-fun activities in September and October," Pittsley said.
The activities include an animal farm, a storybook farm, a three-acre corn maze and a train drive through the orchard. There are also a variety of U-pick items available depending on the season. Since this is a very popular activity for local families, Pittsley encourages families to visit on weekdays.
"It's less hectic and a lot of families make a day of it by visiting our restaurant before returning home," she said.
Macomb has more orchards beyond Westview and Blakes which offer your favorite Michigan grown apples, pumpkins and of course the cider and doughnuts. You'll also find plenty of homemade treats like pies, jellies and more. There's nothing better than spending a few hours on a crisp fall day with some cider, a doughnut and friends or family.
LOCAL ORCHARDS
Blake's Big Apple
U-pick; Funland – Petting Farm, Cornfield Maze, Haunted Village and more; Seasonal Produce; Cider; Doughnuts; Hard Cider; Sweet Shop; Spooky Fall Haunted Attractions; Zombie Paintball; Armada; blakefarms.com
Blakes Orchard & Cider Mill
U-pick; Funland; Seasonal Produce; Cider; Doughnuts; Blake's Tasting Room with Blake's Hard Cider, Beer & Wine; Sweet Shop; Lovey's Lavender Market; Fall Campfires; Live Entertainment; Banquet Hall Armada; blakefarms.com
Big Red Orchard
U-pick; Seasonal Produce; Cider; Doughnuts Washington Township; Find on Facebook
Hys Cider Mill
Saturday & Sunday until November 7 U-pick; Cider; Doughnuts; Wagon Rides; Romeo; hyscidermill.com
Stony Creek Orchard & Cider Mill
U-pick; Cider; Doughnuts; Wagon Rides Romeo, Find on Facebook
Verellen Orchards & Cider Mill
Seasonal Fruit & Produce; Cider; Baked Goods; Canned Goods, Cook's Farm Dairy Ice Cream Washington Township; verellenorchards.com
Westview Orchards & Winery
U-Pick; Cider; Doughnuts; Farm Market & Bakery; Cornfield Maze; Farm Fun; Farm Animals; Spooky Straw Bale Maze, Wagon Rides, Winery; Line Dancing & Dueling Pianos Washington Township; westvieworchards.com
Yates Cider Mill
Apples; Pony Rides; Petting Zoo; Seasonal Produce; Cider; Doughnuts; Bakery & Ice Cream Shoppe; Rochester – on the edge of Macomb County; yatescidermill.com