One-in-a-Million Triplets Celebrate Turning 1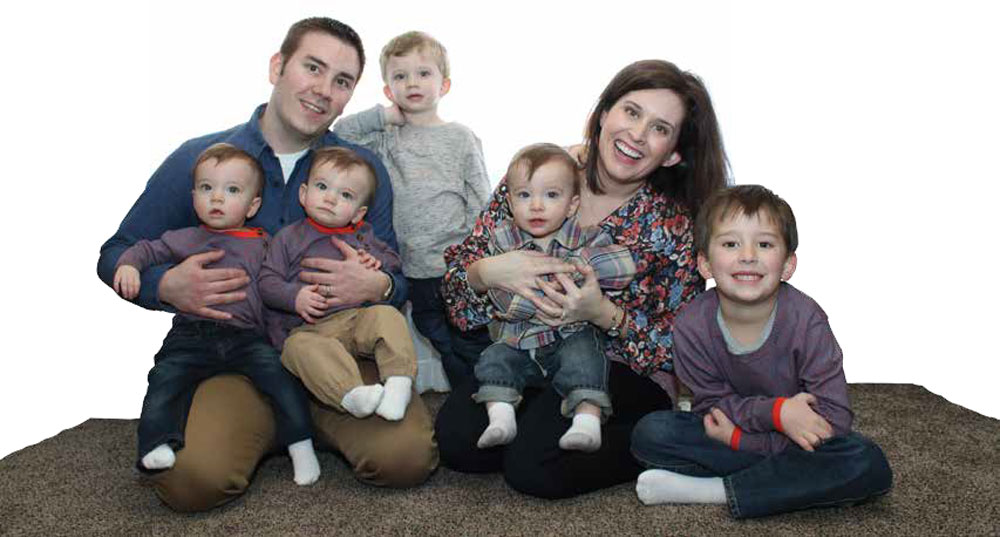 Casual fashion needs to be easy and simple for a house full of young boys.
By Tracey Moro
Celebrating a first birthday is big deal. Celebrating first birthdays for three little boys who are one in a million, is a huge ordeal! In fact every day is a big deal at Lauren and Mike Whiteley's house in St. Clair Shores. They are parents to Lucas, almost 5 (St. Patrick's Day), Nolan, 3 and triplets – Alexander, Timothy and Nicholas, 1. Macomb Now Magazine wanted to feature this rare set of triplets and their family as part of our Fashion Section this spring right after the triplets turned one years old.
As you can imagine, or maybe not, a houseful of five boys, all under the age of five and all walking, means boys going in all directions! It's loud, there's lots of toys, three high chairs, three cribs and boxes of diapers, Yes, it is utter chaos. Add a photographer and editor to the mix, get Grandma and Grandpa, (Susan and Larry Hoppenworth) to come help and the playing field is a bit more even – six adults to five boys! Still chaos – thank goodness for Cheerios.
"No sleep is the biggest challenge," said Lauren. "Plus making sure we give each one the attention they need and deserve."
The Whiteley's earned of their – one-in-a-million – pending birth at their first routine ultrasound. "We were hoping for a girl on our third pregnancy," said Mike.
"Identical triplets are extremely rare and occur when one fertilized egg divides into three fetuses. Odds are one-in-a-million pregnancies," said Linda Robinson, genetic counselor and former St. Clair Shores resident.
Lauren and Mike were surprisingly at ease with all the boys, not even flinching when one would fall, the other would cry and the older ones were running in circles. "We met in high school (Lakeview)" said Mike. Both went on to college and became science teachers. Lauren teaches at St. Isaac Jogues Catholic School in St. Clair Shores and Mike at Richards Middle School, in Fraser. "Lucas attends Pre-Kindergarten at St. Isaac's and Nolan goes to 'Grandpa's preschool' three days a week. We have a babysitter and all four grandparents to help us," said Lauren. "It's a team effort."
To consider dressing this family for springtime, Nordstrom came to the rescue with simple casual clothes to be relaxed in at home. "I want my w ardrobe to be simple and easy," said Lauren, while holding Alex and running after Timothy, or was it Nicholas? When it comes to the boys she wants it simple and easy too. "If they have clothes on, it's good," Lauren laughs, as we watch Alex begin taking his arms out of his shirt.
Jeans and pull over shirts are preferred, although to keep things simple, Lauren likes to dress the triplets in different outfits. "It makes it easier, to tell who is who. There's very little difference in the boys," said Mike. "If you look at their ears, you can see one has different size ears, and one has a dimple on his one ear. That's about the only differences in the triplets."
"When picking a springtime wardrobe for the Whiteleys, I had to keep in mind their busy life-styles," said Rosella LoDuca personal stylist at Nordstrom. "They had to have clothing that not only complimented their features, but allowed for them to run around, play and bring in spring."