Olejnik Farms & Greenhouses Celebrates 95 Years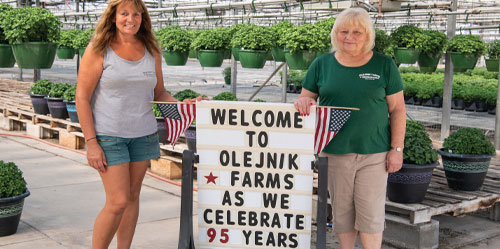 By Alexis Bohlinger/Photography by Mike Ferdinande
One of Macomb County's most beloved family farms is proud to be celebrating 95 years in 2021. Olejnik Farms and Greenhouses, on 23 Mile and Card Road in Macomb Township, is operating into its fourth generation and hoping to continue well into their 100th year.
The farm was purchased in 1926 by Adam and Victoria Olejnik. It was handed down to Chester and Lottie and they had seven children. Their oldest daughter, Pat Olejnik, and youngest daughter, Sharon Schrade, are currently running the farm, working day in and day out to deliver hand-planted and handpicked flowers and produce to the community.
"We raise and grow everything that we sell here," said Sharon, "People come from all over to see our beautiful flowers. They usually sell out within a month."
Each flower basket is carefully chosen and handplanted to offer the most beautiful selection to customers. "We are happy to help anyone who has questions on how to care for their plants," said Olejnik.
In addition to flowers, Olejnik Farms raises healthy, homegrown produce and nearly 60 acres of sweet corn.
Sharon and Pat humbly explained the benefits of shopping their farm. "When you buy from us, you know where your plants are coming from," Olejnik continued. "We can also tell you how to care for your flowers, how much light and water they need and exactly how they were planted." One longtime customer commented that, "with the right care, our plants have flourished."
It is easy to see that generations of hard work and knowledge have made Olejnik Farms one of the top greenhouses around. They even have the badge to prove it, having been named WDIV click on Detroit's Top Greenhouse in 2018 and 2019.
"We are well known in the area for our plants and produce and more so because we have been here for so many years," said Olejnik. "Our parents were well loved in the community and generations of customers come to see us and tell stories about our family."
The sisters take pride in carrying on their family legacy and hope to continue nurturing a relationship with generations of customers. "My sister and I grew up here on the farm and we learned a lot of valuable lessons from my parents," said Schrade. "Most importantly, the value of work ethic. We hope that our customers see the hard work and love that we put into our plants every day and we appreciate them for supporting us for 95 years."