Not Just a Tuba Player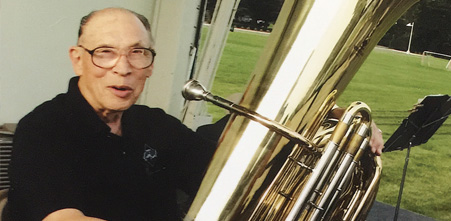 These days Kingsley Sears, at 90 years young, is mostly known for his love of music. The longtime Warren resident and tuba player is a founding member of several local ensembles he still performs in, including the Warren Concert Band, and The Warren Chorus. He's played with the Warren Symphony Orchestra and directs the choir at Celtic Cross Presbyterian Church.
But there was once a time when Sears was mostly known for hiring teachers. Hundreds of them. "I'd go on trips, across the Midwest, to the U.P. Everywhere I went, I went to the colleges and hired new teachers," said Sears. Sears served as the director of personnel for Warren Consolidated Schools, 1963-1985. Has been married to his wife Lurline for 64 years.
During Sears' tenure, the population of northern Warren and southern Sterling Heights, which is served by Warren Consolidated Schools, more than quadrupled, filling up with young families.
"We had a lady in the neighborhood who would rent out a room to a new teacher," Sears said. "One would stay there a week or two and then find a place and the next one would move in. We were hiring teachers every week of the school year, trying to keep up."
"Sometimes," Lurline recalls, "we'd have to put up a new teacher in our basement for a couple of weeks until they could find a place. It was an exciting time."
Today, in addition to playing the tuba, Sears serves as personnel director for the Warren Concert Band. "I am mostly an introvert, but I have found I enjoy finding and placing people into the position that is right for them," he said. "That served me well in the school system and now I enjoy doing it with the band."
Sears states much of his knowledge of classical music and his ability to play the tuba at his current level came about, at least in part, by proximity. "I have sat next to, in many different bands and groups, some truly extraordinary musicians. They raised my level merely by playing next to me. I had no choice but to keep up," he said.
The Warren Concert Band performs their concert March 11 at 3 p.m. at the Warren Woods Community Auditorium and their May 20 at 3 p.m. Spring Concert, at Warren Woods Tower High School Auditorium.