No Clowning Around for this Champion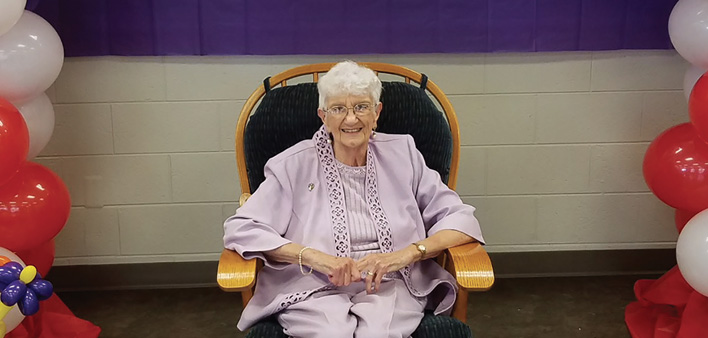 By Rebecca Calappi
When Shirley Champion was a little girl, she'd sit on Mrs. Lightbourne's porch and keep her company. "Mr. Lightbourne owned the bath house across the street for African-Americans," recalls Champion.
At nearly 92, Champion has a wealth of memories from living in Mount Clemens. She remembers when the Flat Iron Building was demolished to make way for a wider Gratiot Avenue. And during the Great Depression, construction stopped on the new county courthouse. When the economy rebounded and construction could resume, she remembers how the brick on the building didn't match and there was a stripe that showed the difference.
Champion moved to Mount Clemens from Pontiac when she was just 5 years old. The Great Depression had taken a toll on her family, costing her father his $5-per-day job at Fisher Body as well as their home.
They found a small place to rent on Welts Street for $15 per month and her father opened a popcorn store just down the street from the Macomb Theater. After visiting with her father at the shop, she'd walk to the theater and the manager would let Champion, who was only 5 or 6 at the time, see the show for free.
Family finances improved, and her parents were able to buy a house on 42 Washington. As Champion grew, she attended school and graduated from Mount Clemens High School in 1944. "At that time, there wasn't the money for college like there is now, so I got a job at Detroit Edison in customer service," she said.
In fact, up until this year, her graduating class got together for a reunion every year. "There's about 10 of us left," she stated.
Throughout her childhood, she fondly remembers attending First United Methodist Church, where she's still a member, and attending Farm Week. A big to-do in Mount Clemens, during Farm Week, farmers would bring all their produce into town and the city would string lights across the streets so everyone could enjoy shopping the farm stands as well as the sidewalk sales from the local businesses until late in the evening. There would even be special entertainment and food to enjoy.
Champion's life changed in 1953 when she married Philip, who she knew from high school and church. "I was 26 when we got married. I was considered old," she recalls.
They bought Phil's family house at 51 Moross, where they raised three sons: Mark, Ross and Brian. The house had that name on it until someone else lived there 10 or 20 years," Champion said.
While her sons Brian and Mark live in Northern Michigan, her other son, Ross, stayed closer to home and gained a bit of local celebrity, especially with the younger crowd, known today as Rosco the Clown.
"I owned a lawn maintenance and landscape company and garden center. I went to MSU for a special landscape program. That's when I took a clown class at Lansing Community College," explained Ross Champion, on how he started his career. "I clowned part time at the beginning, mostly weekends and evenings for about 15 years. Then my clowning sort of took over. I remember sitting down with my wife, Julie, and my mother and father, and asking them if it would be okay if I did clowning full time. Interesting conversation! They have all supported me to this day."
Even still at the age of 93, Champion stays active in the community that raised her and her family. She was a long-time member of the Daughters of Macomb, and was named Grand D.O.M. She is also the past president of the Mount Clemens Garden Club, where she's been a member since 1981.
In 2000, Champion and her husband moved to an apartment in Clinton Township. Sadly, he passed away later that year. But even though she left Mount Clemens nearly 20 years ago, the city is never far from her heart. Champion is still active in the church where she's been a member since 1943 and she says she's proud to have lived in Macomb County for most of her life.